Mainet blacklisted in France for fraud, withdrawals disabled

France's Autorite des Marches Financiers has added Mainet to its blacklist for securities fraud.
The AMF has added two Mainet related website domains to its blacklist:
With respect to Mainet and the two websites, the AMF warns
the actors mentioned in this list are not authorized to offer their services in France.
This is the equivalent of a securities fraud warning in other jurisdictions.
Mainet is a reboot of the collapsed BeTrader Ponzi scheme.
The scam is fronted by Ciprian Ciceu, who splits his time between Romania and Dubai.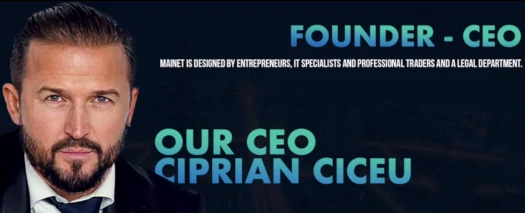 The AMF's Mainet securities fraud warnings are significant, as France is currently the top source of traffic to Mainet's website.
As tracked by SimilarWeb for April 2023, France accounts for 36% of Mainet's website traffic. Côte d'Ivoire, another French-speaking country, accounts for 27% of traffic.
Ciceu's social media activity suggests he is in Colombia trying to recruit new Mainet victims.
Earlier this month it emerged Mainet might have collapsed. Mainet investor withdrawals were disabled on or around May 11th and, to the best of my knowledge, remain disabled.
In a May 13th webinar directed at French speakers (Ciceu speaks French), Ciceu blamed Mainet's withdrawal issues on the AMF blacklist warning.