MetaTrade Review: Mainet scammers launch Dubai Ponzi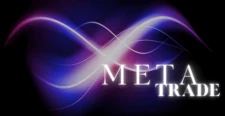 MetaTrade fails to provide ownership or executive information on its website.
In fact, as I write this, MetaTrade's website is nothing more than an affiliate sign up or sign in portal:
MetaTrade's marketing materials, which aren't provided to the public, cite Jean-Marc Loger as CEO of the company.
Robert Mendolia and Giuseppe Peci are cited as MetaTrade's President and an "entrepreneur" respectively.
On LinkedIn, Peci cites himself as one of MetaTrade's co-founders: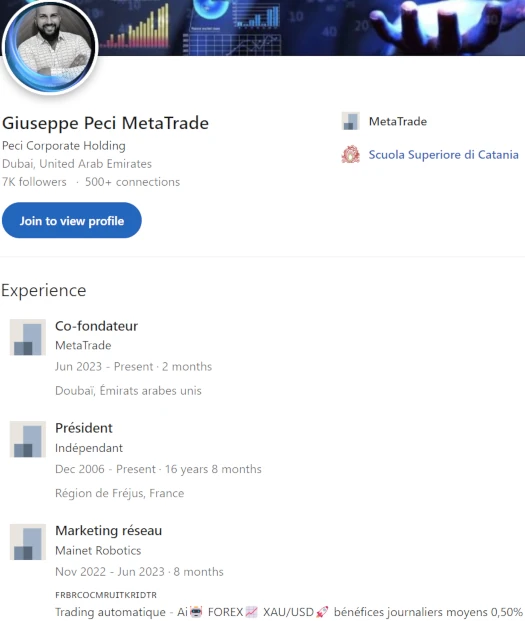 Jean-Marc Loger has been scamming people through MLM schemes for over a decade.
In May 2021 BehindMLM readers tied Loger to the My Travel Cash and TVI Express pyramid schemes.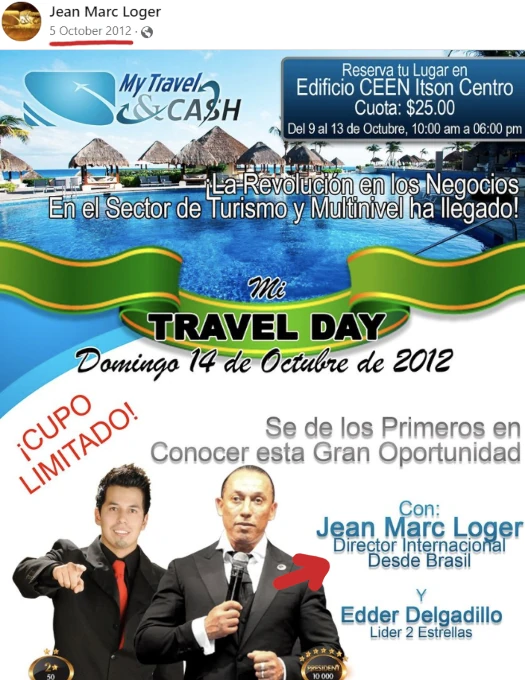 More recently, Loger was a "top leader" in the Mainet Ponzi scheme.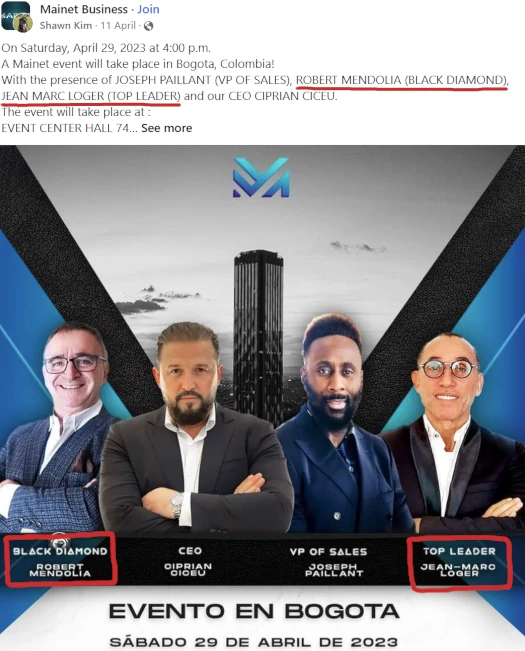 Robert Mendolia and Giuseppe Peci are also former Mainet promoters.
Mainet collapsed in May 2023, following a fraud warning from France's AMF in April.
On social media Mendolia represents he is based out of Cannes, France. Peci and Loger represent they are based out of Dubai.
MetaTrade's website domain ("metatrade.group"), was privately registered on June 3rd – a few weeks after Mainet collapsed.
Putting all of this together, we have three Mainet Ponzi scammers now running their own Dubai reboot.
Due to the proliferation of scams and failure to enforce securities fraud regulation, BehindMLM ranks Dubai as the MLM crime capital of the world.
BehindMLM's guidelines for Dubai are:
If someone lives in Dubai and approaches you about an MLM opportunity, they're trying to scam you.
If an MLM company is based out of or represents it has ties to Dubai, it's a scam.
If you want to know specifically how this applies to MetaTrade, read on for a full review.
MetaTrade's Products
MetaTrade has no retailable products or services.
Affiliates are only able to market MetaTrade affiliate membership itself.
MetaTrade's Compensation Plan
MetaTrade affiliates pay a fee and then invest tether (USDT). This is done on the promise of a passive return.
How much a MetaTrade affiliate pays in fees determines how much they can invest:
pay a 50 USDT fee every month and invest up to 500 USDT
pay a 100 USDT fee every 2 months and invest up to 1000 USDT
pay a 250 USDT fee every 3 months and invest up to 2500 USDT
pay a 500 USDT fee every 6 months and invest up to 10,000 USDT
pay a 2500 USDT fee annually and invest up to 50,000 USDT
pay a 5000 USDT annual fee and invest however much you want
pay a 10,000 USDT one-time fee and invest however much you want
Note that 30% of every MetaTrade withdrawal made must be reinvested back into the company.
The MLM side of MetaTrade pays on recruitment of affiliate investors.
MetaTrade Ranks
There are thirteen affiliate ranks within MetaTrade's compensation plan.
Along with their respective qualification criteria, they are as follows:
Trader – sign up as a MetaTrade affiliate
Leader – generate 100 USDT in downline investment
Team Leader – generate 300 USDT in downline investment
Coach – generate 1000 USDT in downline investment
Manager – generate 3000 USDT in downline investment
Supervisor – generate 10,000 USDT in downline investment
Executive – generate 25,000 USDT in downline investment
Diamond – generate 75,000 USDT in downline investment
Double Diamond – generate 250,000 USDT in downline investment
Triple Diamond – generate 750,000 USDT in downline investment
Ambassador – generate 3,000,000 USDT in downline investment
Crown Ambassador – generate 10,000,000 USDT in downline investment
World Ambassador – generate 30,000,000 USDT in downline investment
Referral Commissions
MetaTrade affiliates earn a referral commission on fees paid by personally recruited affiliates.
Referral commission rates are determined by rank:
Traders receive a 10% referral commission rate
Leaders receive a 12% referral commission rate
Team Leaders receive a 14% referral commission rate
Coaches receive a 16% referral commission rate
Managers receive an 18% referral commission rate
Supervisors receive a 20% referral commission rate
Executives receive a 22% referral commission rate
Diamonds receive a 25% referral commission rate
Double Diamonds receive a 28% referral commission rate
Triple Diamonds receive a 31% referral commission rate
Ambassadors receive a 34% referral commission rate
Crown Ambassadors receive a 37% referral commission rate
World Ambassadors receive a 40% referral commission rate
MetaTrade referral commissions are coded, meaning higher ranked affiliates receive the difference between their referral commission rate and that paid to lower ranked affiliates in their downline.
This caps out at 40% for World Ambassadors, who are always paid the remaining referral commission rate.
ROI Match
MetaTrade pays a ROI Match via a unilevel compensation structure.
A unilevel compensation structure places an affiliate at the top of a unilevel team, with every personally recruited affiliate placed directly under them (level 1):

If any level 1 affiliates recruit new affiliates, they are placed on level 2 of the original affiliate's unilevel team.
If any level 2 affiliates recruit new affiliates, they are placed on level 3 and so on and so forth down a theoretical infinite number of levels.
MetaTrade caps the ROI Match at ten unilevel team levels.
The ROI Match is paid as a percentage of returns paid out across these ten levels as follows:
level 1 (personally recruited affiliates) – 5%
level 2 – 4%
level 3 – 3%
levels 4 and 5 – 2%
levels 6 to 8 – 1%
levels 9 and 10 – 0.5%
Withdrawal Commissions
MetaTrade charges a 4.5% withdrawal fee. 2% out of the 4.5% charged is used to fund withdrawal commissions, paid on downline withdrawal requests:
level 1 (withdrawals by personally recruited affiliates) – 1%
levels 2 and 3 – 0.5%
Rank Achievement Bonus
MetaTrade rewards affiliates who qualify at Manager and higher with the following one-time Rank Achievement Bonuses:
qualify at Manager and receive 60 USDT
qualify at Supervisor and receive 200 USDT
qualify at Executive and receive 500 USDT
qualify at Diamond and receive 2000 USDT
qualify at Double Diamond and receive 7500 USDT
qualify at Triple Diamond and receive 25,000 USDT
qualify at Ambassador and receive 75,000 USDT
qualify at Crown Ambassador and receive 250,000 USDT
qualify at World Ambassador and receive 750,000 USDT
Diamond and Ambassador Broker Fee Pools
MetaTrade rewards Diamond and Ambasador ranked affiliates with shares in two bonus pools.
Diamond ranked affiliates receive a share in a pool shared with Ambassadors.
Ambassadors receive a share in the pool shared with Diamond ranked affiliates, as well as a separate pool for only Ambassadors.
MetaTrade represents both pools are funded by collected broker fees.
Diamond and Ambassador Bonus Pools
MetaTrade takes 3% of affiliate fees and places it into two bonus pools.
Diamond ranked affiliates share a 2% bonus pool with Ambassadors.
Ambassador ranked affiliates share the 2% bonus pool with Diamonds but also receive a share in a separate 1% Ambassador only pool.
 Joining MetaTrade
MetaTrade affiliate membership is $10.
Full participation in the attached income opportunity requires a minimum $50 fee paid monthly.
MetaTrade Conclusion
MetaTrade represents its investors are buying "software licenses", through which funds are invested with a broker.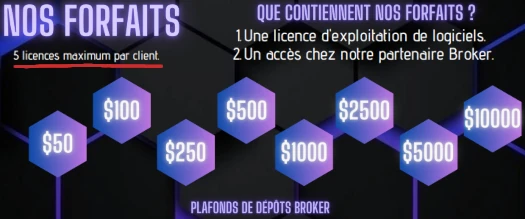 This is the exact same Ponzi ruse Mainet used: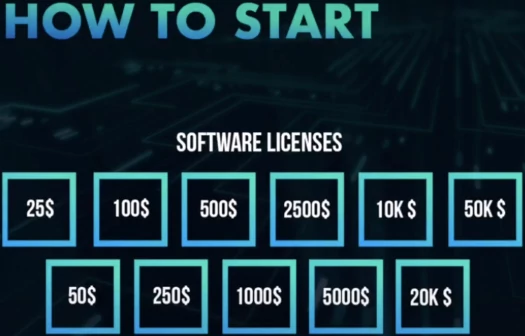 MetaTrade claims funds are invested with QGA Investments.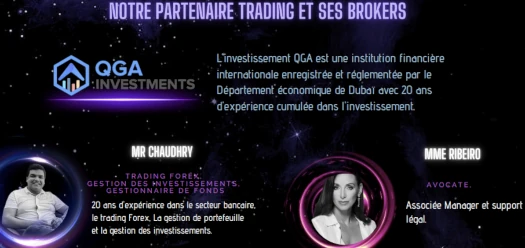 QGA Investments is a Dubai-based broker run by Chaudhry Qasim Ali.
QGA Investments' website domain was privately registered in May 2020. This corresponds with QGA Investments' official FaceBook page being set up on May 7th, 2020.
SimilarWeb tracks negligible traffic to QGA Investment's website, which is strange considering MetaTrade claims QGA Investment is generating 8% to 15% a month.
On its website QGA Investments themselves claim to be generating "an average annual net profit of 25% – 50%".
On the regulatory front, QGA Investments claim to be "registered and regulated by Dubai Economic Department".
Putting aside Dubai being a crime hub, this registration is meaningless outside of Dubai.
With respect to MetaTrade, it fails to provide any evidence it has registered with financial regulators in any jurisdiction.
This means that, at a minimum, MetaTrade is committing securities fraud and operating illegally.
As it stands, the only verifiable source of revenue entering MetaTrade is new investment.
Using newly invested funds to pay affiliate withdrawals would make MetaTrade a Ponzi scheme.
As with all MLM Ponzi schemes, once affiliate recruitment dries up so too will new investment.
This will starve MetaTrade of ROI revenue, eventually prompting a collapse.
The math behind Ponzi schemes guarantees that when they collapse, the majority of participants lose money.