M.Network rebrands as M.Global, terminates dissenting affiliates

In the wake of Jamberry Nails collapse and subsequent acquisition my M.Network, brand loyal affiliates claim they were under the impression they'd be able to continue their nail wrap focused business with minimal disruption.
Those hopes have now been dashed, following yesterday's announcement that M.Network plans to rebrand as M.Global.
The company name change to M.Global was presented to affiliates yesterday as a "brand refresh".
Speaking onstage at a company event in Nashville, Tennessee, M.Network's Senior Vice President, Dave Webb, revealed M.Global and the company's new logo.
We are a united group. We are not "M" and Jamberry.

Have you noticed that? We're "M".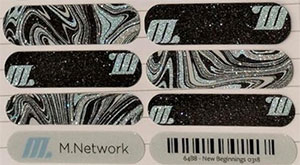 In line with M.Global's desire to bury the Jamberry Nails brand, new M.Global nail wraps were also revealed.
Former Jamberry Nails affiliates have been discussing the acquisition and recent developments in closed Facebook groups.
Reports from affiliates in the group suggest M.Network staff infiltrated some of the groups and used private discussion to terminate several affiliates.
Those terminated were informed;
You have been terminated due to a Policy & Procedures violation (disparaging the company + Home Office staff).

The comments made against Home Office staff and M.Network in a Facebook group were slanderous and violated the P&P that Consultants agree to follow.
As at the time of publication, M.Network hasn't provided terminated affiliates with specific examples of private group postings it alleges are slanderous.
The message to former Jamberry Nails affiliates however appears to be clear:
Forget about continuing on marketing Jamberry's wraps. Either you're on board with M.Network's rebranding or you're out.
Personally I think summary terminations after an unexpected and sudden merger, especially one that was handled rather poorly on the communication front (initially nobody knew what was happening and M.Network executives refused to comment), are a bit harsh.
M.Network has the details of the consultants in question, with an open dialogue between the parties not an unreasonable request.
At the very least M.Network owed Jamberry Nails affiliates full-disclosure as to what had happened and what their plans were for the company.
Those not on board would still be free to leave, without the need for covert spying and general unpleasantness.