Jamberry Nails Review: Nail art meets MLM

For me fake nails have always been hit and miss. Kinda like breasts, some people prefer natural fingernails (perhaps with a modest paint if the occasion calls for it) and others don't mind going all-out nuts (nails so blingy they leave you blind).
Personally I find the latter category a bit tacky (on both fronts!) but each to their own.
Hoping to combine the sale of fake nails comes Jamberry Nails. Read on for a full review of this recently launched MLM opportunity.
The Company
In conducting my research into Jamberry Nails, I uncovered a few peculiarities that left me a bit confused.
The Jamberry Nails website credits three sisters, Christy, Kerri and Lyndsey ('the Jamberry Sisters') as being the founders of the company. Here's the general marketing spiel used to pitch this version of the story:
Christy, Keri, and Lyndsey thought of the concept behind Jamberry nails while spending a typical day at the salon getting their nails done.

They wanted to create a product that would allow women to get the latest designs in nail art without having to go to a salon each time and spending so much for every mani-pedi session.

Being young mothers themselves, the sisters decided to introduce their revolutionary product in a direct sales format to give other women a chance to be fashionable while earning a decent income without the demanding work hours of running a full-scale business.
No further information is given as to who these three sisters are or what their history (if any) in network marketing is. This version of Jamberry Nails is credited as being 'a new direct sales company' and was founded in January 2012 and appears to be based out of Utah.
Wind back to October 2010 and it you'll find that some guy called Adam Hepworth is also credited with founding Jamberry Nails.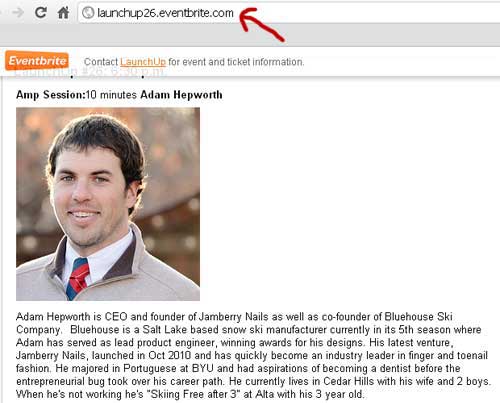 Adam Hepworth is CEO and founder of Jamberry Nails as well as co-founder of Bluehouse Ski Company.

Bluehouse is a Salt Lake based snow ski manufacturer currently in its 5th season where Adam has served as lead product engineer, winning awards for his designs.

His latest venture, Jamberry Nails, launched in Oct 2010 and has quickly become an industry leader in finger and toenail fashion. He majored in Portuguese at BYU and had aspirations of becoming a dentist before the entrepreneurial bug took over his career path.
Adam Hepworth however is not mentioned anywhere on the Jamberry Nails website. Suspiciously (for a business) both jamberrynails.com and jamberrynails.net have their registration information set to private, so ownership is unclear.
Meanwhile Hepworth lists Jamberry Nails as an interest on his Facebook page,

which strongly indicates it's one and the same company.
What I imagine happened is that these three sisters have launched (relaunched?) Jamberry Nails as a MLM company after working out some deal with Hepworth.
Jamberrynails.net was registered on the 5th December 2011 whereas jamberrynails.com was registered in August 2010. The .com supports Hepworth founding the company in 2010 whereas the .net supports the three sisters story. Currently the .com redirects to the .net, effectively meaning that the two companies if they existed separately are actually one and the same.
(confusing much?)
Why the company doesn't clarify this or explain exactly what happened on their website is a mystery.
The Jamberry Nails Product Line
Jamberry Nails retail what they call 'nail shields'. Marketing jazz aside, what you're looking at are essentially heat-activated adhesive nail covers that come in a variety of different designs.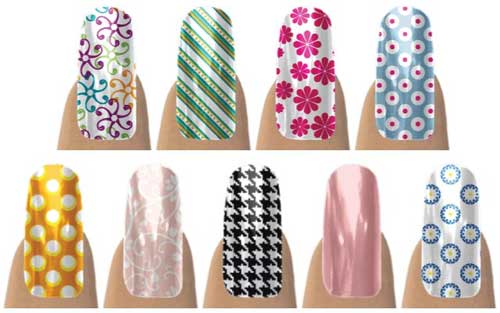 These nail shields cost $15 a pop with 'each sheet of Nail Shields do(ing) 2-3 sets of fingers or toes'. Jamberry Nails claim that their nail shields typically last 2 weeks on fingernails and 6-8 weeks on toenails.
The Jamberry Nails Membership Ranks
Within the Jamberry Nails compensation plan are eight membership ranks. Note that in the following listing of these membership ranks, Product Volume (PV) is 65% of the retail sales volume. Group Volume (GV) is the total group volume of a distributor and their downline.
The Jamberry Nails membership ranks along with their qualifications are as follows:
Associate Consultant – 300 PV and 900 GV.
Senior Consultant – 300 PV, 900 GV and at least 2 personally enrolled distributors.
Star Consultant – 500 PV, 2,000 GV and at least 4 personally enrolled distributors
Director – 500 PV, 6,000 GV and at least 6 personally enrolled distributors (2 of which must be Star Consultant or higher).
Senior Director – 500 PV, 15,000 GV and at least 8 personally enrolled distributors (4 of which must be Star Consultant or higher).
Star Director – 1,000 PV, 25,000 GV and at least 12 personally enrolled distributors (8 of which must be Star Consultant or higher).
Super Star Director – 1,000 PV, 50,000 GV and at least 24 personally enrolled distributors (12 of which must be Star Consultant or higher).
Platinum Director – 1,000 PV, 80,000 GV and at least 40 personally enrolled distributors (25 of which must be Star Consultant or higher).
The Jamberry Nails Compensation Plan
Update 25th September 2015 – The following compensation plan analysis is outdated. See BehindMLM's Jamberry Nails Review v2.0 for an up to date review of Jamberry's compensation plan. /end update
The Jamberry Nails compensation plan offer their members retail commissions, membership rank bonuses, product and volume bonuses all with a residual income opportunity provided via a unilevel backend.
Retail Commissions
Jamberry Nails pay out their distributors a 30% commission on all retail sales of their nail shields products.
Unilevel Commissions
Making up the residual income of the compensation plan, Jamberry Nails utilise a unilevel compensation structure to pay out their members.
A unilevel structure places you at the top with each member you've personally recruited branching out into a separate leg underneath you, forming your level 1. There is no limit as to how wide your level 1 can be (as many distributors as you recruit).
Any members recruited by your level 1 from your level 2. Any members your level 2 recruit from your level 3 and so on and so forth.
Using this unilevel structure, depending on a members membership rank Jamberry Nails pay out a percentage commission on the sales volume of a unilevel team down five levels.
Associate Consultant – 3% on level 1
Senior Consultant – 6% on level 1 and 3% on level 2
Star Consultant – 12% on level 1 and 6% on level 2
Director – 15% on level 1, 9% on level 2 and 1% on level 3
Senior Director – 16% on level 1, 10 on level 2%, 2% on level 3 and 1% on level 4
Star Director – 17% on level 1, 11% on level 2, 3% on level 3, 1.5% on level 4
Super Star Director – 18% on level 1, 12% on level 2, 3.5% on level 3, 2% on level 4 and 0.5% on level 5
Platinum Director – 19% on level 1, 12% on level 2, 4 % on level 3, 2.5% on level 4 and 1% on level 5
Membership Rank Bonuses
Jamberry Nails pay out a one time membership rank bonus if a member maintains a new rank for 4 consecutive months.
Director – $1,000
Senior Director – $3,000
Star Director – $5,000
Super Star Director – $10,000
Platinum Director – $20,000
Volume Bonus
For Jamberry Nails distributor who generate over 500 in PV, the company pays out an additional percentage bonus commission (paid out on the personal sales volume of a member).
Associate Consultant –  1%
Senior Consultant – 2%
Star Consultant or above – 5%
Business Supply Credit
A product purchase rather than a cash bonus, Jamberry Nails offer all members a Business Supply Credit if they achieve over 300 PV in any given month.
This bonus is put towards product credit and is paid out at a flatrate 5% of the PV of a distributor.
The company also offers an additional $100 in product credit if a distributor exceeds 750 PV in any given month.
Joining Jamberry Nails
Membership to Jamberry Nails will set you back $99 (a one time cost).
Conclusion
With a product as easy to market as nail shields, it's good to see that the Jamberry Nails compensation plan is strongly rooted in sale of the product.
That said, it's no secret that 30% of $15 is only $4.50 and with the compensation plan only crediting 0.65 in every dollar of product sold, Jamberry Nail distributors are going to have to really push those sales through if they want to get anywhere.
At first glance the required enrolled distributor numbers seem a little excessive but when you weigh in the cost of the nail shield product and sheer amount of sales volume required to generate the group volume required, I think if you want to hit those sales targets then organically teams in excess of forty or more isn't impractical.
Whilst marketing Jamberry Nails shield's might be easy (it's not like you need to really explain the product or convince people they need it or not), exposure might be a problem.
Typically, and this is reflected in Jamberry Nail's pushing of 'hosting parties', distributors are probably going to initially only sell these nails after a demonstration.
Jamberry Nails do try to help with the costs of running such parties by providing product credit bonuses but that's only after a distributor has reached 300 PV a month ($460 in actual sales).
Jamberry Nails claim that a finger application of their shields will last around 2 weeks. Even if we halve that though, that's still only $60 a month (39 PV) from any one individual retail customer. This would mean an average acquirement of 7 customers purchasing a minimum of $60 in nail shields a month before the Jamberry product credit bonus kicked in.
And even then, it's only 5% of the PV meaning at 300, you're only looking at $15, or the purchase of one nail shield pack.
In the meantime it'll be up to members to shoulder the financial cost of hosting such parties to attract retail customers. During this time members would have to be extremely careful in balancing how much they made from these parties with the cost associated with running them.
A dangerous trap to fall into would be writing off the expense of running a party an amount you'll recover later once your business takes off, only to perpetually struggle to cover your costs, resulting in an overall continual net loss despite any profits made.
This is a real danger when you combine a low-cost product with what is essentially a sample-driven marketing strategy.
That said once you've got a customer, if they're happy with the quality you can then simply market online and retention should be pretty good. Mind you, there's nothing stopping you from marketing Jamberry Nails online but with limited brand exposure and awareness at this early stage, that might be a significant challenge (you'd be requiring large amounts of initial trust from your customers).
All in all if you're comfortable adopting the 'host-a-party' approach and have a business outlook that extends beyond your friends and family then the Jamberry Nails MLM opportunity might be worth a shot at.
Update 30th June 2018 – In June 2018 Jamberry Nails collapsed.
Initially announced a proposed merger, M.Network has since acquired some of Jamberry Nails' assets.