Lyoness to launch eCredits cryptocurrency

The latest MLM Ponzi scheme to attach itself to a cryptocurrency appears to be Lyoness.
If a recent Latvian promotional video is to be believed, Lyoness are gearing up to launch "eCredits".
Lyoness, also known as Lyconet, Cashback World and now MyWorld, have not published technical specifications for eCredits.
Official Lyconet marketing material suggests Lyoness intends to generate eCredits and integrate them into the company's e-commerce platform.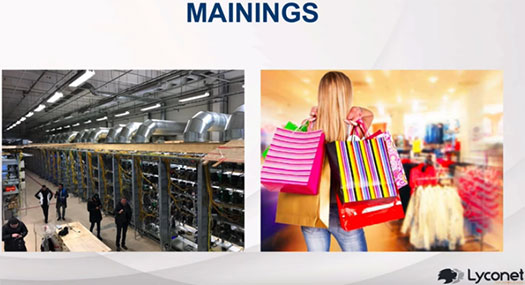 Initially Lyoness intends to sell eCredits to investors for 1 EUR each.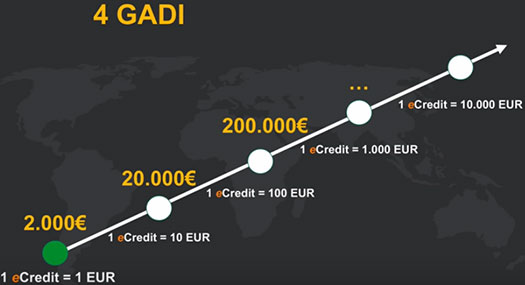 As above, the Lyoness is marketing eCredit investment on a 10,000% ROI within four years.
There doesn't appear to be any basis for this, other than the expectation Lyoness affiliates will continue to invest in eCredits.
One could argue Lyoness' e-commerce platform would drive the value of eCredit up, however that's not likely considering usage of the platform is limited outside of affiliates who've invested.
According to the Lyconet presentation, there are three ways to acquire eCredits.
investment into Enterprise Cloud (formerly Customer Cloud) and/or discount vouchers
attending a Lyoness marketing event headlined by Eric Worre and/or
qualifying for the President's Bonus
A 2000 EUR investment into a discount voucher or Enterprise Cloud position is bundled with 2000 eCredits.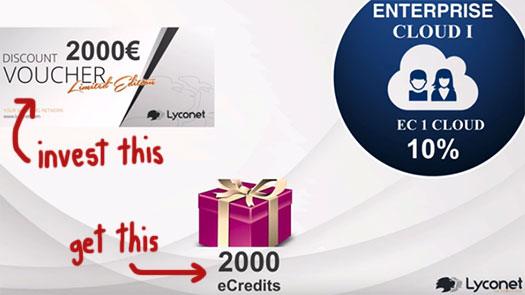 The "Worre Seminar" is an upcoming Lyoness event in Prague.
Lyoness are rewarding those who purchase ten or tickets to the event with 1990 eCredits.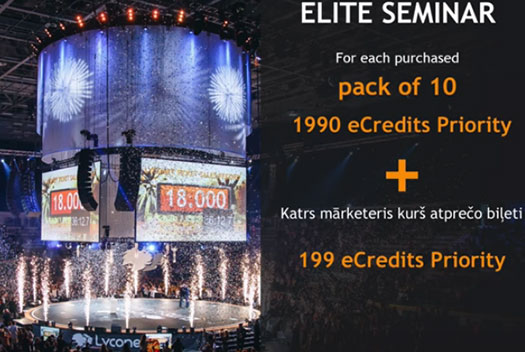 An addition 199 eCredits will be given to each affiliate who attends the event (redeems a ticket).
The Presidents Bonus awards millions of eCredits to Lyoness' top earners, typically affiliates who have convinced thousands to invest after them.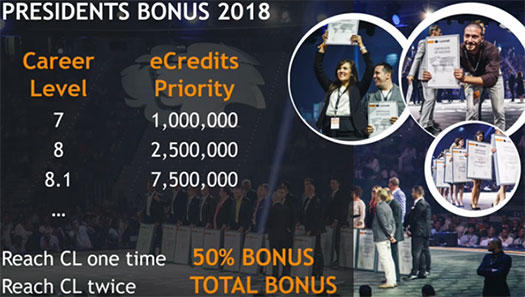 Bear in mind eCredits cost Lyoness next to nothing to generate and are worthless outside of the company itself.
At this stage Lyoness hasn't announced whether they'll operate an internal exchange so affiliates can cash out their eCredits.
Affiliates are also as of yet unable to actually acquire eCredits, with the company instead offering "priority".
I believe this is Lyoness' way of keeping track of who to allot eCredits to once they flick the switch and start generating them.
While eCredits are in the priority stage, Lyoness affiliates are able to invest in up to 49,668 eCredits per account.
Lyoness' Erric Worre Seminar is scheduled to take place over May 24th to 26th in Prague, Czech Republic.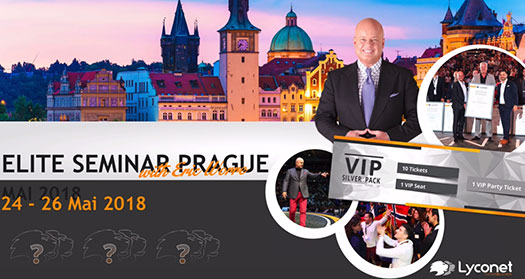 Worre's social media profiles suggest he's currently in Prague, so I'm assuming the event is taking place as scheduled.

Eric Worre describes himself as a "network marketing expert" and, through his Network Marketing Pro brand, is widely regarded across the MLM industry.
What's he's doing headlining an event for a confirmed Ponzi scheme is unclear.
Through Operation Cryptosweep, US authorities and several international regulators recently announced a crackdown on cryptocurrency related securities fraud.
Whether Worre, a US citizen, will personally endorse Lyoness' eCredits at the event is also unclear.
Lyoness meanwhile have provided no indication they intend to register their eCredits cryptocurrency with securities regulators in any jurisdiction they operate in.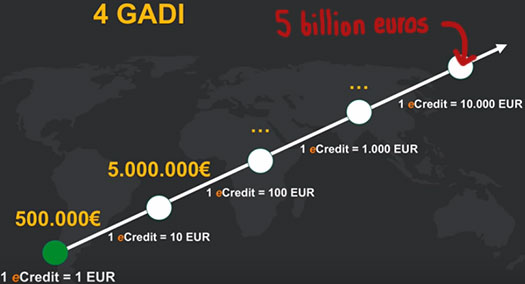 The official Lyconet Latvia marketing material contained no regulatory disclosures, only hype about how much of a return eCredit investment could potentially generate.
Update 29th May 2018 – Apparently we weren't supposed to blow the lid off Lyoness' secret eCredit scheme.
The official Latvian Lyconet source material for our report has been pulled off of YouTube sometime in the last 48 hours.
Update 25th June 2021 – After three years of illegally soliciting investment into "priority points", Lyoness' eCredits Ponzi scheme appears to have collapsed.