Through myWorld Enterprise Program, Lyoness is still "all about positions!"

Five years ago we covered leaked Lyoness internal video, in which owner and CEO Hubert Friedl laid out the company's business model.
It's all about positions, positions, positions, positions.

By making downpayments one can acquire positions in the Lyoness system.

I don't go out to merely register someone, it's not about registering people for the cashback card. Then I could as well just register you at the nearby swimming pool.
Five years later, nothing has changed.
Lyoness, now known as myWorld, recently held their annual "President Council" in Pamhagen, Austria.
The big announcement at the event was "limited edition discount vouchers" which, as Friedl explained, are available to myWorld affiliates who buy "at the right time".
For those unfamiliar with Lyoness' business model, the company originally solicited investment through accounting units.
When regulators in Europe began to crack down on the company they renamed accounting units to "shopping points", which affiliates invest in through "discount vouchers".
Limited edition discount vouchers are a vehicle through which myWorld affiliates are able to invest directly into "Enterprise Cloud" positions.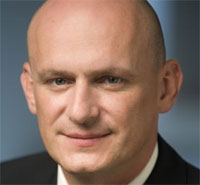 As Friedl (right) explains, limited edition discount vouchers exist solely as a cover for Enterprise Cloud position investment.
You buy a discount voucher at the right time, because this is why it's "limited edition", and you've got in addition for free… the Enterprise Cloud.

Because you cannot buy an Enterprise Cloud. You cannot buy a cloud.

Please, for compliance this is really important.

You buy a discount voucher. That's a product and this includes a cloud (position).

And if you talk there right outside, then everybody will understand and we will have no problems.

Because our discount voucher is approved by so many governments, but if we tell people, "Hey, buy a cloud (position)"… cloud (position) is not a product.

The discount voucher is a product and the cloud (position) is part of it for free.
Friedl doesn't go into which government's have approved their discount vouchers. Likely because no government I'm aware of has.
A discount voucher is simply pre-paid access to myWorld's merchant network. In and of itself it is not a product.
So there's that, and then also the issue of why would myWorld affiliates want Enterprise Cloud positions?
Lyoness Cloud positions first surfaced in 2015, as part of the Lyconet Customer Cloud.
Lyconet Premium Affiliates invested 1500 to 4500 EUR with Lyoness, in exchange for Customer Cloud share positions.
Each Customer Cloud share position paid a passive ROI for six years.
This of course had nothing to do with the merchant network, with Lyoness simply shuffling newly invested funds to pay existing Customer Cloud investors.
This was back in 2015 mind, with affiliates then also investing in "Limited Edition Vouchers".
Can't be that limited if the vouchers have been issued to investors for three years running.
Anyway, getting back to the present.
After running through how affiliates invest in Enterprise Cloud positions, Friedl goes on to explain positions are the equivalent of shares in the company.
The cloud works with the myWorld Enterprise, the company specially founded for you.

This represents your share of all our businesses.

And this is just the beginning.

The set up of the myWorld Enterprise starts the operation (in the) second half of the year.

And it starts to grab shares of all this active business streams and invest in the new programs.

So, what do you think? Is it a good investment to invest in myWorld dot com?
Whereas Customer Cloud positions pay a ROI for 3 years (investors must wait 3 years first), myWorld Enterprise Cloud positions pay a passive ROI for 4 years (investors wait 4 years).
As with the original account units, there appears to be several levels of investment within myWorld Enterprise Cloud.
So it's important for you and your team, be in every EC.

Because you can never know when is the big bang is happen.

Maybe with EC4, we buy a company and sell this company for ten billion… and you are not in it.

You are just in the ground floor (EC1).
So there you have it, Lyoness' investment scheme in new packaging for 2018.
Some things never change…