Lyoness and Freidl cleared of criminal charges in Austria

A combination of a media blackout order and language-barriers have made it difficult to report on the Austrian criminal case against Lyoness and CEO Hubert Freidl.
BehindMLM first reported on the Austrian case back in 2013, which is when I first became aware of an investigation by Austria's "White Collar Crimes and Corruption" Public Prosecutor's Office (WKSTA).
That investigation began in 2012, with legal action commencing around January of this year.
According to news reports out of Austria, a decision has been made in the WKSTA case:
The Criminal Court of Vienna has dropped its case against Lyoness on this point. For the judges Lyoness is not a pyramid scheme.
As it stands, Lyoness and Freidl have been given the all-clear.
The nitty-gritty of the decision appears to be the assertion that, in exchange for investing in Accounting Units, Lyoness affiliates received something of value.
Prosecutors suspected Freidl to have operated from 2003 to 2014 a pyramid scheme.

In the "clearing system" to the participants against using, "namely a deposit to obtain a premium membership, but no actual value have faced an economic perspective and to have been associated with the risk of total loss".

The Regional Court for Criminal Matters sees it differently – the offense of Ponzi scheme was not given for several reasons. With Lyoness members have goods or services to the equivalent of vouchers, thus acquired an entitlement.

"For the members were or there is also the – perpetual – ability to generate the remaining sum as an alternative", the court said.

In Lyoness Trust program and in the terms and conditions would these opportunities, such additional payment of the balance or sell the User ID, described in detail.

"Through these opportunities can be, not to speak of a loss of wealth for members who would be due to the configuration of the system, so you here down-payment rather than 'use' within the meaning of § 168a of the Criminal Code (chain or pyramid schemes, NB can view.)" writes the judge.

In the decision, he also leads the "quite as attractive classifiable Shopping partners such as Kika, OMV, etc. Libro" have the meeting, has the Lyoness or dispose.

The recruitment of additional members is also on the acquisition of the "loyalty bonus" have been necessary, but not for the loyalty credit.

Neither the pyramid game offense nor that of fraud are given from the perspective of the court. Although the judge noted that the Lyoness system content "partially very difficult" or "may also civilly questionable" may be.
Given that Lyoness affiliates invest funds directly with Lyoness and in return receive Account Units, with a ROI on these units paid out when subsequent investments are made, the decision by the Criminal Court of Vienna makes little sense.
It seems that, as designed, what is built around this key investment mechanic has influenced the judge's decision.
Namely that while it is possible to create units through shopping, by and large it is direct investment in AUs that fuels subsequent ROI payouts.
New affiliate funds are invested in AUs and are used to pay off existing AU positions. Those who have invested then need to wait for subsequent investments to be made before they are paid a cash ROI.
Why the Criminal Court of Vienna ignored this is unclear. The Judge's remarks about the Criminal Code suggest that the bundling gift cards with Ponzi investments might be a legal loophole under Austrian law.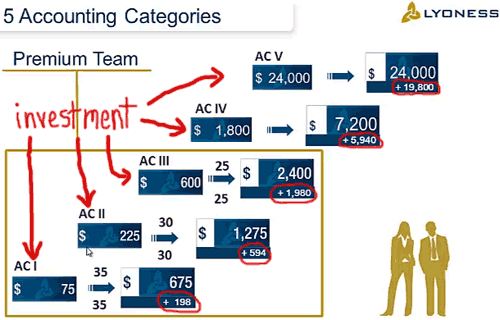 The Ponzi nature of the AU investments themselves however cannot be denied.
WKSTA currently have two weeks to decide whether or not they are going to file an appeal.
"We are considering whether we raise appeal," said Norbert Hauser from the WKSTA on Monday.
We'll keep you posted.
Update 18th December 2015 – According to a report dated 15th December from Der Standard, WKStA have filed an appeal.
WKStA has challenged a part of the criminal proceedings against Lyoness AG and founder Hubert Freidl.
Stay tuned…
Update 20th April 2016 – In a decision handed down by an Austrian Regional Court on April 12th, WKSTA's appeal has been denied.