Level 9 App Review: Restart Your Life mobile app?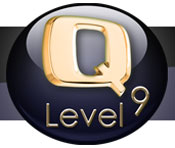 There is no information on the Level 9 App website indicating who owns or runs the business.
The company's website domain ("l9app.com") was registered on the 23rd of January 2013 and lists the company "Restart Your Life" as the registrant.
Restart Your Life appears to be a separate MLM company launched in 2011. On their website, Restart Your Life describe themselves as 'a privately held dietary supplement company'. Restart Your Life operate out of the US state of South Carolina.
Restart Your Life is headed up by CEO and co-founder Joyce Cordell, however it is unclear whether she is running Level 9 App or not.
The "administrative contact" details for the Level 9 App website domain list an "Olie Clapp", who is credited on the Restart Your Life website as being the company's "Chief Information Officer".
Again, the extent of Clapp's involvement in Level 9 App is unclear.
Despite the inherent links to Restart Your Life, Level 9 App for now appears to be being offered as an individual MLM opportunity. Read on for a full review.
The Level 9 App Product Line
Level 9 App market a mobile phone application that 'can be downloaded to any 'Android, iPhone, iPad (device) or even a PC'.
As for what the app does, here's the official description taken from the Level 9 App website:
The "Quality of Life" app will provide critical information regarding health, wealth and happiness or simply, lifestyle choices.

If you are suffering from a disease such as cancer, diabetes or an infectious disease such as AIDS or HIV, or if you know someone that is, you will want to download this app.

If you are feeling the pain from this economic crisis we are all facing, you will want to download this app.

If you need a way to create a life-changing income and don't know where to turn, you need to download this app.

If you wish to travel the world and want to know where you can find the very best that this world has to offer, you will want to download this app.

If you would enjoy an inspirational message daily that can lift you up, you need to download this app.
Where any of the information Level 9 App claim will feature in their app is sourced from (or authored by) is not disclosed.
The Level 9 App is offered for free or for a monthly subscription of $7.95. For $7.95 customers are provided with "extended content".
At the time of publication, Level 9 App do not disclose what this "extended content" is.
The Level 9 App Compensation Plan
The Level 9 App compensation plan revolves around the filling of a 3×9 matrix, with each filled position paying out a monthly commission.
A 3×9 matrix starts with an affiliate at the top of the matrix, with three legs branching out under them (level 1).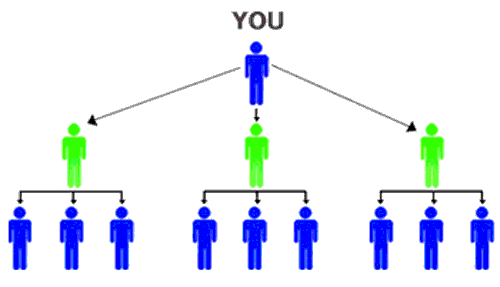 In turn, those three legs branch out into an additional three legs and so on and so forth, down to 9 levels.
Positions are filled in an affiliate's matrix either via direct recruitment or the recruiting efforts of their up and downlines.
Note that in using a "forced company" matrix compensation structure however, when an affiliate recruits a new member themselves they might not necessarily wind up being placed in their own personal matrix.
Level 9 App don't state the specific commission paid out per new customer or member placed into an affiliate's matrix, however they do state that
once you have 7 levels of your matrix filled your monthly matrix income will be $2687.25.
The first seven levels of a 3×9 matrix has 2,187 positions, equating to a payout of $1.22 or so per member a month.
Matching Bonus
Level 9 App offer their affiliates a matching bonus paid out as a percentage of the matrix earnings of affiliates they've personally recruited into the scheme.
How much of a matching bonus percentage an affiliate earns depends on how many new members they've recruited:
recruit 3 new members = 25% matching bonus
recruit 6 new members = 50% matching bonus
Joining Level 9 App
Membership to Level 9 App as an affiliate is $9.95 a month.
Conclusion
With Level 9 App's app available for free, I'm not exactly sure what $7.95 a customers are paying for. Level 9 App state it's for access to "extended content" but do no elaborate on what this is.
Meanwhile, there's plenty of information on the Level 9 App website about their income opportunity.
Comparing the affiliate joining option with the $7.95 paid customer option, Level 9 App state that affiliates 'simply pay an addition $2.00 each month more  for… full compensation plan benefits'.
A replicated website and training is also thrown in, however it's clear that with affiliates subscribing to the same app paid customers are, the affiliates are simply kicking in extra each month to participate in the attached business opportunity.
There doesn't seem to be much of a focus on the "extended content" customers are expected to pay $7.95 a month for, with the Level 9 App not even bothering to go into any detail on it.
Personally I'm not seeing people paying for this additional content when the app itself is given away for free with supplied updated content.
And while we're on the topic of the apps content, I couldn't help but raise an eyebrow when I read Level 9 App suggesting their app could help people suffering from HIV and AIDS.
One would hope Level 9 App aren't exposing themselves to legal liability in promoting an app they themselves are claiming is of benefit to suffers of disease.
All in all with enough $7.95 customers there's nothing inherently wrong with the Level 9 App opportunity.
Given the way the opportunity is presented and the token $2 differentiation between income opportunity seekers and paid customers though, I have a hard time believing they're going to attract enough to generate more revenue than from their paid affiliates.