Kripto Future scammers promise V2 Ponzi reboot
Scammers behind the collapsed Kripto Future Ponzi scheme are pitching a reboot.
The reboot is being dubbed "Kritpto Future 2.0". The announced launch date is less than 24 hours away.
As opposed to Kripto Future's original website domain ("kriptofuture.com"), which is still up, Kripto Future 2.0 is being launched from "kriptofuturev2.com".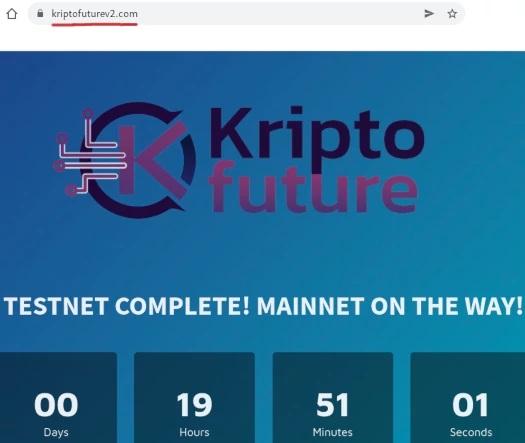 Kripto Future's V2 domain was privately registered on February 9th, 2022.
Presently Kripto Future V2's website is just a parked WordPress template. Scammers are being preloaded into the Ponzi scheme, ahead of the general public launch.
Now is the time for Global leaders to take position.

Our website will be opened to the general public in 48 hours, however Global leaders can take advantage.
Kripto Future is your classic Boris CEO Ponzi scheme, believed to be run by Russian scammers.
Kripto Future's Boris CEO was some guy playing "Jeffer Ribera".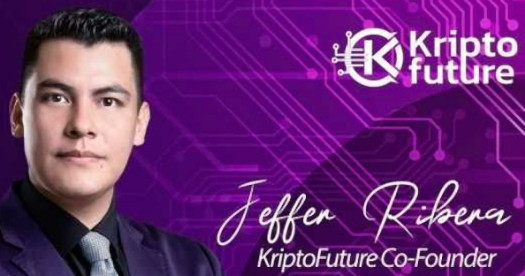 Kripto Future's scammers set up Ribera in Dubai, the MLM scam capital of the world.
Less than a month after the Central Bank of Russia issued a Kripto Future fraud warning, the Ponzi scheme collapsed.
Ribera went into hiding, only to resurface on or around February 2022 for the V2 reboot.
Preceding Kripto Future V2's launch was a series of communications to investors.
These communications pegged an initial reboot launch for early March. That has been repeatedly pushed back to March 22nd.
Coordination of Kripto Future V2 is taking place on Telegram.
To explain away Ribera's disappearance after Kripto Future collapsed, the cliche "sickness" ruse has been trotted out: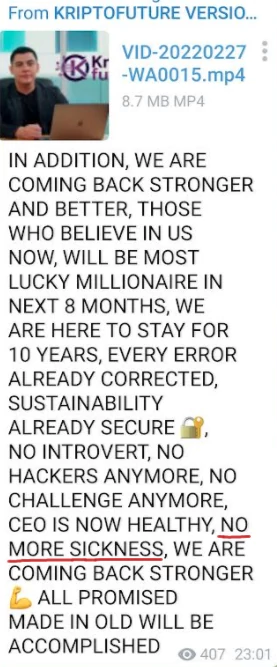 In an undated email sent "directly from the CEO", Kripto Future's collapse is referred to as "a setback".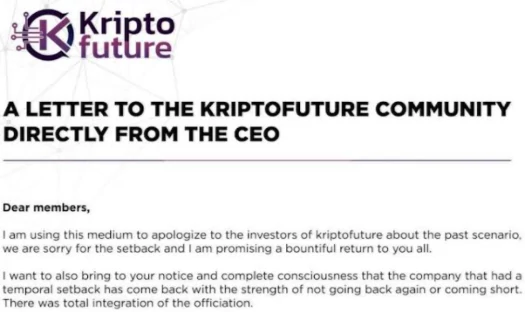 I also want to bring to your notice and complete consciousness that the company that had a temporal setback has come back with the strength of not going back again or coming short. There was total integration of the officiation.

The effect of the past insurgence has led to the total consolidation and stability of our stand today. And I want to let you know that the company has come to stay and break records ever in the capital market.

The company underwent a great innovation and the technology now is one of the highest standard for both mining and trading. It is really a thing of determination.
Evidently springing for an English translator for the mangled Russian was too much.
If it hasn't already collapsed before it comes up, BehindMLM will publish a Krypto Future V2 review.
Typically Ponzi reboots don't last as long as their precursors. Unfortunately the MLM crypto niche is full of some of the dumbest people on the planet.
Update 4th May 2022 – BehindMLM has revisited Kripto Future V2 to see how it's going. Spoiler: not too well.