Jeremie Sowerby arrested for MLM crypto Ponzi scamming

Jeremie Sowerby has been arrested on fraud charges related to multiple MLM crypto Ponzi schemes.
Sowerby and co-conspirator Luis Ortega were indicted under seal on September 19th.
The indictment details charges related to Now Mining, VIP Mining and Millennium Technologies.
As reviewed here on BehindMLM;
Now Mining (2017) pitched investors on a 1% daily ROI for 280 days
VIP Mining (2018) pitched investors on a variable daily ROI rate
Millennium Technologies I'm not familiar with but is described as a "cryptocurrency investment fraud scheme" in Sowerby's and Ortega's indictment. This is in line with Now Mining and VIP Mining (both used a crypto mining ruse).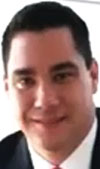 The indictment cites Ortega (right) as CEO of all three Ponzi schemes.
ORTEGA regularly misrepresented and mischaracterized his employment history, business background, and financial expertise to victim investors.

Before 2017, ORTEGA had no meaningful background, experience, or knowledge about cryptocurrency mining or trading operations.

For each fraudulent cryptocurrency enterprise, ORTEGA represented himself as an owner, manager, and salesman.
Although he was co-owner of each scam, Sowerby's role was to be the "primary salesperson" in each scheme.
SOWERBY also misrepresented and mischaracterized ORTEGA's employment history, business background, and financial expertise to victim investors.

SOWERBY had no meaningful background, experience, or knowledge about cryptocurrency mining or trading operations.

Together with ORTEGA, he created deceptive sales presentations that contained elaborate lies and dishonest investment opportunities.

For each fraudulent cryptocurrency enterprise, SOWERBY also represented himself as an owner, manager, and salesman in each fraudulent enterprises.

Between Now Mining, VIP Mining and Millennium Technologies, Sowerby (right) and Ortega "defrauded about 290 victims of approximately $6,282,775."
This money was wrongly deposited into, and transferred between, seventeen (17) banks controlled individually by either ORTEGA, SOWERBY, or SOWERBY's girlfriend (K.B.).
As with all MLM Ponzi schemes, the primary beneficiaries of invested funds were those running the scam.
No victim funds in Now Mining were used to lease or buy cryptocurrency mining machines that generated profits for any of the victim-investors in Now Mining.

Instead, approximately two million dollars of investor funds were inappropriately used by defendants to buy actual Bitcoins in the market, and some of the Bitcoins were then used in a deceptive way by defendants to make it appear to victims that their actual investments were used to lease legitimate mining machines that purportedly generated profits for victims.

Most of the $2,000,000 in actual Bitcoins that defendants fraudulently purchased was never disbursed to victims, and the $6.2 million in victim funds overall were either moved to private accounts controlled by defendants or spent by defendants to buy homes and live lavishly.
VIP Mining took in around $726,000 from ~80 investors. This time Sowerby and Ortega did purchase 1,200 mining rigs.
But (they) never created the necessary infrastructure to power and cool the mining machines they bought.

Defendants tried to establish two VIP Mining warehouses – one in Phoenix and one in Tempe.

About 200 machines were earmarked for the Phoenix location and 1,000 machines for the Tempe site.

From inception, both facilities had insufficient power and cooling capacity, and defendants lacked the skills and means to operate either facility.

Little or no income was generated by these approximately 1200 machines (most of which were never hooked up to power), and eventually defendant ORTEGA absconded with most of these mining machines in October 2018.
VIP Mining collapsed within 10 months.
Millennium Technologies was set up a few months after VIP Mining launched in early 2018.
This time the ruse was "a real estate development and technology company that designed, built, and funded custom smart homes."
Millennium Technologies ran its Ponzi scheme through a Millennium shitcoin.
Defendants produced elaborate and deceptive marketing materials. They falsely described a sophisticated and embellished corporate structure, and grossly lied about Millennium's actual business operations.

Defendants had no meaningful record keeping or accounting processes, and victim "investments" were siphoned immediately to private and personal financial accounts owned and controlled by defendants.
Millennium Technologies took in around $500,000 from just 20 investors.
Like the other two fraudulent businesses, there were no business records, and victim funds only went to ORTEGA, SOWERBY, and SOWERBY's girlfriend (KB).

Defendants continued to move investor funds into private bank accounts they controlled and used the money to continue funding their expensive lifestyles.
All in all Sowerby's and Ortega's MLM crypto Ponzi crime spree defrauded around 400 investors out of over $7.5 million.
Sowerby's and Ortega's indictment details 44 counts of wire fraud and ten counts of money laundering.
The DOJ are seeking forfeiture of ill-gotten gains and assets, which includes:
a property in Phoenix, Arizona titled to Sorbes Group LLC
a property in Lynn, Indiana titled to Global Works LLC
a property in Glendale, Arizona titled to Juliet Rozo
a property in Richmond, INdiana titled to Global Works LLC
Following his indictment Sowerby was arrested on September 22nd.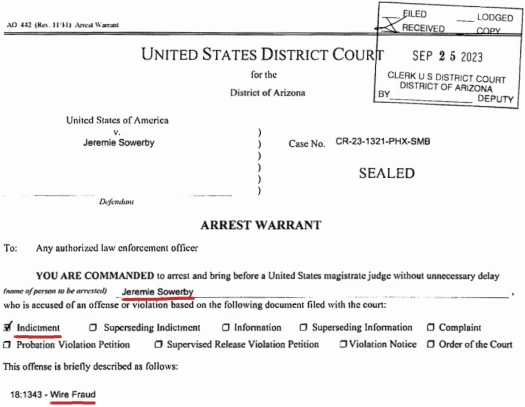 Sowerby made his initial appearance on September 26th, wherein he pled not guilty. Sowerby's criminal trial has been tentatively scheduled for November 14th, 2023.
Luis Ortega hasn't been arrested yet but a summons was executed on him on September 27th.
The summons orders Ortega to present himself before the Arizona District Court on October 11th, 2023.
In related regulatory litigation, the Arizona Corporation Commission filed suit against Sowerby for securities fraud back in May.
As of September 8th, Sowerby's civil securities fraud case remains pending.
Stay tuned for updates we continue to track Sowerby's and Ortega's new criminal case.
Update 22nd October 2023 – A jury trial has tentatively been scheduled for December 12th, 2023.
I'm expecting this will be pushed back. Jeremie Sowerby already filed a motion to the continue the trial date on October 18th.
Update 5th November 2023 – Sowerby's motion to continue his trial has been rescheduled for a hearing on November 14th.
Sowerby was denied release to "home arrest or electronic monitoring" on November 2nd. Another detention hearing has been scheduled for November 28th.
Update 7th November 2023 – The DOJ's detention motion regarding Sowerby has revealed he's facing additional indictments.
Update 15th November 2023 – Jeremy Sowerby's Now Mining criminal case was designated "complex" on November 13th.
On November 14th the originally scheduled December 12th trial was continued to June 19th, 2024.
Update 30th November 2023 – Following his second indictment, at Sowerby's request his Now Mining detention hearing has been continued to December 19th.