Now Mining Review: Official marketing arm for Genesis Mining?

Now Mining claim to be based out of London in the UK but don't appear to have any actual business operations there.
Nothing comes up for "Now Mining" when you run a UK incorporation search on the company name.
Additionally, no contact details are provided on the Now Mining website.
The Now Mining website domain ("nowmining.com") was privately registered on July 27th, 2017.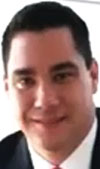 Luis Ortega is identified as the company's CEO.
Ortega (right) appears to be based out of the Arizona in the US. As far as I can tell, he doesn't seem to have an MLM history.
For all intents and purposes Now Mining appears to be operated from within the US.
Now Mining held their official grand opening on December 9th in Phoenix Arizona.
As per Alexa's records, the US is also the largest source of traffic to the Now Mining website (64%).
For more we turn to an undated Now Mining conference call hosted by Oz Fuentes.
Fuentes states he's based out of Phoenix, Arizona and claims to have been working in the MLM industry for ten years.
After introducing himself and others on the call, Fuentes starts breaking down Now Mining.
About four minutes into the webinar, Fuentes claims Now Mining is the official marketing arm of Genesis Mining.
[4:23] I found out that Luis had been working with Genesis Mining for about three years.

He's been consulting for them, Genesis Mining. And he was chosen to be the President of CEO of Now Mining, who is the marketing arm for Genesis Mining.

Genesis Mining is a four year old company, debt free.

They're worth about two billion dollars. They've mined about a hundred thousand bitcoin so far.

And they decided to launch their network marketing arm, Now Mining.
I tried to independently verify this information but couldn't find anything connecting Luis Ortega or Now Mining with Genesis Mining.
Whether the company is indeed the network marketing arm of Genesis Mining remains unclear.
The fact that there's no mention of Now Mining anywhere on the Genesis Mining website is pretty suspect.
Read on for a full review of the Now Mining MLM opportunity.
Now Mining Products
Now Mining has no retailable products or services, with affiliates only able to market Now Mining affiliate membership itself.
The Now Mining Compensation Plan
Now Mining affiliates invest up to $100,000 on the promise of a daily ROI for 280 days:
1/30 Mine – $100
1/6 Mine – $500
1/3 Mine – $1000
1K Mine – $3000
5K Mine – $5000
10K Mine – $10,000
15K Mine – $15,000
20K Mine – $20,000
30K Mine – $30,000
50K Mine – $50,000
100K Mine – $100,000
Specific ROI rates aren't provided, but Oz Fuentes claims affiliates can expect around 1% a day.
[8:05] (Now Mining) will provide you with a contract and for 280 days you will be mining 1% on whatever it is you put in.
This works out to an approximate 280% ROI on each of Now Mining's investment plans.
Referral Commissions
Now Mining pay a direct referral commission on funds invested by personally recruited affiliates.
Up to 20% is paid as a direct referral commission, depending on how much a newly recruited affiliate invests.
An "upgrade commission" of up to 15% is paid when personally recruited affiliates re-invest at higher levels.
Residual Commissions
Now Mining pay residual commissions via a binary compensation structure.
A binary compensation structure places an affiliate at the top of a binary team, split into two sides (left and right):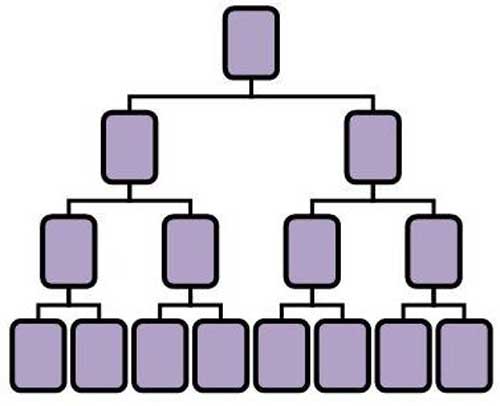 The first level of the binary team houses two positions. The second level of the binary team is generated by splitting these first two positions into another two positions each (4 positions).
Subsequent levels of the binary team are generated as required, with each new level housing twice as many positions as the previous level.
Positions in the binary team are filled via direct and indirect recruitment of affiliates. Note there is no limit to how deep a binary team can grow.
Residual commissions are paid out based on investment volume generated within a binary team.
At the end of each day Now Mining tally up new investment volume on both sides of the binary team.
Affiliates are paid a percentage of matched investment volume, based on how much they themselves have invested:
invest in a 1/30, 1/6, 1/3 or 1K Mine plan and receive a 14% residual commission rate
invest in a 5K, 10K or 15K Mine plan and receive a 16% residual commission rate
invest in a 20K or 30K Mine plan and receive an 16% residual commission rate
invest in a 50K or 100K Mine plan and receive a 20% residual commission rate
Leftover volume on the stronger binary side is carried over the following day.
Daily Trading Bonus
For some reason Now Mining want to discourage affiliates from withdrawing earnings.
Affiliates who opt not to withdraw represented earnings in their backoffice for the duration of their mining contract (280 days), can
win an additional daily bonus through the trading that corresponds to your mining plan.
No further information is provided.
Joining Now Mining
Now Mining affiliate membership is free, however free affiliates can only earn referral and residual commissions.
Full participation in the Now Mining income opportunity requires a minimum $100 investment.
Conclusion
I suspect Now Mining's representation that it's a UK company is a pseudo-compliance attempt to dodge US regulatory requirements for securities offerings.
Pseudo-compliance aside, Now Mining's mining contracts are very much a security.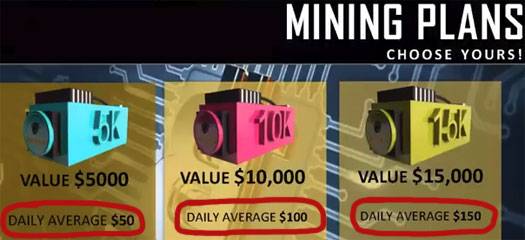 Courtesy of Oz Fuentes, here's how Now Mining's contracts are being marketed;
[8:43] After nine months not only will you make your money back in bitcoin mining, but you'll triple it… almost triple it.

And if you're blessed, you'll even quadruple it.

[9:23] The five thousand dollar mining contract will allow you to make about fifty dollars a day.

And if you multiply fifty dollars times two hundred and eighty days, you're talking about a fifteen thousand to eighteen thousand dollar return.

[10:51] There's no real-estate investment that you can purchase at a hundred thousand dollars that will make you three hundred thousand dollars … within nine months.

There's no investment out there, there's no bonds, there's no stocks – there's nothing out there that will triple your money within nine months at all.
For those unfamiliar with the term, a security is defined as an investment that delivers a passive ROI.
As you can see by definition of the business model or how they're marketed, this is exactly what Now Mining's contracts are.
And although not mentioned anywhere on the Now Mining website, there also appears to be an attached ICO.
Information on Now Mining's ICO was revealed in a webinar published to Vivian William's YouTube channel on December 7th.
At around  twenty-six minutes into the webinar, host Jonny Tashjian covers the ICO briefly.
[26:30] For you to look into and invest in an ICO, the question everybody has is, "Is it real? Are they going to do something with the profits they're looking to raise?"

[26:52] A few of the owners of Genesis and Luis, they own a company in Mexico that converts shipping containers into a home.

Just go and Google "shipping container homes" and you'll see what I'm talking about.

[27:15] They're building four thousand square foot homes in California. They're selling for roughly $800,000 … well, their cost is roughly $60,000 in materials and another $60,000 in transport.

So we're talking about something that has a huge profitability potential. And so they're actually the first ICO backed 100% by real-estate.
The company Tashjian is referencing appears to be Millennium Network.
A December 8th press-release published by Millennium Network's PR department cited Luis Ortega as CEO of the company.
Millennium, a real estate development technology company committed to drastically alter the real estate development space with custom-built smart homes, has announced the launch of its decentralized and blockchain based token, the Millennium token.

The initial coin offering is scheduled on December 9, 2017 along with a pre-initial coin offering on the same day for a select group.
That "select group" appears to be Now Mining affiliates.
[28:57] If you put five thousand dollars onto the platform right now, you're gunna be eligible for roughly $2500 to purchase of this ICO.

So two separate investments, but the only way you get access to the ICO is to buy a mining contract with the company (Now Mining).

[28:10] I've seen ICOs go upward of fifty, five hundred, a thousand times.

Anybody that puts money onto the platform, in a mining contract, you're gonna have access this weekend to buy into this ICO with pre-ICO pricing.

Y'know we're talking less than a dollar. And when they open this thing onto the market, it's only going to be a three-week window that this ICO is going to be open, and we have the ability to literally uh… that money that we buy in at, it's going to go five, ten times day one when they open.
The Millennium Network website reveals the company purportedly building the "smart homes" is SQ Tech:
Currently our smart homes are being built by our partner SQ Tech in Hermosillo, Sonora, Mexico.
Why does a company making shipping container homes in Mexico need to launch an ICO?
No idea. And the explanation provided in the Millennium Network whitepaper doesn't explain why either.
The Millennium token will be our cryptocurrency that will optimize the advantages of our decentralized network to enable global transactions to be easier, faster, and more secure.

All transactions will be authenticated and confirmed using decentralized blockchain technology to process payments made with our Millennium token, which guarantees the safe transfer of funds and the completion of services.
Sounds to me like they're launching an ICO for the sake of it. Probably because as opposed to using an established cryptocurrency, this way they get to keep money people invest in Millennium tokens, despite their being unnecessary from a practical perspective.
But I digress. Without going any further down the Millennium Network rabbit hold, the plan to me appears to be to pump Now Mining revenue into Millennium Network. Hence the enticement for Now Mining affiliates to not withdraw represented earnings for 280 days.
Pretty shady if you ask me. If Millennium Network was above-board, why not just launch it as a separate company instead of tying it to an unrelated MLM crypto mining opportunity?
The long and the short of it is neither Now Mining, Luis Ortega or Millennium Network are registered to offer securities in the US.
Yet through Now Mining, US residents are being targeted for investment into a passive ROI opportunity.
That means all three are engaged in the illegal offering of unregistered securities.
And that's the best case scenario. Worst case there is no or only a partial contract with Genesis Mining, with Now Mining using newly invested affiliate funds used to pay an implied 1% daily ROI on mining contract for 280 days.
It certainly wouldn't be the first time an MLM opportunity had claimed partnership with Genesis Mining, although being its official network marketing arm is certainly a first.
Then there's the Millennium Network ICO, which makes little sense other than as a vehicle to launder funds invested into Now Mining through.
Oh and don't forget pyramid recruitment commissions on Now Mining invested funds. No retail sales means any referral and residual commissions paid out are tied to funds invested by recruited affiliates.
To summarize, there's no doubt the cryptocurrency space is booming and if you wish to get involved more power to you.
Getting involved in MLM companies promising daily returns through unregistered securities offering however, isn't a smart way to go about it.
Update 5th September 2018 – Genesis Mining has confirmed it never had a partnership with Now Mining or Luis Ortega.
Update 30th September 2023 – Luis Ortega and Jeremie Sowerby have been indicted on Now Mining wire fraud charges.