Isagenix sued for unsafe levels of vitamins in products

A former IsaBody Challenge winner is suing Isagenix, alleging the company's products are unsafe.
Chera Harris, a resident of British Colombia in Canada, is suing Isagenix for allegedly selling her unsafe products.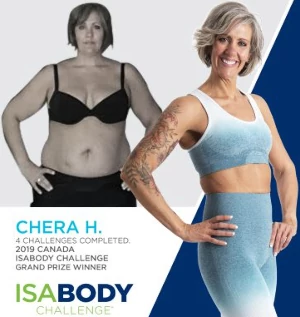 Harris was a high-profile Isagenix distributor, winning the company's IsaBody Challenge in 2019.
Quoting court documents, Castanet reports;
Isagenix says Harris enrolled 75 new "associates" and "preferred customers" during her time working for Isagenix, and earned more than $35,000 in commission.
I believe Harris left Isagenix in 2020.
As alleged by Harris, consumption of Isagenix products between 2017 and 2020 'caused her to overdose on vitamins and minerals.'
According to a civil claim filed last year, Harris "experienced a significant overall decrease in her health as a result of chronic overdose of vitamins and minerals" from eating and drinking Isagenix's meal-replacement products.

Harris claims she consumed these products … leading to overdose symptoms that include chronic pain, abnormal heart rhythm, sleeplessness, depression and anxiety.
As reported by CBC, Harris is seeking damages on the basis Isagenix
was negligent and deceptive, and that it breached its duty of care to its customers.
Isagenix, a US-based MLM company, attempted to have the case stayed in favor or arbitration in Arizona.
The request was denied by the B.C. Supreme Court last week, on the basis Harris had filed as an Isagenix customer, not a distributor.
In essence, the plaintiff wore two hats during the relevant period: she was both a consumer and an Associate.

This proceeding is brought in her capacity as the former, not the latter.

Just as she does not need to rely on her position as an Associate in order to sue as a consumer, she cannot be precluded from bringing an action as a consumer because of her status as an Associate.
Harris' case will now proceed in Canada, with Isagenix required to file an answer.
Isagenix has a history of selling unhealthy products to consumers in Canada.
In late 2020 Canadian authorities recalled several Isagenix products.
An independent regulatory inspection found Isagenix's products 'may be unsafe due to over-fortification of vitamins'.
Additional Isagenix products were recalled throughout January 2021.
To the best of my knowledge Isagenix hasn't publicly addressed the Canadian recalls or Harris' lawsuit.
Castanet reached out to Isagenix for comment but the company did not respond.