iPro Network pulling exchange exit-scam amid SEC litigation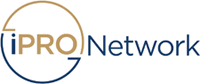 If the company's official Twitter account is to be believed, iPro Network is in the midst of pulling another exchange exit-scam.
This is the same iPro Network that was sued by the SEC eleven months ago.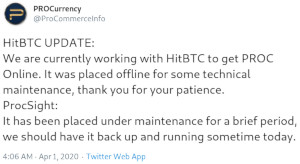 As per iPro Network's Twitter account, the company claims it's working with the HitBTC exchange.
We are currently working with HitBTC to get PROC Online.

It was placed offline for some technical maintenance, thank you for your patience.
During iPro Network's pump and dump heyday, PROC debuted on a number of public exchanges in 2017.
Once the shitcoin was dumped into oblivion, one by one exchanges delisted it.
The SEC sued iPro Network and owner Daniel Pacheco in May 2019. At the time PROC was still trading at 14 cents.
By August 2019 PROC has plummeted further to just $0.00074. Today PROC is not available on any public exchange.
If HitBTC decides to list PROC, presumably a repeat of the previous pump and dump will take place. Or maybe not.
PROC bagholders are desperate to sell but this time around there's unlikely to be any buyers.
iPro Network has been shut down and the SEC's lawsuit is still playing out.
This raises the question of why HitBTC would even bother relisting PROC.
One possibility is money has exchanged hands behind the scenes. Who paid who? Who knows.
What I can tell you though is without iPro Network pushing it, PROC being relisted on any exchange is all but dead in the water.
On the plus side it might drag HitBTC into the SEC's sights.
Any exchange dodgy enough to relist Ponzi points amid an ongoing SEC shutdown lawsuit is bound to have other skeletons in the closet.
Update 1st September 2020 – It appears iPro Network's plans to public exchange exit-scam has failed.