IPCapital escalates exit-scam by firing themselves

The scammers behind Intelligence Prime Capital have escalated their exit-scam… by firing themselves from the company.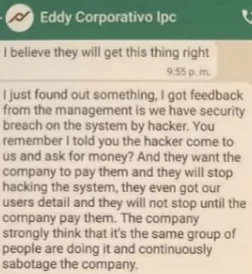 Yesterday's exit-scam shenanigans saw suspected head Intelligence Prime Capital "Eddie" (right), trot out a "we got hacked!" story.
I got feedback from the management is we have security breach on the system by hacker.

You remember I told you the hacker come to us and ask for money?

And they want the company to pay them and they will stop hacking the system, they even got our user details and they will not stop until the company pay them.

The company strongly think it's the same group of people are doing it and continuously sabotage the company.

Then right now because of this issue, I want everyone to stop promoting and stop bringing money to the system if not more people will need to bear the burden.

Wait until the technical team has solved all the hacking issue only you guys proceed with the promoting, so that our leaders have more confident in the system and our leaders.

Remember don't say it out and don't mentioned my name for sharing this information … please please.
That communication was published by Eddie on WhatsApp, and in turn shared in a video by serial Ponzi promoter Mike Lucas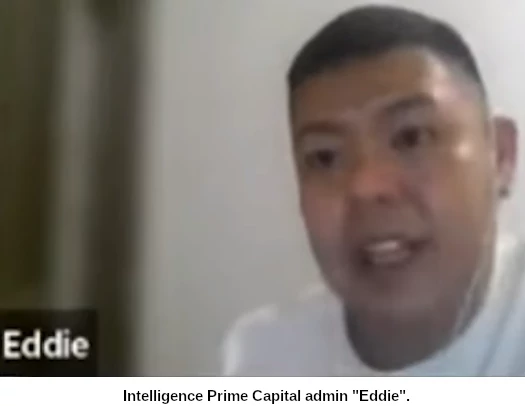 For whatever reason that story was abandoned later in the day.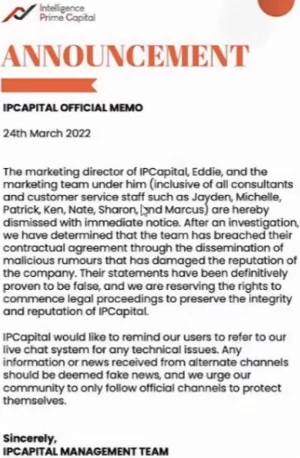 It was replaced by the news Eddie and his fellow Intelligence Prime Capital admins had fired themselves.
The marketing director of IPCapital, Eddie, and the marketing team under him (inclusive of all consultants and customer service staff such as Jayden, Michelle, Patrick, Ken, Nate, Sharon, and Marcus), are hereby dismissed with immediate notice.

After an investigation we have determined that the team has breached their contractual agreement through the dissemination of malicious rumours that has damaged the reputation of the company.

Their statements have been definitively proven to be false, and we are reserving the rights to commence legal proceedings to preserve the integrity and reputation of IPCapital.
As I understand, other than Eddie, the rest of the Intelligence Prime Capital team bailed a few days ago when the US closure was confirmed.
Looking forward, it's assumed Intelligence Prime Capital will limp along in the background before collapsing entirely. Probably next week if I had to guess but these things aren't set in stone.
What is clear is that by firing themselves, Eddie and his team of scammers buy themselves time to create distance between themselves and their victims.
Singapore's regulators are unlikely to do anything as Intelligence Prime Capital wasn't actively promoted there. Up until recently the US was Intelligence Prime Capital's primary source of recruitment and new investment.
Securities in the US are regulated by the SEC. Neither Intelligence Prime Capital, it's admins or promoters are registered to offer securities in the US.
Nigeria emerged as a new market to steal money from a few weeks ago. The Bank of Nigeria does issue warnings from time to time but is otherwise inactive with respect to MLM related securities fraud.
Mike Lucas (right) and his partner in crime Mike Donaldson run the IPC Rebels downline group. They are believed to at or near the top of the US-based Intelligence Prime Capital earners list.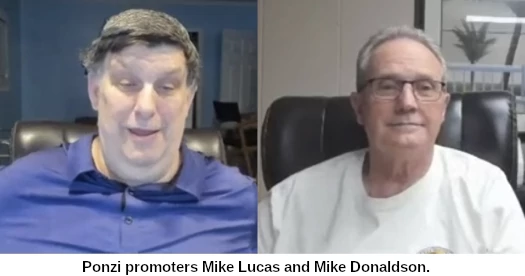 Yesterday they announced they were pulling out of the company, through an attempted withdrawal of their accounts this weekend. This will likely be widespread among US investors, hence my collapse prediction next week.
Having made a boatload of money through recruitment, whatever Lucas (right) and Donaldson lose in backoffice monopoly money will be negligible.
In the wake of Intelligence Prime Capital's ongoing exit-scam and inevitable collapse, Lucas and Donaldson are funneling victims into the COTP Ponzi scheme.
Update 29th March 2022 – Mike Lucas and Mike Donaldson have deleted all their recent "Mike & Mike" Intelligence Prime Capital videos.
As such the previously accessible link to their cited video in this article has been disabled.