Investview CEO arrested on recovery scam fraud charges

Investview CEO Joseph Cammarata has been arrested on recovery scam fraud charges.
The SEC has also filed parallel civil proceedings against Cammarata and two co-conspirators.

Joseph Cammarata (right) was appointed CEO of Investview in 2019. He was arrested in Florida on November 4th.
In early November, the DOJ revealed Cammarata, Erik Cohen and David Punturieri, had been indicted 'on charges of conspiracy to commit multiple counts of fraud in connection with a securities fraud claims scheme.'
The "securities fraud claims scheme", aka a recovery scam, was perpetrated through Alpha Plus Recovery.
Alpha Plus Recovery ran from 2014 to January 2021.
Whereas in the MLM space we typically see recovery scams directly target victims (promises of refunds after a fee is paid), Alpha Plus Recovery targeted civil lawsuits filed against companies found to violated securities law.
Upon reaching a settlement with the offending company;
As a practical matter, because such settlements often involve very large numbers of injured investors, they frequently involve very large amounts of money.

Even after the payment of attorney's' fees and expenses, such settlements result in substantial pools of funds that have to be equitably divided among large numbers of investors.
Who gets what is the result of formulas set out in settlement agreements. This process, which includes validating claims filed by victims, is carried out by a court-approved third-party claims administrator.
From Cammarata's previously sealed indictment;
Alpha Plus was a claims aggregator purporting to act on behalf of clients who claimed entitlement to settlements from securities class action and SEC enforcement action settlements.

All claimants to such settlements, including those represented by claims aggregators such as Alpha Plus, were required to show two essential facts in order to qualify for an award of funds.

First, claimants needed to demonstrate that they had bought shares ofthe subject security during the time period set forth in the court-approved settlement agreement that resolved the securities class action lawsuit.

Second, claimants also needed to show they had suffered damages as a result of their purchase of securities.
Alpha Plus' recovery scam saw the firm submit bogus victim claim details to multiple claims administrators.
Joseph Cammarata, Erik Cohen and David Punturieri and others … created what purported to be independent entities, but which were in fact owned or controlled by the defendants, and used those entities to make false claims in securities class action and SEC enforcement action settlements.
These entities were represented to be Alpha Plus clients, who then, on behalf of the created entities, submitted false claims.
The indictment alleges Cammarata, Cohen, and Punturieri (quoted verbatim)
made material misrepresentations to claims administrators about securities trading that had purportedly been done by supposed Alpha Plus clients;
created false names of supposed Alpha Plus employees when communicating with claims administrators;
created fictitious brokerage documents purporting to show purchases and sales of securities subject to class action and SEC enforcement action settlements;
provided fictitious brokerage documents to claims administrators to support false and fraudulent claims;
impersonated individuals purportedly in control of Alpha Plus clients;
impersonated individuals purportedly employed by brokerage firms in;
conversations with claims administrators who were attempting to determine the legitimacy of claims submitted by Alpha Ptus; and
falsely denied ownership or control of Alpha Plus in conversations with claims administrators who were attempting to determine the legitimacy of claims submitted by Alpha Plus.
Between 2014 and 2021, Cammarata, Cohen and Punturieri's Alpha Plus recovery scam netted them ~$40 million.
Their October 28th indictment lists one count of conspiracy and requested forfeiture.
At time of publication, the Alpha Plus case docket reveals a bench warrant was issued against Cammarata on the same day the indictment was filed, originally under seal.
Cammarata was arrested on November 4th. The status of Cohen and Punturieri is unclear.
In a press-release issued on November 3rd, the DOJ advises;
If convicted, each defendant faces a maximum possible sentence of 20 years in prison.
Parallel civil fraud proceedings were initiated by the SEC on November 3rd.
The SEC's complaint names Joseph Cammarata, Erik Cohen, David Punturieri, AlphaPlus Portfolio Recovery Group and Alpha Plus Recovery as defendants.
As alleged by the SEC;
Defendants stole at least $40 million from approximately 400 distribution funds that formed as a result of resolutions of securities class actions and Securities and Exchange Commission enforcement actions.

Defendants knew, or were reckless in not knowing, that their scheme was illegal.
The conduct detailed in the SEC's complaint mirrors that of the sealed indictment. Additional context is provided however, via obtained communication between the defendants.
In 2015 a Distribution Fund pushed back on what they believed was a false explanation pertaining to "fabricated trading records".
Punturieri failed to address the fund's concern, prompting Cammarata to email Punturieri;
. . . I woke up in the middle of the night thinking about JAIL, because we waited a week to hear anything from the admin.
After one of Alpha Plus' sham clients, Nimello Holding LLC, obtained via a false claim, Cammarata emailed Punturieri;
Not to [sic] shabby…Maybe we were to [sic] conservative on the numbers ;).
The SEC's complaint also reveals what Cammarata and his co-defendants spent the millions they illegally obtained on;
Defendants funneled the money they received from filing fraudulent claims through a web of accounts controlled by the Individual Defendants.

The Individual Defendants used these stolen assets to pay for numerous personal expenses, such as jewelry, home renovations, watercraft, vacation homes and other real estate, including upkeep on Cammarata's personal Caribbean island.
On November 4th the SEC was granted a Temporary Restraining Order, freezing the defendant's assets.
The freeze included certain allegedly joint assets, which Joseph shared with "estranged spouse" Nina Cammarata.
This prompted Nina to file a motion to intervene on November 7th, alleging she knew nothing of Joseph's fraudulent conduct.
Nina filed a petition for divorce against Mr. Cammarata in August 2019 in the State of New Jersey, and after a period of attempted reconciliation, served the complaint in July 2020.

The divorce proceedings are ongoing.

The Cammaratas jointly own three (3) pieces of real property (the "Property") – a house in Monmouth Beach, NJ, a house in the Pocono Mountains of Pennsylvania, and a Bahamian island known as "Sandy Cay."

The Monmouth Beach house is Nina's primary residence.

It is encumbered by a mortgage, which requires the payment of $5,000 per month to maintain.

During their marriage as well as throughout the divorce proceedings, Mr. Cammarata paid for all of the expenses associated with the other Properties.

Nina does not know what these expenses are or how they were paid, but she does know that as a joint owner of these properties, she may be jointly liable for these expenses.

If she does not receive immediate access to the Joint Account, she will be irreparably harmed and the Properties may be subject to waste and possibly adverse legal action, including liens and foreclosure for non-payment of a mortgage, taxes, and HOA fees.
A notice filed by the SEC on November 19th detailed "a stipulated intervention and asset carve out" agreement had been reached with Nina.
As per an order issued on December 3rd, the granted TRO has been extended through January 25th, 2022.
For their part, upon learning of Cammarata's arrest, Investview distanced themselves with a quickness.
The day after Cammarata's arrest, November 5th, Investview announced "interim management changes".
Investview recently learned through media sources that its Chief Executive Officer, Joseph Cammarata, and certain other of his business associates, have become the subject of recently announced civil and criminal charges.

Immediately upon Investview becoming aware of these legal matters, the Company's Board of Directors placed Mr. Cammarata on administrative leave and removed him from all duties and responsibilities, pending the Company's own internal investigation of these matters in concert with the Company's outside legal professionals.

The activities attributable to Mr. Cammarata in these reported legal actions were unbeknownst to, and completely independent of Mr. Cammarata's activities on behalf of Investview.

To the best of the knowledge of the Company, all activities in question ended prior to Mr. Cammarata becoming involved with Investview in December of 2019.

In light of the current situation and circumstances, Investview has appointed James R. Bell as the acting CEO to ensure business continuity and coordination of daily business operations.

Since April of 2020, Mr. Bell, as a director of Investview, has been instrumental in the oversight of the Company's operational turnaround to profitability.
It's worth clarifying that the recovery scam allegations against Cammarata stretch into his Investview tenure.
The last documented instance of Alpha Plus fraud, provided in the SEC's complaint, is dated December 15th, 2020. The communication exchange presumably runs into January 2021, hence the estimated Alpha Plus range of fraud.
Regardless, Cammarata had been Investview CEO for a year at that point. The SEC's complaint alleges multiple instances of Alpha Plus fraud throughout 2020.
Another point of interest is Investview's claimed "operational turnaround to profitability".
This coincides with Investview's continued securities fraud, through Kuvera Global and now iGenius.
Under Joseph Cammarata's leadership Investview has and continues to commit securities fraud, on the basis they don't believe cryptocurrency is regulated.
Evidence of this viewpoint can be found on Investview's social media channels.
For example, on August 11th, Investview retweeted an article by Charles Gasparino for the NY Post: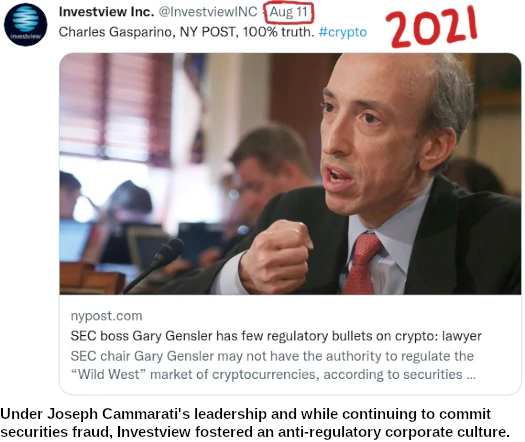 Gasparino puts forth the SEC's Gary Gensler is wasting his time trying to regulate the "unregulatable" crypto trade market.
With respect to Investview's securities fraud through iGlobal, whether cryptocurrency is regulated or not doesn't matter.
The issue is securities fraud, conducted via iGenius' passive investment trading bot.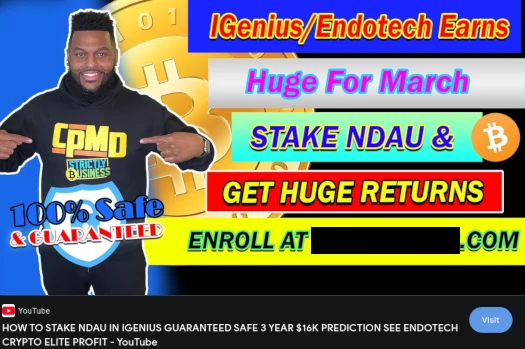 There is no carve out for securities fraud committed via cryptocurrency in US securities law.
Investview's regulatory troubles began in 2018, with a $150,000 fraud settlement with the CFTC.
The fallout saw Investview rename Wealth Generators to Kuvera Global. Following investor losses through various Kuvera Global offerings, Investview rebooted it again as iGenius.
In an ideal world Joseph Cammarata's arrest would prompt a regulatory investigation into Investview's iGenius NDAU token securities fraud.
Given the secrecy of active regulatory investigations in the US, BehindMLM can neither confirm or deny such an investigation exists.
Looking forward, there's no dispute Alpha Plus Recover wasn't an MLM company and, outside of Cammarata heading up both companies, wasn't tied to Investview.
That said, I have a feeling Cammarata's cases might come up should the SEC pursue action related to Investview and iGenius.
I won't be reporting on Cammarata's case as in depth as BehindMLM typically follows regulatory cases. For the purpose of record keeping though, we'll still keep you posted on any significant developments.
Update 18th January 2022 – Cammarata has plead not guilty on all counts. He was released on December 29th.
A trial has been scheduled for October 17th, 2022.
Update 14th February 2022 – Cammarata's SEC case has been stayed pending the outcome of his criminal case.
In a motion requesting the stay filed on January 24th, the DOJ stated
resolution of the Criminal Actions will resolve most (if
not all) of the claims asserted against the defendants in the Civil Action.
The motion was granted later the same day.
Update 14th March 2022 – Joseph Cammarata was caught trying to flee the US.
As a result Cammarata's bail was revoked and he's been sent back to prison.
Update 8th November 2022 – Joseph Cammarata was found guilty on eight superseding indictment count on October 27th.