IPCapital's "we got hacked!" exit-scam sets up IPCloud Ponzi

The Intelligence Prime Capital exit-scam announcements are coming out so frequently it's hard to keep up.
Intelligence Prime Capital began blocking and draining investor accounts mid February. This was followed by ongoing withdrawal delays later the same month.
A few weeks ago a transition to crypto fraud was rolled out. This was followed by a "regulators!" exit-scam announcement just a few days later.
A few days later again Intelligence Prime Capital admins announced they'd fired themselves.
The latest exit-scam is a "we got hacked!" announcement, believed to have been issued over the last 24 hours.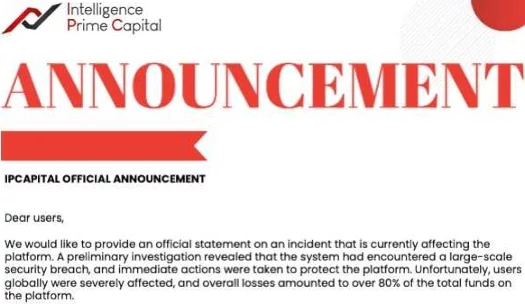 As per Intelligence Prime Capital's latest "we got hacked!" exit-scam, 80% of funds have been drained and its bots are "compromised".
But don't worry, there's new IPCloud Ponzi launch on the horizon.
I want to preface further discussion by noting Intelligence Prime Capital's "we got hacked!" exit-scam announcement is obviously baloney. This is just cover to explain away the inevitable collapse of a Ponzi scheme.
It's important to document these collapses though, as over time they demonstrate just how ridiculous an MLM Ponzi scheme's collapse can get.
And boy has Intelligence Prime Capital's collapse been ridiculous.
As per IPCapital's latest exit-scam announcement;
The system … encountered a large-scale security breach.

Users globally were severely affected, and overall losses amounted to 80% of the total funds on the platform.

As a result of the security breach, most of our AIA BOTs have been compromised, resulting in a loss of crucial data and statistical parameters that will affect their ability to make accurate analysis on the market.
What's really going on?
The fiction from Intelligence Capital above is being used to justify mandatory migration to their previously announced crypto exit-scam.
Intelligence Prime Capital launched their crypto exit-scam ten days ago as an optional transition. They believed the promise of higher returns would entice affiliates to give up their existing accounts and migrate over.
That didn't happen and so here we are.
About 24 hours ago Intelligence Prime Capital disabled the affiliate backoffice.
This was done to eject backoffice funds from the system and implement the mandatory crypto account migration.
This began by denying withdrawals and dumping backoffice funds back into affiliate's trading accounts.
Funds cannot be withdrawn from the trading account till next weekend.
Not that it matters…
A decision has been made by the management team to transfer all existing operations to our new MasterC BOT.

The capital of each user has been transferred to the MasterC BOT, and you will be able to continue receiving your daily rewards.
Intelligence Prime Capital's forced migration to crypto fraud locks investor funds for 100 days.
Oh and commissions are getting slashed too;
There will be some adjustments that will be made with regards to the management bonus, more details will be announced at a later date.
Ultimately, the goals of IPCapital's latest exit-scam are:
lock investor funds company-wide for 100 days;
slash commissions paid out; and
hope that monopoly money returns in the backoffice over the next 100 days spurs recruitment of new investors suckers to keep the Ponzi going.
Even if that works, math is math and Intelligence Prime Capital will sooner or later wind up unable to pay withdrawals again.
Probably sooner, as anyone with half a brain trying to withdraw what they can.
That's where IPCloud comes in.
We are proud to announce the imminent launch of IPCloud, a decentralized crypto wallet that will provide users with easy and seamless access to their digital assets.

More information with the detailed product release timeline will be announced in late April.
"New products" = new crypto investment scams for you to lose money in.
The long and the short of it is Intelligence Prime Capital withdrawals have exceeded new investment. They probably have for some time (early to mid February), leading to the inevitable collapse.
Now we're in the Ponzi end-game phase. Scammers do everything they can to juggle paying out just enough to keep recruitment going, while denying the majority of withdrawals.
The money doesn't exist. It never did, and that's why they IPCapital can't pay out.
Stay tuned as we continue to document Intelligence Prime Capital's increasingly messy collapse.