Integrity Assets Group Review: WCM777 Ponzi clone

There is no information on the Integrity Assets Group website indicating who owns or runs the business.
The company does have an "About US" page on their website, however only the following vague marketing copy is provided:
We are a group with a vision, with major projects, and founded in the land of opportunity, "The United States of America". We truly believe in making a difference in the world.
The company mentions South America frequently on the same page, indicating possible ownership from within:
Integrity Assets Group, Inc. was founded in 2012 in California. We now hold Multi-million contracts by supplying and distributing products and services worldwide. We are associated with well-known partners and companies from Latin America and Japan.

Our distribution to Latin America is about 350,000 tires for automobiles and large trucks. In addition, Home Appliances are also distributed to our partners in Latin America.

We also count on Strategic Divisions for the exploration and extraction of precious metals like Gold and Silver.

Our Business Warranties are completely solid and secure. We have contracts with companies who buy our products and will continue doing it for the decades to come. Such contracts are secured by a in $300 million bond.
Make of that what you will, keeping in mind that no further specifics are provided on any claims made by the company.
Meanwhile the Integrity Assets Group website domain ("integrityassetsgroup.us") was registered on January 14th 2014. This throws into question the company's claims they were founded in 2012, and naturally casts a shadow of doubt over the rest of the company's claims.
The domain registration itself reveals little about company ownership, simply listing "Integrity Assets Group, Inc" as the owner with an address in California.
The mention of California matches the company's claim they were founded there, however the specific address provided, 1901 Avenue of the Stars in Los Angeles, is owned by Regus.
The lack of a specific office number would indicate Integrity Assets Group are simply buying virtual office space (a mailing address) from Regus at $139 a month.
Two additional addresses appear on the Integrity Assets website, one in New York (14 Wall St New York, NY 10005) and one in California (100 N Barranca St #870 West Covina, CA 91791).
The New York address is yet another virtual mailbox service provided by Regus. The California address is a building owned by Wells Fargo. It might be legit but given the other two addresses are virtual, I'm not about to give Integrity Assets Group the benefit of the doubt.
As such, whether or not Integrity Assets Group has a physical presence in California or elsewhere in the US remains unclear.
I did note the mention of an "A. Al-Ajluni." as the CEO of Intergrity Assets Group on a press-release covering a purported sponsorship deal between the company and Bryan Herta Autosport.
Indianapolis, IN – May 9, 2014 – Indianapolis 500 winning team Bryan Herta Autosport announced today that Integrity Energee Drink will be the primary sponsor of the No. 98 BHA/BBM w/ Curb Agajanian entry driven by Jack Hawksworth in the 2014 Verizon IndyCar Series.

"Integrity Assets Group was founded with a vision to supply and distribute products and services that make a real difference in the communities we serve," said Integrity Assets Group, Inc. CEO A. Al-Ajluni.
Back in 2010, Alexander Al-Ajluni worked for Autobahn Motors in Belmont, CA as an "e-commerce sales associate":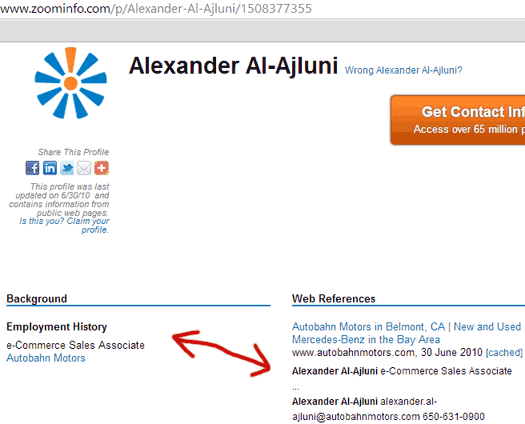 A cached capture of the AutoBahn Motors website at the time reveals Al-Ajluni listed as one of the dealership's sales staff: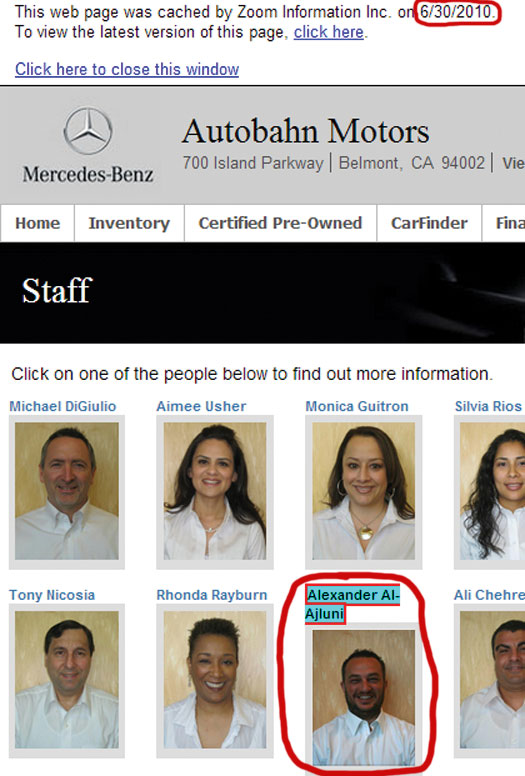 Today Al-Ajluni's name does not appear on the AutoBahn Motors website, indicating he's since stopped working there.
This would go some way to explain the seemingly random sponsorship of an Indianapolis 500 racing team (auto industry contacts), however Al-Ajluni's MLM history remains a mystery. Ditto why no information about him is publicly disclosed on the Integrity Assets Group website.
As always, if a MLM company is not openly upfront about who is running or owns it, think long and hard about joining and/or handing over any money.
The Integrity Assets Group Product Line
Whether or not Integrity Assets Group has any retailable products or services is unclear.
The company lists an "Energee" energy drink on its website as a product, however no retail prices are provided. Nor is any information on how a customer would actually go about purchasing the drink.
A separate website has been set up for the drink ("energeedrink.com"), but it's currently little more than an advertisement for Integrity Assets Group's sponsorship of Bryan Herta Autosport.
Of note though is the last image of a slideshow that loads up on the site, which I believe shows a recent photo of Integrity Assets Group's elusive CEO. I've included the 2010 photo of him from the AutoBahn Motors website cache for comparison: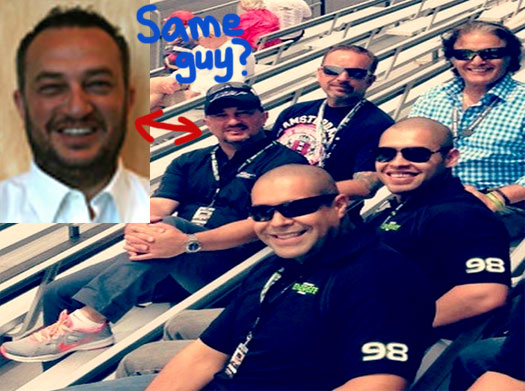 Who the other gentlemen are is unclear.
The Integrity Assets Group Compensation Plan
Integrity Assets Group do not provide any information about their compensation plan on the company website.
As such, the following compensation plan analysis has been put together from various Integrity Assets Group affiliate presentations using official Integrity Assets Group marketing material.
The Integrity Assets Group compensation plan revolves around affiliates investing $2151 with the company for membership, and then recruiting others who do the same.
Passive ROI
After an Integrity Assets Group affiliate has invested $2151 and joined the company, they then earn 20 QPV points a day for 200 days.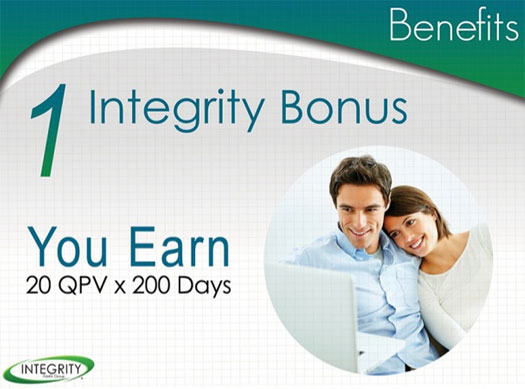 An Integrity Assets Group affiliate presentation I watched stated that
QPV is the same as dollars. We get paid in points but whenever you ask for a check, you're paid in dollars.
This means that Integrity Assets Group are effectively paying out a $20 a day ROI for 200 days.
At the end of 200 days, this equates to a $4000 (185%) ROI.
Promoters are required to renew their agreements 200 days of the date they became Promoters. The renewal fee is to be $2,151.00.
As per the Integrity Assets Group "Policies and Procedures" manual quoted above, affiliates are then required to invest another $2151 with the company if they wish to continue.
Referral commissions are also paid out on all investments made by recruited affiliates, paid out down five levels of recruitment. Note however that this is not an open recruitment payout and is limited to five levels of a binary compensation structure.
A binary compensation structure places an affiliate at the top of a binary team, with two positions directly below them (level 1):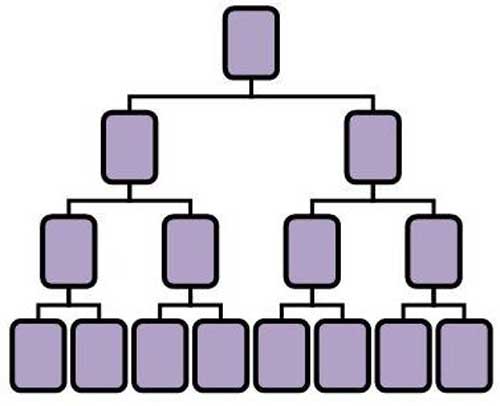 In turn, these two positions generate another two positions each under them (level 2), and so on and so forth down a theoretical infinite number of levels.
Integrity Assets Group cap payable referral commissions down five levels of the binary, meaning an affiliate is able to receive a commission on up to 62 affiliates (recruited directly or indirectly).
The amount of referral commission paid out depends on what level an affiliate is receiving the referral commission from:
level 1 – 20% ($400)
levels 2 to 5 – 5% ($100)
Residual Binary Commissions
Not to be confused with the ROI referral commission, which uses the same binary compensation structure but is a separate commission, Integrity Assets Group also pay out a daily residual commission using a binary compensation structure.
Whereas the referral commission is capped at five binary levels, the residual commission is paid out down a theoretical infinite depth.
The binary model is the same as the referral commission, but instead of a direct payment a pairing calculation is used.
The binary is split down the middle creating two sides and everytime a new affiliates signing up are matched on both sides, a "cycle commission" is paid out.
The matching ratio used is 1:1, meaning each new affiliate on one side has to be matched up with a new affiliate on the other side before a commission is paid out.
When a pair of newly recruited affiliates is matched (or existing affiliates re-invest in another position), Integrity Assets Group pay out $120.
Note that Integrity Assets Group cap binary earnings at $10,000 per day per invested position.
Residual Matrix Commissions
The second residual commission Integrity Assets Group pay out use a 2z13 matrix compensation structure.
Similar in structure to a binary, a 2×13 matrix places an affiliate at the top of the matrix with two positions directly under them (level 1).
In turn, these two positions branch out into another two positions each (level 2), again for level 3 and so on and so forth down a total of 13 levels.
Whereas positions in Integrity Assets Group's binaries are investments, positions in the matrix represents recruited affiliates. The more filled positions an Integrity Assets Group affiliate has in their matrix (either via direct or indirect recruitment), the higher their monthly residual commission.
For every filled position in their matrix, an Integrity Assets Group affiliate is paid $2 (2 QPV).
This commission is paid monthly, with Integrity Assets Group charging a 40 QPV fee from all affiliates to fund the commissions.
I believe this fee is paid per member account, rather than per investment made under a single Integrity Assets Group affiliate account.
Joining Integrity Assets Group
Affiliate membership to Integrity Assets Group is $2151.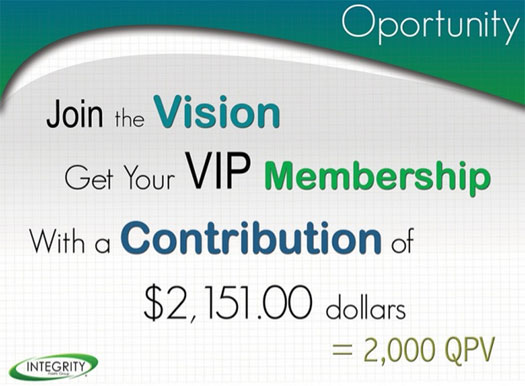 This membership fee is due every 200 days, coinciding with the maturity of an affiliates investment with the company.
An ongoing participation fee of $60 is also charged, with affiliates supposedly receiving some energy drink every month.
Conclusion
For a company with both "integrity" and "assets" in its name, it's somewhat ironic that Integrity Assets Group is severely lacking in both regards.
Barring one potential actual rented office in California, outside of the hollow marketing spiel provided on their website, there's no indication that Integrity Assets Group is an actual company.
As for integrity? The secrecy surrounding the opportunity and general lack of transparency speaks for itself.
Both are easily explained by the fact that ultimately, Integrity Assets Group is little more than a resurrection of the Ponzi points business model.
We've seen it attached to penny auctions, cloud-storage, GPS trackers and now an energy drink.
Integrity Assets Group affiliates invest $2151 on the promise of a $4000 ROI over 200 days. This part of the model is straight up Ponzi, with new affiliate investments used to pay out the promised 185% ROI.
Integrity Assets Group affiliate presentations encourage affiliates to invest in "7 units", which permits them to earn recruitment commissions off of their own multiple investment positions: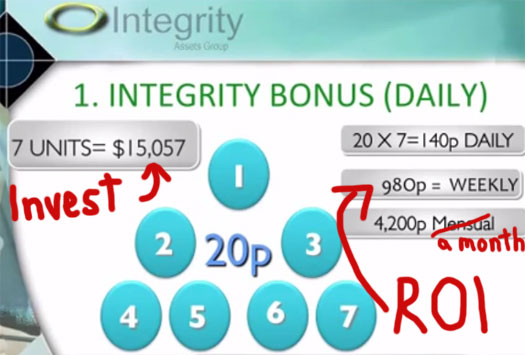 The rest of the compensation plan is recruitment-based, adding a pyramid scheme layer to the scheme (common in Ponzi points business models).
The referral commissions by way of referrals obviously rely on recruitment, as does the matrix. The binary commissions rely on the Ponzi investments to pay out, but are paid out in such a way that relies on the direct recruiting efforts of an affiliate or that of their up and downlines.
In this sense Integrity Assets Group qualifies as a Ponzi-pyramid hybrid scheme, hiding behind the thinnest of facades – their energy drink.
If I had to make an educated guess, it would seem Alex Al-Ajluni has signed up with a third part to produce a dirt cheap energy drink (which seems to be all the rage these days in MLM), and has figured that if he integrates it into his Ponzi scheme, all will be well.
Unfortunately with nothing being sold to retail customers, advertised ROIs funded by new affiliate investments and no external revenue sources – Energee drink or no, Integrity Assets Group is very much a Ponzi scheme.
California, where Al-Ajluni and Integrity Assets Group appear to be based, issued a cease and desist against WCM777 back in January.
Replace Integrity Group Assets' energy drink facade with cloud-storage, and essentially you've got the same business model.
WCM777 targeted latin america, charged investors up to $2000 to participate and promised affiliates pie-in-the-sky ROIs over 100 days. They too had binary and matrix commissions, with a compensation plan near-identical in nature to that of Integrity Assets Group.
Two months after the California cease and desist was issued, the SEC moved in shut down WCM777. The scheme's owner, Phil Ming Xu, was also charged.
Should California and the SEC investigate Integrity Assets Group (if they aren't already), one can safely assume a similar outcome here.