FTC investigating IM Mastery Academy for consumer protection

The FTC appears to have prematurely revealed it has launched a consumer protection enforcement action against IM Mastery Academy.
I don't have any specific details on the case to report as of yet.
The press-release template on the FTC's website is dated May 23rd, suggesting it was scheduled to publish later today.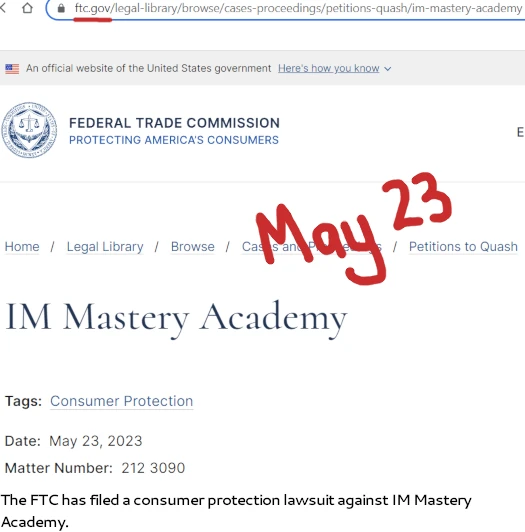 As per the screenshot above there are no details accompanying the FTC's press-release template, leading me to believe it was published prematurely in error.
Regardless, we now know IM Mastery Academy is under federal regulatory investigation in the US.
BehindMLM reviewed IM Mastery Academy and identified it as a pyramid scheme back in December 2019.
The "algorithmic trading" side of the business adds potential securities and commodities fraud to IM Mastery Academy's business model.
As of yet though we don't know if there's parallel SEC and/or CFTC investigations.
Back in 2018 the CFTC fined iMarketsLive $150,000 for commodities fraud. Owner Chris Terry rename the company to IM Mastery Academy shortly after.

Outside of the US, IM Mastery Academy has received regulatory attention from Peru, Colombia, Spain (arrests), Seychelles and Poland.
I'll be watching for further details on the FTC's IM Mastery Academy case closely. Expect an update (hopefully with full case information) later today.
Update 23rd May 2023 – The FTC's website has been updated.
We still don't know anything about the FTC's IM Mastery Academy investigation and lawsuit, but we do now know that the website entry pertains to a civil investigative demand served on Matthew Thayer.
Given we can't confirm whether an FTC lawsuit has been filed, I've updated the article title to better reflect what is currently known.