HostThenProfit: No recruitment, no commissions

A recent trend in MLM opportunities these days is to offer training products (usually ebooks) to help internet marketers market other opportunities.
This works to the advantage of the company offering the training in that if things don't work, they can always suggest it was the opportunity the marketer was trying to promote that was the problem, rather than a failure of the training tools they are providing.
Putting aside the rather disturbing trend in MLM to pair dubiously legal matrix based compensation plans with rehashed training tools of late, one common part of the equation that's missing from these opportunities is an online platform to get started.
You can have all the internet marketing training tools in the world, but if you've got none of the technical knowhow, not even a helping hand to guide you, then you're not going to be able to apply any of it.
HostThenProfit seeks to bridge that need by combining web hosting along with a series of internet marketing tools.
Designed to be a complete internet marketing solution for those in MLM, today we're going to review the HostThenProfit business opportunity.
The Company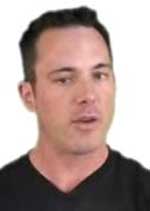 HostThenProfit is a division of Global Virtual Opportunities (GVO). Founded by Joel Therien, GVO was launched back in October 2009 and offers its members a series internet based marketing tools.
As far as I can tell, HostThenProfit appears to be a bundling of some of these marketing tools, along with the web hosting GVO retail into a brand new MLM network marketing opportunity.
Although a part of the GVO family, HostThenProfit has its own compensation plan and appears as if it will be run as a seperate entity within GVO.
The HostThenProfit Product Line
Offering internet based services, the HostThenProfit opportunities consist of web hosting bundled with marketing tools.
Web Hosting
HostThenProfit offer webhosting (somewhere to host all your websites) as well as providing four domains for you to create.
Hosting size is 70gb in storage a month and 200gb in bandwidth. Note that these figures were sourced elsewhere and I haven't been able to confirm anything with GVO directly (I note they are the same as offered in GVO's 'Titanium' web hosting package).
eResponder Pro
As an internet marketer, there's a lot of value to be had in an email list you build over the years. No matter what you're doing on the internet communication with your team is key and that's where eResponder Pro comes in.
HostThenProfit assure members the system isn't designed to be used for spam (which the term 'bulk email sender' HostThenProfit use inevitably conjures up), but rather as a reliable way to contact your opt-in email list that you've built over time – no matter how big it is.
There's also an autoresponder component of eResponder Pro and this can be used to auto respond to emails that you get. Usually autoresponders are deployed to filter incoming leads your capture pages have generated, but they can also be used to filter your regular email too (useful if you receive a lot of emails, solicited or not).
Blogger Builder
GVO's Blogger Builder is a blog platform that utilises WordPress. I'm a big fan of WordPress and providing GVO's Blogger Builder isn't too restrictive (it uses a customised GVO template), I imagine this will be of use to people who can't get their head around designing and starting up their own blog(s).
Easy Video Producer
Easy Video Producer allows you to combine video you record off a webcam or other recording device, along with some pre-made templates they have.
Nothing you haven't really been able to do with YouTube for years but I guess if generic templates are your thing Easy Video Producer might be of some use to you.
GVO Conference
As the name suggests, GVO Conference is 5 member capacity video conferencing tool.
You can upgrade this to 500 member capacity but I imagine the idea here is that GVO Conference will serve as a means to show the leads you generate with the rest of HostThenProfit's products a presentation for whatever business it is you're promoting.
That and it could also be used to hold small meetings amongst your own frontline members.
Prospecting System
HostThenProfit's Prospecting System is essentially a lead capture page generating system.
Basically you make your pitch and hope to capture a lead (or at least their email) via the pages generated by the Prospecting System.
HostThenProfit specify that within this system the 'ad copy (is) written for you' sounding like these are nothing more than replicated squeeze pages.
I personally believe the best capture pages are custom written for whatever is being marketed and thus I'd question the overall effectiveness of HostThenProfit's Prospecting System.
Still, if you're hopeless at this kind of stuff I guess an all in one system where you basically just pick your color scheme and punch in your opportunity name could be desirable.
GVO Academy
GVO Academy is basically an online marketing training resource. Utilising 'live workshops, streaming videos, and Q&A sessions', GVO Academy aims to pretty much teach you how to put all the other products on offer together.
GVO Academy has been around for a while now and as such I'd imagine there'd be quite a lot of resources for someone new to internet marketing to go over.
HostThenProfit claim membership to GVO Academy is worth $199 a month, but given it's part of their $9.97 a month package, it appears the value of GVO Academy has severely diminished over time.
The HostThenProfit Compensation Plan
The HostThenProfit compensation plan is a 4×10 forced matrix. This means that the matrix runs ten levels deep and starting with you at the top, each position has four legs branching out from it.
As you fill your HostThenProfit organisation matrix, it should start to look something like this;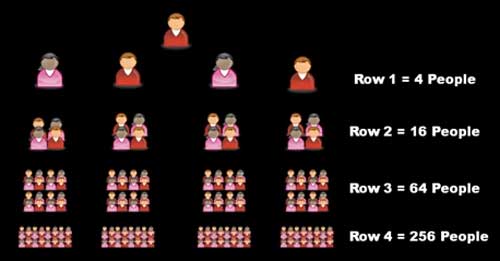 Commissions are paid out on various levels of the matrix and in order to earn these commissions, a HostThenProfit member must recruit others to the scheme.
To unlock matrix levels 1-6, members must recruit two new members.
To unlock matrix levels 7-10, members must recruit two additional members (four in total)
For every 14 people in your matrix, you are also granted an additional spot in the matrix. These additional spots can be 'banked' (set aside) so that if you recruit someone you think is going to be wildly succesful with HostThenProfit, you can position yourself directly under them and help them start off by being able to place new recruits directly into the upper levels of their matrix.
The commissions offered on the HostThenProfit matrix are as follows;
Quick Start Bonus
The Quick Start Bonus is paid out on the earning of any member you personally recruit into HostThenProfit.
If you've met your recruitment requirements, you will earn a 50% matching commission on the first month's income of your directly sponsored members.
Matching Bonus
HostThenProfit offer a Matching Bonus on the members you directly recruit to the company. The Matching Bonus pays out 20% and runs ten levels deep, assuming you've met the recruitment requirements (4 new members) to earn commissions on ten levels of your matrix.
HostThenProfit state that the matching bonus is only available to Titanium members, but they don't specify what a Titanium member is.
I note that GVO offer a 'Titanium' web hosting account for $44.95 a month, so perhaps there's an upgrade option for members or a recruitment requirement to become a 'Titanium member'.
For members you don't directly sponsor, HostThenProfit offer a 5% matching bonus, paid out on all ten levels of your matrix.
Joining HostThenProfit
For those wishing to join HostThenProfit, it appears you join the company on a 7-day trial basis for $1.
If at the end of this trial you wish to continue HostThenProfit will cost you $9.97 a month.
Note that you cannot join HostThenProfit without an affiliate referal code (someone has to sign you up).
Conclusion
Product wise HostThenProfit look much more complete than most thin marketing tool MLM's out there.
With GVO having their own data centers and bandwidth, they essentially cut out the third-party required to set up your own hosting and as such can offer you a competitive price on domains, bandwidth and hosting.
The big downside here though is the compensation plan, specifically the requirements to;
Refer just two people and get paid down a full six levels.

Refer two more and get paid down a full 10 levels!
This is unmistakably a recruitment requirement and forces members to recruit new members into HostThenProfit, rather than to offer anything on a retail level.
This isn't surprising considering that there isn't a retail offering. It's noted that
You need to have a sponsor to join HostThenProfit.com
No sponsor, no membership. Thus retailing HostThenProfit's products is impossible (within HostThenProfit anyway, for the purposes of this review I'm not concerning myself with whether GVO offer separate retail services outside of the HostThenProfit opportunity).
That's a pretty big stumbling block to overcome and will no doubt spur on claims that the entire opportunity itself then is a scam.
Given the inherent forced requirement to recruit, I might not use the word scam (as I have no doubt they will pay you out), but it definitely throws the entire legality of the  HostThenProfit opportunity into question.
Proceed with caution on this one folks.