Pure Leverage Review: GVO tries 100% commissions

Pure Leverage is the latest division of Global Virtual Opportunities (GVO) and founder Joel Therien.
Launched in 2009, GVO have launched a number of MLM business opportunities that typically revolve around internet marketing training.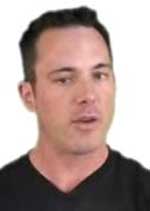 Two of the prior GVO business opportunities that have been reviewed on BehindMLM include HostThenProfit (recruitment driven web hosting) and 7 Minute Workout (retail focused fitness program).
What I've observed with GVO opportunities is every so often Therien (photo right) launches a new opportunity, which a loyal team of GVO distributors set about marketing.
Sometimes these opportunities bring new ideas to the table (such as 7 Minute Workout), but from what I've seen they're usually just a rehash of GVO's internet training and marketing properties, attached to different MLM compensation plans and business models.
Today we take a look at GVO and Therien's latest offering, Pure Leverage. Read on for a full review.
The Pure Leverage Product Line
As previously mentioned most of GVO's  MLM business opportunities combine the company's existing internet marketing tools to varying MLM business models.
In that sense Pure Leverage is no different, combining the following GVO services:
Elite Coaching Program
You will be recruiting new prospects into your business without ever making a single cold call guaranteed!
GVO claim the retail value of their Elite Coaching Program is $297 a month and that subscribers will 'learn the steps on how to pick up 18 paid signups into your primary business everyday'.
Based on "attraction marketing", GVO also claim that Elite Coaching Program subscribers will also learn how to 'create predictable monthly and residual income for life' and 'what to say to prospects so that you know you have the "right type" of people on your team'.
Easy Lead Flow
Easy Lead Flow is a "lead capture system" with GVO claiming the retail value of which is $49.95 a month.
Once you register a prospect, the system comes with a pre written auto responder series written by our adcopy specialists designed specifically to get your prospects to know, like and trust who you are. When your prospects come to trust you, they will naturally want to buy from you and join your team..
Video Email Service
GVO's Video Email Service (retail $20 a month) is a "video autoresponder service" that allows subscribers to connect to their downlines and potential leads via video.
Turbo Traffic Generation
Despite the name, Turbo Traffic Generation appears to be a marketing guide on how to 'get the best quality traffic to your site'.
GVO value Turbo Traffic Generation at $47 a month and claim it will enable subscribers to generate 'an endless supply of hot qualified leads for (their) home based business'.
Live Meeting Room
GVO state their Live Meeting Room product 'allows you to communicate in real time audio and video, conduct presentations, share your desktop or files with all your attendees'.
Live Meeting Room is retail valued by GVO at $49 a month.
Blogging Platform
Arguably the centerpiece of the opportunity and I believe the only new offering under the GVO brand, not much is currently known about the Pure Leverage blogging platform.

The marketing copy for the Pure Leverage blogging platform displays both the WordPress and Blogger logos, however it's noted that only WordPress currently offer a standalone version of their blogging platform.
Despite WordPress being free, GVO put a $19.95 a month value on their blogging platform.
GVO claim their blogging platform will provide subscribers with an "authority blog" they can use to 'blog about (their) opportunity 3 times per week, then send an email to your list inviting them to come and comment on (their) new blog post'.
The Pure Leverage Compensation Plan
The Pure Leverage compensation plan is best explained if it's split into two parts.
100% Commissions
Upon recruiting a new customer or affiliate, Pure Leverage affiliates are paid 100% of the subscription price Pure Leverage charge customers and affiliates ($24.95 a month).
50/50 Check Match
From the second month onwards, each affiliate earns only 50% of the monthly subscription fee paid by customers and recruited affiliates, with the other 50% being passed up to their upline as a matching bonus.
Joining Pure Leverage
Membership to Pure Leverage as an affiliate (they use the term "reseller") is $19.95 a month.
It is currently unclear whether or not affiliates are required to purchase the $24.95 a month service package in order to qualify themselves for commissions.
Conclusion
First and foremost I'm going to answer what I figure a lot of people are going to be asking themselves upon seeing a blogging platform combined with 100% commissions:
Is Pure Leverage just an Empower Network clone?
Short answer? No. Although they do have their similarities.
In Empower Network (review here) affiliates are gifting (passing up) subscription fees to eachother, determined by assigning each new subscriber a number relative to how many subscribers (affiliates or customers) that affiliate has signed up.
Affiliates gift the fees paid by their second, fourth, sixth and every fifth recruited subscriber to their uplines.
In Pure Leverage the first recruited subscriber pays their first months fees directly to the person who recruited them. From the second month onwards half of this fee goes to the recruiting affiliate and half to their upline.
In turn, the upline gifts half of their earnings to their upline and so on and so forth all the way up the compensation plan with GVO (or Therien) himself sitting at the top of the scheme, receiving half of everyone's monthly earnings.
Otherwise between Empower Network and Pure Leverage you've got the same "blahblahblah" training programs and tools (which are split in Empower Network, effectively combining a series of gifting schemes under the one brand), designed to do market and promote the opportunity itself.
The slight difference between how subscription fees are gifted each month is all that differentiates the two opportunities.
And I use the term gifting to refer to subscribers paying 100% of their fees to their uplines (direct and indirect) because, let's face it: that's what it is.
Key to analysis of Pure Leverage is that the company cannot survive with customers alone.
GVO only make money on the $19.95 a month fee they charge affiliates. With members paying their monthly subscription fees to their uplines, Pure Leverage and GVO make nothing on these "sales".
You could make the argument that Pure Leverage have positioned themselves at the top of what is essentially a gifting pyramid (everyone passing up money to eachother) and that's how the company profits on "sales", however that's problematic in itself.
To participate in the compensation plan that would mean Pure Leverage (and GVO) themselves would be affiliates. If the company supposedly selling the services everyone is buying is an affiliate, that raises the question of "what exactly are they affiliates of?"
Alternatively if Therien has positioned himself at the top of the gifting pyramid, then the issue of Pure Leverage only earning off affiliate fees remains.
Why is this a problem?
What does the monthly affiliate fee entitle affiliates to? Participation in the income opportunity (the ability to recruit new subscribers and receive their monthly subscription fees).
Fundamentally, Pure Leverage requires new affiliates to survive. Retail customers don't pay them anything.
This is also true when you consider things from an affiliate standpoint, it is much more profitable to recruit new Pure Leverage affiliates than acquire customers.
A single customer gifts an affiliate $24.95 their first month and half of that each month thereafter.
A recruited affiliate does the same, with the potential to increase the amount gifted up each month because they can recruit new subscribers of their own.
When you can market Pure Leverage to leads on the potential of the income opportunity, thus potentially vastly increasing your own monthly earning per subscriber beyond whatever half of $24.95 is each month – why would an affiliate even bother acquiring retail customers?
To summarise:
Subscribers in Pure Leverage aren't paying the company for what they allege are "products being sold" and there's bugger all incentive to acquire customers, with a massive financially beneficial advantage to recruiting new affiliates instead.
A few more (free) blogging platforms attached to thinly veiled cash gifting schemes launched this year and I can easily see "blog + cash gifting" being the "penny auction + Ponzi scheme" MLM industry disaster of 2013.
Bottom line?
If you're with an MLM company (as an affiliate or customer) and handing money over each month that is not going directly to the company, who in turn pay a commission to the distributor/affiliate/rep who made the sale (keeping a portion for themselves (the amount actually paid for the product) and splitting the rest via an MLM compensation structure), something is fundamentally problematic with that MLM company's business model.