GSPartners donates €3K to Ukraine, takes credit for 60 tons

People around the world have donated towards the developing humanitarian crisis in Ukraine.
Most donate out of a genuine desire to help those in need.
Others, like GSPartners and owner Josip Heit, see it as a marketing opportunity. This led to clashes with donation organizers in Germany.
In since deleted Instagram posts, Josip Heit claimed he was supporting Ukraine "humanitarian action".
Not able to donate through GSPartners directly (because Ponzi), Heit donated around €3000 EUR through his Berliner Tageszeitung media company.
Heit's post featured a truck with signage featuring GSPartners' logo. A destination sign on the front featured the hashtag #G999.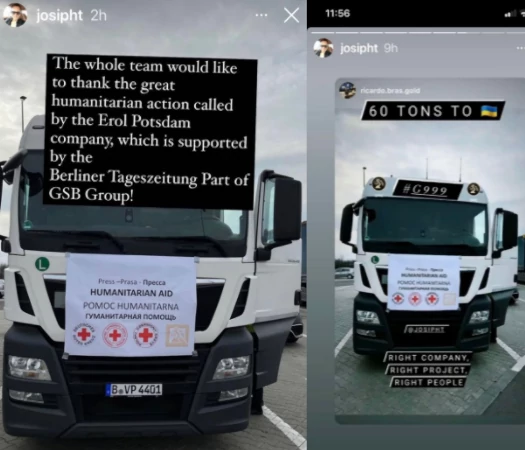 A March 2nd FaceBook post by top GSPartners net-winner Andrew Eaton, revealed the destination sign was photoshopped.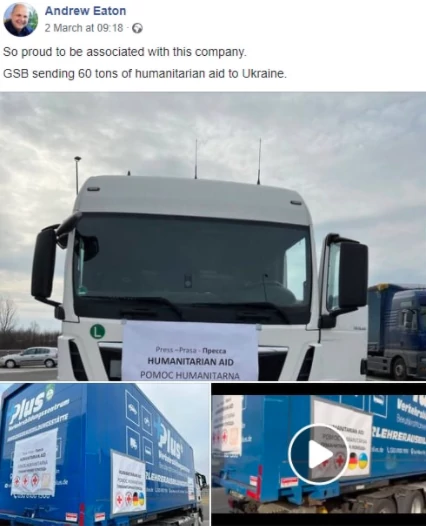 Eaton also stated "GSB sending 60 tons of humanitarian aid to Ukraine".
GSB stands for "Gold Standard Bank", it's another strand in the web of shell companies Heit runs GSPartners through.
GSPartners' donation was part of a broader effort by Erol, a car workshop in Potsdam, Germany. To his credit Heit disclosed this.
When contacted about GSPartners using their donation drive to advertise their Ponzi scheme, a representative from Erol stated GSPartners branding was placed "without consent or knowledge".
Here's the truck before GSPartners defaced it: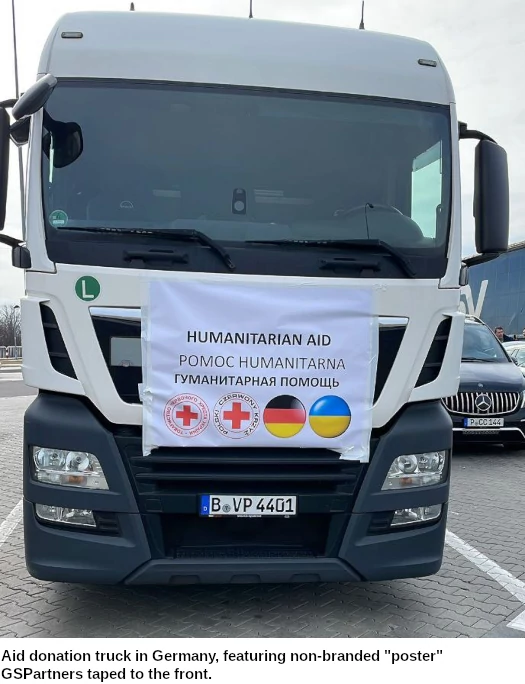 GSPartners donated the non-branded posters. It appears they switched the GSPartners ones in when no one was looking.
The berlin daily newspaper tried it twice. we have removed these (posters) 2 times.
The Berlin daily newspaper refers to Berliner Tageszeitung. Heit bought some failing German media companies a while back. He keeps their websites going to display GSPartners ad banners on.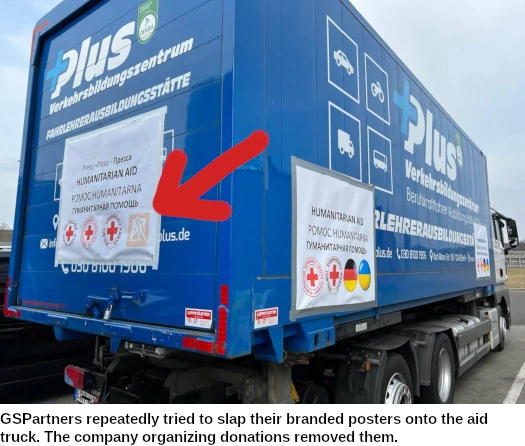 Honestly if that was all there was to this story, I wouldn't have bothered to put pen to paper.
Heit donated to the Ukrainian cause. Good on him and if he wants to be tacky about it, well at least Ukrainians are still receiving aid.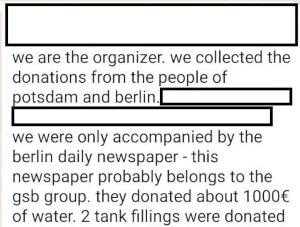 The response from the Erol representative however continues;
We were only accompanied by the Berlin daily newspaper – this newspaper probably belongs to the GSB group.

They donated about 1000€ of water. 2 tank fillings were donated by the Berlin daily newspaper.,

the posters were also donated, but the poster with GSP advertising was not put up by us.

This was removed immediately when we discovered the surreptitious advertising.

The Berlin daily newspaper only donated a value of approx. 3000€. With 3000€ you can't organize 60 tons of donation.

In this case, the GSP adorns itself with the pen of the population of Potsdam and Berlin.
In case it wasn't clear, in that last paragraph Erol calls out GSPartners for taking credit for the entire donation pool.
€3000 EUR in aid is still €3000 EUR in aid. But why the need to lie about how much and turn it into a marketing campaign?
Even the organizers of the event were driving unmarked rental trucks. Have some dignity Josip, this is embarrassing.
Footnote: I was going to leave a link to a donation organization at the end of this article but BehindMLM's readership is diverse.
If you want to donate to Ukrainian aid please check local organizations in your area.