Global Affiliate Business Ponzi shut down in India

Global Affiliate Business has been shut down in India.
Indian authorities estimate the scam duped victims out of around $15 million.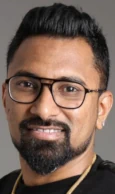 Global Affiliate Business was an MLM crypto Ponzi run by Vinod Khute (right).
Khute is an Indian national hiding out in Dubai.
As per an investigation by the Enforcement Directorate, other businesses attached to Global Affiliate Business include VIPS Group, Kana Capital, VIPS Wallet and VIPS Finstock.
Following raids on VIPS Group's offices, Business Standard reports that Indian authorities have managed to seize $2.2 million.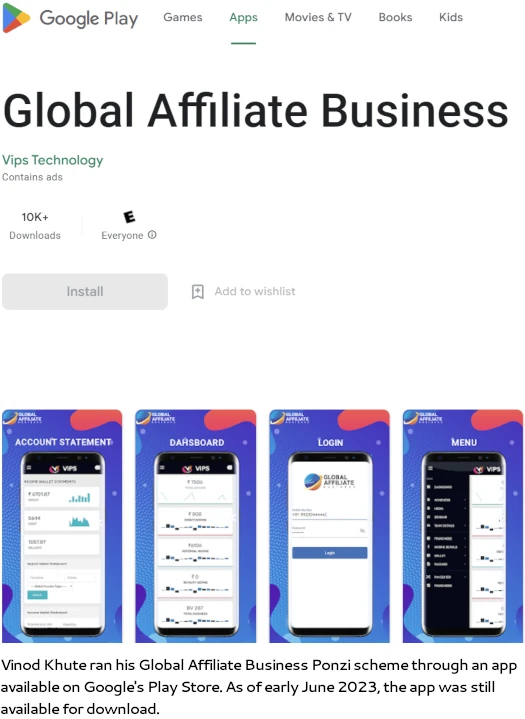 The rest of the money Khute stole through Global Affiliate Business has been laundered out of India through shell companies.
The investigation has revealed that Khute orchestrated various illegal trades, crypto exchanges, and wallet services through the VIPS Group of companies, with the proceeds being transferred to foreign countries through hawala transactions.
As of mid May, Khute appears to have been trying to recruit new Global Affiliate Business victims in Malaysia: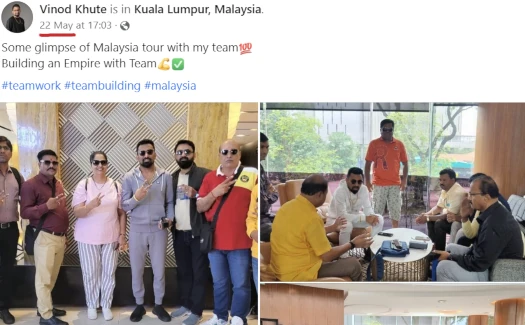 The VIPS Group asset seizures were made under India's Foreign Exchange Management Act. Presumably Khute is also facing criminal charges in India.
Whether authorities will be able to secure Khute's arrest abroad remains to be seen.