GeniusMax Review: $5 – $37.50 advertising scheme

GeniusMax launched in September 2013 and according to their website
was establish (sic) by Max Harris an online internet marketer and an online entrepreneur for the past 3 years.
A "certificate of incorporation of a private limited company" for England and Wales under the company name "Maximum Revenue LTD" is provided on the GeniusMax website, with the company using certificate number 08651952.
A Google search on the address provided on GeniusMax's certification reveals multiple corporations using the same address, indicating that it's a virtual office.
As a measure of legitimacy, such certificates should be taken with a grain of salt as they are available online to anybody for as little as £15.00, with "same day service" available for an additional fee.
Further research into Max Harris didn't reveal any additional information about his MLM history, despite GeniusMax claiming entrepreneurial activity over the past three years.
The GeniusMax website domain ("geniusmax.com") was registered on the 16th of August 2013, however the domain registration is set to private.
Given the UK incorporation, virtual address, private website domain registration and generic sounding nature of the alleged admin's name, I'm treating the details GeniusMax provide on their website as suspect.
This is due to the high frequency of dubious companies registering themselves offshore with a generic anglo-saxon name with no verifiable history in the MLM industry.
As always, if an MLM company is not openly upfront about who is running or owns it, think long and hard about joining and/or handing over any money.
The GeniusMax Product Line
GeniusMax has no retailable products or services, with affiliates only able to market affiliate membership and the GeniusMax income opportunity itself.
Affiliates join the company and then purchase $5 – $37.50 positions in the compensation plan. Bundled with each position are a series of advertising credits which can be used to display advertising on the GeniusMax website.
Standalone advertising is also made available to affiliates, with GeniusMax offering both banner and email advertising.
The GeniusMax Compensation Plan
The GeniusMax compensation plan revolves around affiliates purchasing one of five advertising packs. Each pack has a fixed price and pays out specified ROI:
Bronze Pack ($5) – 115% ROI
Silver Pack ($10) – 118% ROI
Gold Pack ($15) – 120% ROI
Diamond Pack ($20) – 122% ROI
Platinum Pack ($37.50) – 125% ROI
No guarantee is made as to how long the company will take to pay out the ROIs on advertising pack investments, however they do state that "rewards" will be paid out "every 30 minutes".
Note that affiliates must surf five supplied ads each day in order to qualify for their daily ROI (paid out half-hourly).
Affiliates who invest in Platinum Packs also qualify for matrix commissions, with GeniusMax creating one matrix position for every four Platinum Pack positions that mature (Platinum packs mature when they reach a 125% ROI).
GeniusMax use a 2×2 matrix, requiring six positions to be filled before a matrix is full. Once an affiliate's Platinum Pack matrix is filled, GeniusMax pay out a $60 commission.
PaidtoClick and PaidtoRead commissions are also available to GeniusMax affiliates, with the company paying out 0.01 cents per advertisement clicked and 0.02 cents per company-supplied email read.
Joining GeniusMax
Affiliate membership to GeniusMax is free, however affiliates must purchase an advertising pack position (costing between $5 and $37.50) if they wish to generate commissions.
Conclusion
With no retail products or services, GeniusMax use the familiar advertising credit Ponzi investment scheme business model to pay out their affiliates.
Affiliates join GeniusMax, invest in one of their five advertising packs and then, provided they view five ads a day (an attempt to legitimise the advertising credit cover), they receive half-hourly incremental ROIs paid out of new affiliates investment.
With affiliates being forced to view ads to qualify for their ROIs, the value of GeniusMax's advertising is practically zero. With affiliates the only ones purchasing GeniusMax's advertising this is a moot point, however if retail was possible the lack of value would negate it as a possible non-affiliate revenue-stream.
Meanwhile GeniusMax's matrix commissions do nothing except act as an incentive for affiliates to invest as much money as possible at the Platinum Pack level.
The half-hourly ROIs are a bit gimmicky and realistically are probably just a fixed daily amount calculated on the previous day's investment, paid out half-hourly over the following day.
As with all Ponzi schemes, once new affiliate investment stop so too will the ROIs, at which point the entire scheme collapses.
Update 5th October 2013 – Less than a month after launch it appears GeniusMax has collapsed. As of the 5th of October 2013 the GeniusMax website domain is now pointing to Advuze.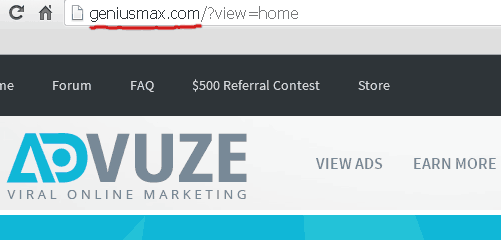 Advuze appears to be some sort of "paid to view ads" scheme launched in early September 2013. The Advuze website domain ("advuze.com") was registered on the 3rd of August 2013 however the domain registration is set to private.
Putting two and two together, it appears whoever owns GeniusMax also owns AdVuze. On the Advuze website an address for the corporation "Viral Ad Media" is provided, with the company appearing to be based out of Lincolnshire in the UK.
No information is provided on the AdVuze website indicating who owns or runs the scheme, with only the following vague marketing spiel used to describe the owner(s):
Advuze is part Viral Ad Media Group large network located across UK, USA, Canada, Switzerland, Russia and parts of Asia.

The founders of Advuze have well over 20 years of experience of providing offline and online marketing solutions for businesses large and small including multinational companies.
With the collapse of GeniusMax I guess it's pretty obvious where the AdVuze paid to click revenue was/will be coming from…