World Ads Link Review: Ad Pack based Ponzi scheme

There is no information on the World Ads Link website indicating who owns or runs the business.
On the World Ads Link "about us" page, the company provides only the following vague marketing copy, written in poor English:
World Ads Link Limited is governed by skilled & apt professionals who are fully experienced that could deal with people in better career link with online advertisement & financial systems.
The World Ads Link website domain ("worldadslink.com") was registered on the 24th of March 2013, however the domain registration is set to private.
World Ads Link does provide an "our faces" page on their website, with the company alleging to showcase photos from a "head office" in New Zealand and a secondary office in Japan.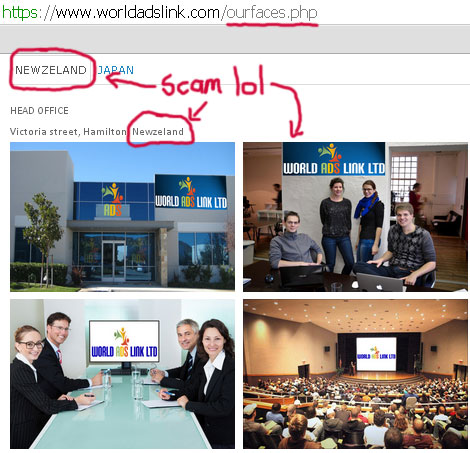 The photos depicted on both office pages are unfortunately doctored up images, sourced from a variety of non-related websites.
The above screenshot is the "New Zeland (sic) Head Office" page, on which World Ads Link claims to have an office in Hamilton, New Zealand.
From left to right, here are the originals of the photoshopped images World Ads Link have used.
Image 1 is from the website of Strata Realty, showcasing the Corona Spectrum Business Center they have for lease in Corona, California: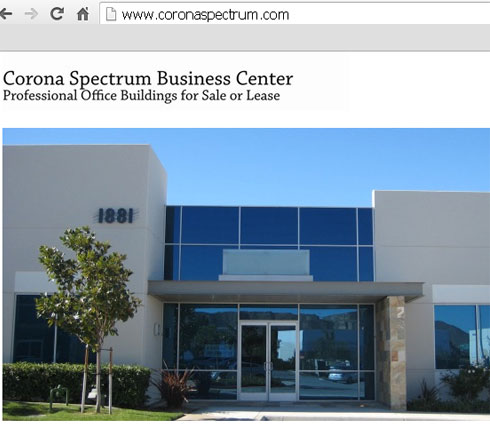 Image 2 is from the start-up business venture "Miavia", who market "handcrafted travel guides":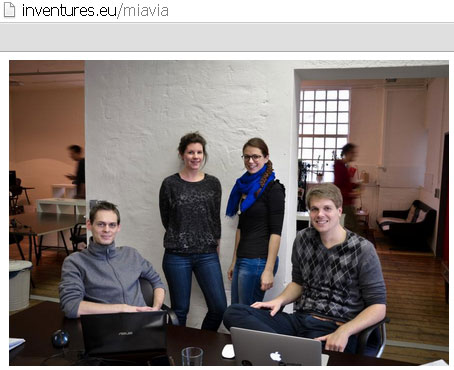 Image 3 is a stock photo from the website "123RF", titled "Group of male and female businesspeople seated at a table watching an online presentation on a computer screen" (through the back of their heads?):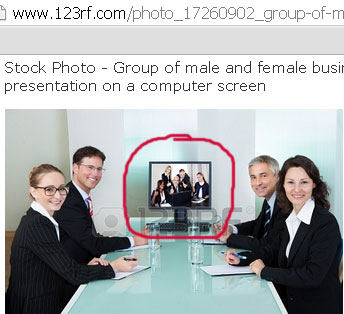 And image 4 is from a website called "Nammudekodakara", written in the Indian language Malayalam:
The fourth website World Ads Link have doctored their images from is of note, as Malayalam is a rather obscure language online and not recognised by Google Translate.
As noted above Malayalam is a language spoken in India, specifically in the state of Kerala. Meanwhile the Alexa website report for the World Ads Link domain reveals that 31% of the website traffic originates from India (no other country is significant enough to rank).
Putting all of this together, along with the poor English all over the World Ads Link website, I think it's a safe bet to assume that whoever is behind the company is based out of India. Probably either in the state of Kerala itself or somewhere nearby.
As always, if an MLM company is not openly upfront about who is running or owns it, think long and hard about joining and/or handing over any money.
The World Ads Link Product Line
World Ads Link has no retailable products or services, with affiliates only able to market "packs", which the company guarantees a 50 week ROI on.
The World Ads Link Compensation Plan
The World Ads Link compensation plan primarily revolves around affiliates signing up and then investing in a series of packs, which World Ads Link claims to offer 50 week ROIs on.
Silver Pack ($100) – $8 a week for 50 weeks ROI ($400)
Blue Pack ($200) – $16 a week for 50 weeks ROI ($800)
Green Pack ($500) – $45 a week for 50 weeks ROI ($2250)
Red Pack ($1000) – $100 a week for 50 weeks ROI ($5000)
Black Pack ($2000) – $200 a week for 50 weeks ROI ($10,000)
Golden Pack ($5000) – $600 a week for 50 weeks ROI ($30,000)
Referral commissions are available on investments, paying out an upfront percentage of the money invested by personally recruited affiliates:
Silver and Blue packs – 5%
Green and Red packs – 7%
Black and Golden packs – 10%
Binary commissions are also offered, with the company stating they pay '10% of your weaker line (sic)'. This is 10% of the investment amounts made by affiliates in a binary downline, paid out only on the weaker leg.
Binary earnings are capped according to how much an affiliate invests in the scheme:
Silver Pack – $200 daily
Blue Pack – $500 daily
Green Pack – $1000 daily
Red Pack – $1500 daily
Black Pack – $2000 daily
Golden Pack – $3000 daily
Typically in these sorts of schemes an affiliate is ranked according to the highest investment level they have deposited money into.
A matching bonus is also available on the binary earnings of personally recruited affiliates, paying out down three levels of recruitment:
 Silver and Blue Packs – 10%
Green and Red Packs – 12%
Black Pack – 15%
Golden Pack – 20%
There is also something called a "World Ad Pool", with World Ads Link's explanation not making much sense to me:
WALL Ad Pool is such a system in which your earning can be higher by accumulating in WALL Ad Pool by 20% of your earning from Revenue Sharing System.

Moreover, when this pool reaches up to $100, it would give you 20% Gala Bonus on your Ad Pool Balance on the 1st of every month.
If I'm reading that right, World Ads Link take 20% of an affiliate's ROI and set it aside, paying it out as a bonus when the balance reaches $100 (monthly).
Finally there's also some sort of lottery system built into the compensation plan, the details of which are just as confusing:
We offer a very sleek and a superb Online Lottery System in which those people who particularly having less amount and always desire to earn online they can get a remarkable income profits by just participating in our online lottery system.

Basically, we have been not only having concrete focus on Investment Plans but also it would be our priority to focus those people who have not enough investment to invest in our Financial System but want to enjoy online earning. They can also rapture of it under the shade of World Ads Link Limited.
Rightio.
Joining World Ads Link
Affiliate membership to World Ads Link is free, however affiliates must invest in "packs" if they wish to generate any commissions.
As per the World Ads Link FAQ:
Could I Be Benefited Without Any Investment?

Widely speaking, free members can not earn any income in WALL.
"WALL" of course standing for "World Ads Link LTD".
Conclusion
Whereas at least a little effort usually goes into the Ponzi scheme websites set up by anonymous operators, the creator(s) of World Ads Link fail even on that account.
On the business side of things World Ads Link is 100% affiliate funded, with the company having no qualms about openly advertising their packs as investments: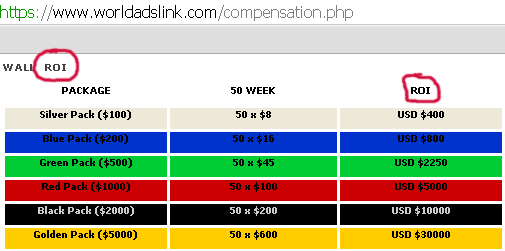 Our program allows you to earn unlimited income. We offer you bewildering varieties of Income Packages as well as a Unique Online Lottery System through everyone can earn a lot.

You make money by referring other people to join the worldadslink.com while you learn program. We have designed a very lush compensation success plan which ensures that members who promote the program are rewarded instantly in cash.
From the fake photos on the website to the misspelling of New Zealand ("New Zeland"… twice, really?) and obvious Ponzi-centric compensation plan, World Ads Link has all the hallmarks of your typical "hit and run" scheme.
You invest, they run.