Fintoch & FTC Chain securities fraud warning from AB, CA

Fintoch has received a securities fraud warning from Alberta, Canada.
The Alberta Securities Commission added CryptoProgram to its Investment Caution List on July 10th.

The ASC advises that any companies added to its Investment Caution List
are not registered with the ASC and that appear to be engaging in activities that either require registration under Alberta securities laws or may be investment scams.
This is the equivalent of a securities fraud warning in other jurisdictions.
Fintoch was a Boris CEO Ponzi scheme fronted by US citizens Mike Provenzano and Joel Fry.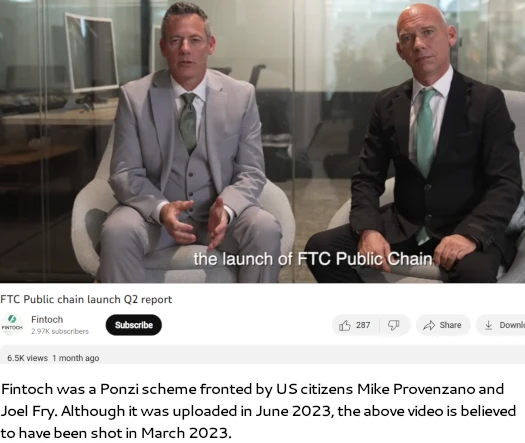 Following a fraud warning from the Monetary Authority of Singapore, Fintoch collapsed in late May 2023.
Fintoch's exit-scam saw the company tout an "FTC Chain" reload scam. The exit-scam completed in late June, culminating in Fintoch disabling its original website domain.
Fintoch's more gullible investors continue to be strung along through FTC Chain. Fintoch's FTC Chain reload scam is the target of the ASC's fraud warning.
The ASC is the second financial regulator to issue a Fintoch fraud warning post-collapse. Malaysia's Securities Commission also added Fintoch to its Investor Alert List on June 8th.
Update 18th August 2023 – Fintoch is trying to reboot as Standard Cross Finance.