Fast Matrix Return Review: 2×3 matrices & no product

Although the matrix + 'product that has nothing to do with commissions' MLM business model is pretty much dead, from time to time we still see hopeful admins trying to resurrect the model.
Not much different from the companies that have come before it, today we review the Fast Matrix Return MLM opportunity.
The Company
The Fast Matrix Return website provides no information about who is running or owns the company.
The domain fastmatrixreturn.com was registered on the 22nd February 2012 however the registration information is set to private.
The Fast Matrix Return website itself runs on the OppSofts MLM script backend.
As always, if a MLM company is not openly upfront about who is running or owns it, think long and hard about joining and/or handing over any money.
The Fast Matrix Return Product Line
Fast Matrix Return offers no product or service at a retail level. Instead, members Fast Matrix Return members market membership to the company.
Bundled with this one-time membership fee are advertising credits. These advertising credits can be used on an in-house advertising network that features on the Fast Matrix Return website.
The Fast Matrix Return Compensation Plan
The Fast Matrix Return compensation plan revolves around entry into two 2×2 matrices.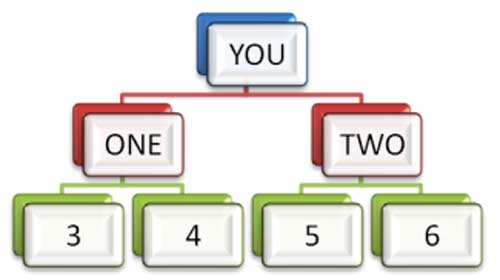 These matrices run in reverse meaning that when you join one you start out at the bottom. Once the bottom level is filled the matrix splits into two new ones and the two people on level 2 assume the top position of the two new matrices.
If you're on level 3 you move up to level 2, thus requiring level 3 to be filled again with new members before the matrix splits again.
In this fashion members slowly move up to level 1 of the matrix system and once on top, they cycle out of the matrix when it fills.
There are two matrices within the Fast Matrix Return compensation plan:
Gold Matrix board = $200 cycle commission ($100 to cover entry into the Diamond Board)
Diamond Matrix board = $300 cycle commission ($75 to cover entry into the Gold Board)
All members are placed into a Gold Matrix board upon joining the company and once cycled out go into the Diamond Board. Once a member cycles out of the Diamond Board they go back into the Gold Board and so on and so forth.
Additionally Fast Matrix Return also pay a recruitment commission of $15 per member recruited, as well as $20 and $25 when a personally recruited member cycles out of the Gold and Diamond Board respectively.
Joining Fast Matrix Return
Membership to Fast Matrix Return is a one-time $75 fee.
Conclusion
Although the owner(s) of Fast Matrix Return have bundled advertising with membership, they themselves readily acknowledge that the $75 fee is just used to provide entry into the matrix system (pay to play).
$75 One Time Payment
There's no attempt to even pretend that member's are paying for an advertising product, which is not surprising seeing as there's no way to actually purchase advertising from the company.
With prospective members only being to purchase membership and 100% of the commissions being paid out membership fees, once the new members stop joining up so do the matrix cycles and commissions.
Currently the Fast Matrix Return website reports that 214 members have joined with commissions paid out totalling $2405. A quick visit to the 'Payment Proof' page indicates that most of these payments are the $15 recruitment and referral cycle commissions.
With each matrix only housing 7 members in total one would think more people would have cycled out but this is a perfect illustration of just how many members these matrix split schemes need to keep the matrices cycling.