Evo Binary's Ramon Alcantara arrested in Portugal?

A 39 year old man has been apprehended by Portugal's Judiciary Police.
Gonçalo Silva, author of the website Fraud Portugal, hypothesizes the suspect is Evo Binary's Ramon Alcantara.
The suspect was arrested as part of "Operation Jamon". He is accused of running a Ponzi scheme that pitched a 27% ROI.
Fraud Portugal writes;
In the Correio da Manhã news they do not identify who the suspect is arrested or the Ponzi scheme, however, with the little information available everything indicates that the suspected suspect detained by the PJ must be Ramon Alcantara.
Evo Binary was a Ponzi scheme launched in 2016.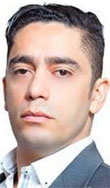 Headed up by CEO Ramon Alcantara (right), at the time it was represented the scheme and Alcantara operated out of Dubai.
At the high-end, Evo Binary marketed an "up to" 27% ROI on €20,000 EUR investments.
The ruse behind Evo Binary's returns was forex trading. But there was of course no trading, or at least not enough to pay 27% a month.
Lasting roughly a year, by mid 2017 Evo Binary collapsed.
On the surface, details provided by the police appear to match up with Evo Binary.
The 39-year-old detainee devised a criminal plan aimed at the practice of international scams, especially a pyramidal financial fraud scheme, commonly known as the ponzi scheme .

The fraudulent scheme was based on the promise of obtaining quite high returns, around 27%, for customers who invest in the foreign exchange markets through computer software, which would monitor the foreign exchange market and decide the timing of entry and currencies in which to invest.

On the other hand, the investment had, necessarily, to have the intervention of an intermediary, who would benefit from a progressive commission, indexed to the recruitment of new investors by his "team".

In the course of the investigation, it was possible to conclude that there was no effective investment in the foreign exchange market, with partial payments being made to investors from the injection of capital from new investors.
Police allege the majority of funds invested into Evo Binary were received through Portuguese bank accounts.
In addition to the arrest, "bank balances of approximately three and a half million euros, as well as the foreclosure of a luxury property, worth more than half million euros" were also seized.
If the arrested suspect is indeed Ramon Alcantara, his arrest would come just shy of four years after the scam's collapse.
Pending further details of the suspect and case being made public, for now the unidentified man is being held in custody.