EmpiresX's master trader banned by the NFA for 8 years

You won't find his name anywhere on EmpiresX's website.
A quick search through YouTube however, returns plenty of videos citing "Joshua Nicholas Gregg" as EmpiresX's Master Trader.
Supposedly, Gregg, sometimes credited as just Joshua Greg/Gregg or Josh Greg/Gregg, works for Goldman Sachs in New York.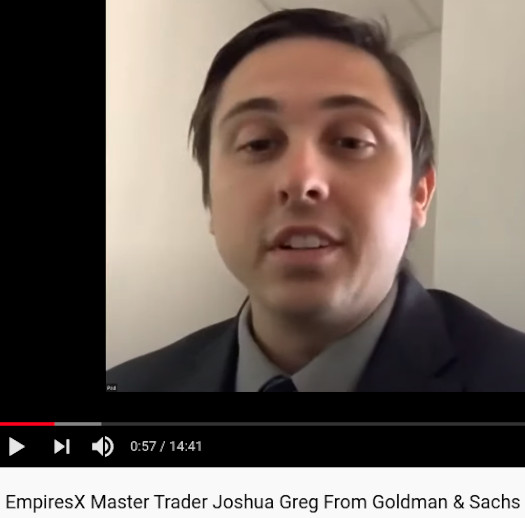 In an EmpiresX webinar held earlier this month, Joshua pulled up the FINRA BrokerCheck page for Joshua Nicholas Gregg: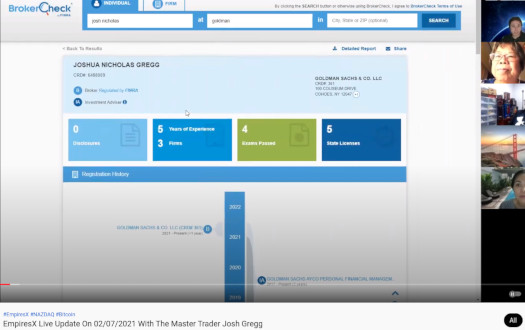 You can pull up the same record here and, sure enough, Joshua Nicholas Gregg does indeed work for Goldman Sachs.
Just one problem though, as far as I can tell EmpiresX's Joshua isn't Joshua Nicholas Gregg.
As a supplement to the basic record linked above, here's a more detailed FINRA record for Joshua Nicholas Gregg.
If we scroll down to page 7, we find Gregg's employment history.

Based on Gregg's time as a student at Albany Law School and Union Graduate College, he appears to be based out of New York.
Meet Josh Nicholas, who in 2014 was a Sophomore at Florida Atlantic University (FAU).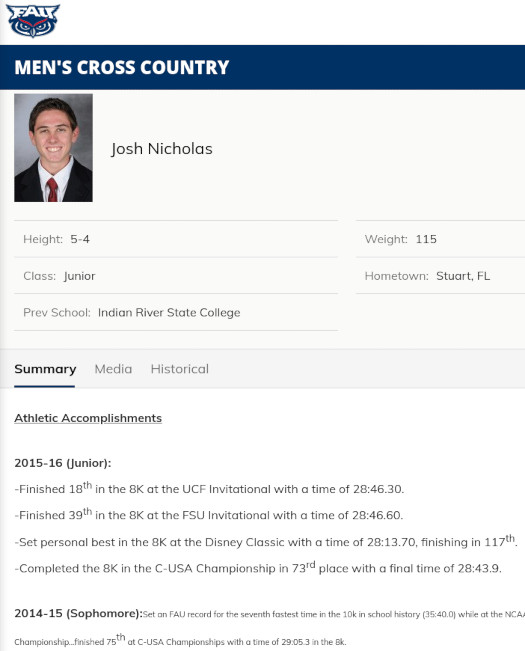 Look familiar?
In the "personal" section of Nicholas' bio, it's revealed he's an accounting major, trades equities as a hobby and "hopes to become a Chief Financial Officer".
In 2015 Josh's father, Jerry Nicholas, was the recipient of the Charlotte Hans Foundation's Softball Challenge.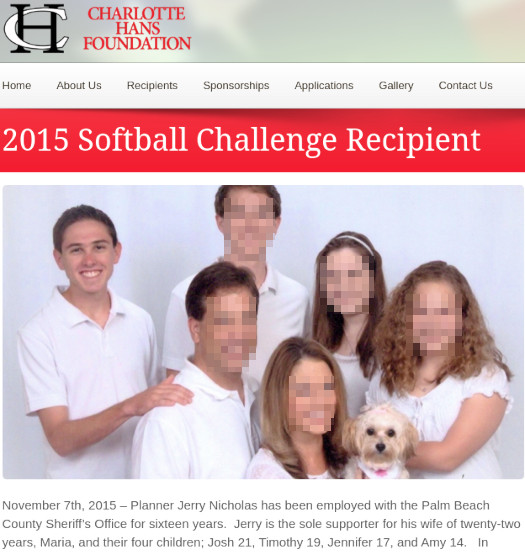 Jerry Nicholas is credited as an employee of the Palm Beach County Sheriff's Office, again in Florida.
At the time, Jerry was also
the sole supporter for his wife of twenty-two years …  and their four children; Josh 21 …
If we go back to Joshua Nicholas Gregg's FINRA record, in 2015 he was working with The Ayco Company, an Investment Advisor Firm based out of New York.
More importantly, Gregg attended Albany Law School from 2011 to 2014. He graduated and was admitted as an attorney in New York in 2015.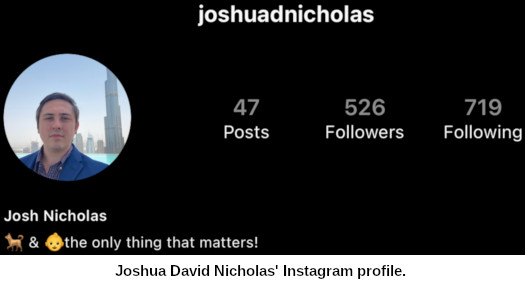 These two men clearly don't appear to be the same person.
Perhaps the final nail in the coffin is the NFA's Business Conduct Committee (BCC), taking action against Joshua David Nicholas and his firm JDN Capital LLC.
JDN Capital appears to be the culmination of Josh Nicholas' aspirations as a student at FAU.
As per the BCC's December 2020 complaint;
From October 10, 2018 to November 16, 2020, JDN Capital was a member of NFA.

JDN Capital is located in Stuart, Florida. JDN Capital was registered with the CFTC as a commodity trading advisor from October 9, 2018 to November 16, 2020, when the firm withdrew its CFTC registration and NFA membership statuses.

Nicholas is the sole owner of JDN Capital.

As various times between August 2016 and May 2017, Nicholas was an AP of Fortune Trading Group LLC, a firm permanently barred from NFA membership for sales practice fraud and abusive trading practices.

As a CTA, JDN Capital offered one trading program, called the Green Leaf Trading Program.

In 2019 and 2020, JDN Capital's managed account customers trading the Green Leaf Trading Program suffered significant losses, and JDN Capital ceased trading the customer's accounts.

On August 26, 2020, one of JDN Capital's former managed account customers telephoned NFA's Information Center and reported  that he and his wife had entered into a promissory note with JDN Capital and Nicholas for an "unregulated security."

Mr Doe explained that he and his wife had been receiving interest payments from JDN Capital, but they had not received monthly statements from Nicholas or heard from him over the past two weeks.

Mr. Doe also mentioned that he was growing suspicious of Nicholas and the promissory note agreement with JDN Capital.

Mr Doe's call caused NFA to commence an investigation concerning JDN Capital and Nicholas' dealing with Mr. and Mrs. Doe.
Information obtained by the NFA revealed
JDN Capital had no active customer accounts since March 2020; and
JDN Capital had lost $2 million for the Does, sending their account into a debt of "approximately $250,000".
An interview with the Does' attorney revealed;
Nicholas had traveled to Mr. and Mrs. Doe's home in North Carolina and promoted the promissory note as a way to make up for some of the futures trading losses they had sustained in February 2020.

According to the attorney, Nicholas recommended that Mrs. Doe invest the assets of a family trust established for the benefit of Mrs. Doe and her disabled adult sister … in an investment strategy that Nicholas claimed would guarantee profit of at least 17% annually.

In early May, Mrs. Doe loaned $300,000 from (the family trust) to JDN Capital.

In return, Mrs. Doe received a promissory note dated April 30, 2020, in which JDN Capital promised to repay the principal of $300,000 to Mrs. Doe's Family Trust, together with annual interest of 17%, with the final payment to be made on May 1, 2021.
Nicholas provided the Does with a June 2020 activity statement from a "well-known investment firm".
The activity statement was heavily redacted to conceal the account value, information about any cash activity in the account, and virtually all information concerning the investments.

However, unredacted portions of the statement showed dividends of almost $90,000 (year-to-date) and a 12.82% return for June.

NFA removed the redactions that obscured portions of the activity statement and noticed significant discrepancies in the underlying statement.

For example, certain columns in the statement did not sum up properly, and stock symbols did not match the listed securities.

These statements raised questions about the statement's legitimacy and, therefore, NFA contacted the investment firm.

The investment firm informed NFA that the account number did not correspond to any account at the firm and confirmed that it had no accounts in the name of JDN capital and none in the name of, or controlled by, Nicholas.

NFA subsequently asked Nicholas to provide the name and contact information for the account representative at the investment firm; however, Nicholas failed to provide the requested information.

As part of its investigation, NFA also spoke to Mr. and Mrs. Doe.

During the call, the Does indicated that Nicholas had repeatedly told them before they entered into the loan that they could obtain a return of the principal at any time.

However, when Mrs. Doe requested a return of the principal on July 17, 2020, Nicholas denied her request.

On August 3, Mrs. Doe again sought to terminate the promissory note, but Nicholas never responded to Mrs. Doe.
Other information obtained by the NFA reveal;
Nicholas had an open personal trading account at a Member FCM.

Records that FCM A provided to NFA for Nicholas' personal trading account revealed that Nicholas had traded in the account at various times commencing in April 2018 and engaged in futures trading when JDN Capital was active as a CTA.

Between April 2018 and April 2020, Nicholas deposited approximately $80,000 into the account and withdrew over $40,000.

As of April 30, 2020, the account balance had declined to approximately $2300 due to trading losses.

More importantly, Nicholas' account statement showed that in early May – soon after JDN Capital received the loan proceeds from Mrs. Doe's Family Trust – Nicholas made four deposits that totaled $225,000 to his trading account at FCM A.

All of the deposits came from Nicholas' personal bank account.
The NFA suspected Nicholas deposited funds loaned to him by Mrs. Doe into his personal trading account.
Nicholas would go on to fail to provide the NFA with a copy of the promissory note he provided Mrs. Doe.
He also failed to provide evidence to back up a claim that the loan proceeds had been used to 'make investments in "securities and hard assets" in the name of JDN Capital, not Mrs. Doe's Family Trust.'
Nicholas told the NFA he wouldn't provide them with any account statements to verify what happened to the loan proceeds, because he didn't want them to "steal his strategy".
The NFA requested Nicholas provide JDN Capital bank account statements, which he failed to provide.
NFA also asked Nicholas to explain the source of the $225,000 in deposits to his personal trading account at FCM A to confirm that JDN Capital and Nicholas had not misused the loan proceeds, contrary to the terms of the promissory note.

In response, Nicholas claimed the deposits to his account at FCM A consisted of assets from his personal savings, including cash and funds from his money market and cryptocurrency accounts.

NFA asked Nicholas to provide his personal bank statements to demonstrate the source of these funds, as well as other documentation to substantiate his representations.

However, Nicholas failed to provide these documents to NFA.
The reference of "promissory notes" in a call  lead the NFA to believe Nicholas had
entered into promissory notes with other lenders.

However, when NFA attempted to question him further on the issue, Nicholas refused to confirm whether JDN Capital and he had entered into other promissory notes.
In addition to not providing the NFA with requested documents, Nicholas also lied to the NFA.
Nicholas willfully provided misleading information (to the) NFA.

For example, during the September 4th call, Nicholas claimed that he did not begin trading in his personal account at FCM A until after JDN Capital's managed accounts closed.

However, as alleged above, Nicholas was actively trading in his personal account while JDN Capital was operating as a CTA.

Nicholas also claimed during the call that he was still employed by the FINRA member firm as a registered representative, even though FINRA's BrokerCheck system showed that Nicholas' employment with the FINRA member firm had ended on July 31st, 2020.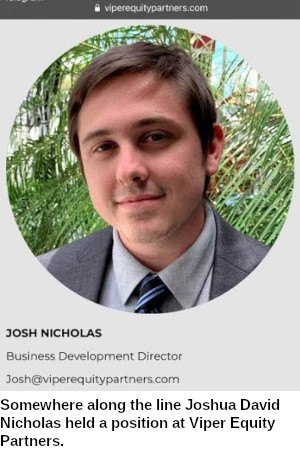 This is significant. If we check that July 31st date against Joshua Nicholas Gregg's detailed FINRA history, we don't see that date anywhere.
If we bring up Joshua David Nicholas' BrokerCheck record, we can confirm the expelled firm referenced by the NFA, and Nicholas leaving Merril Lynch on July 31st, 2020.
We can also confirm Nicholas' academic history at FAU on page 5.
Long story short, Nicholas repaid the misappropriated $300,000 from his personal trading account.
Nicholas deregistered himself and JDN Capital from the NFA in November 2002, just prior to the BCC's December 2020 complaint.
Nicholas and JDN Capital settled the BCC's complaint in April 2021.
As per the settlement;
JDN Capital will not apply for NFA membership "at any time in the future";
Nicholas is barred from applying for NFA membership for 8 years;
Nicholas will pay a $125,000 fine if he applies for NFA membership after the eight-year ban; and
Nicholas agreed "not to act or become a principal of an NFA member at any time in the future.
In summary;
We have Joshua David Nicholas, aka Josh Nicholas, a deregistered NFA member and resident of Florida, impersonating Joshua Nicholas Gregg, a current NFA member and resident of New York.
After settling his NFA fraud complaint, in which it was revealed he lost tons of money trading, Joshua David Nicholas now fronts EmpiresX as a "Master Trader".
EmpiresX being an MLM Ponzi scheme co-founded by Emerson Pires, also a resident of Florida, and Flávio Gonçalves, who recently fled to Dubai, the MLM scam capital of the world.
Oh I'm sure this is gonna go down well.
Update 3rd August 2021 – This article originally had two YouTube video links; one to an EmpiresX webinar in which Joshua Nicholas falsely claimed to be Joshua Gregg, and the other to a video in which Flávio Gonçalves revealed he had fled to Dubai.
As at the time of this update YouTube has removed both videos citing TOS violations. As such I've removed the previously accessible links.