Eagle Gates Group's Eddy McClough still at large, D. Keller trial date

When news broke that the US face of the Eagle Gates Group Ponzi scheme had been arrested, it was assumed to be the actor that played CEO Eddy McClough.

Thai authorities arrested Derrick Matthew Keller on Monday, August 20th, 2018.
Keller, a Texas resident, was presented as the western face of the company.
While he did appear in several Eagles Gates Group marketing videos however, turns out he's not the guy who played the fictional McClough.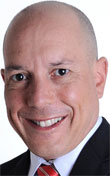 The actor who played McClough (right), is still at large.
Last we heard Thai authorities were hunting twenty-three Thais and nine foreigners, however there's been no updates since Keller's arrest last August.
In a local KHOU 11 news piece, it's revealed Keller is being held in Klong Prem Prison.
Keller, a Navy veteran, was approached in China with what he claims he believes was a legitimate acting gig.
That is, appear in several promotional videos over six months playing the part of Eagle Gates Group's fictional management.
For his efforts, Keller was paid $15,000.
Thai authorities are apparently keen on a conviction, with Keller's July trial date fast approaching.
If convicted, Keller is facing thirty-five years in prison.
His family claims
they've provided proof that Derrick is innocent and was simply an actor in a corporate video.

They claim they've reached out to President Trump, Senator Ted Cruz, Senator John Cornyn and a long list of other local politicians but haven't been offered any help.

"The country called… he answered," said his father, a Vietnam veteran.

"When the country called… I answered. And now we call and we don't get an answer."
Whether Keller knows who ran Eagle Gates Group or who any of the other actors are they used is unclear.