Digital Altitude Receivership winding up, victims screwed

A short update note on the Digital Altitude Receiver's website informs visitors that the Receivership is due to wind down soon.
Victims of the $54 million dollar scam have also been advised they are mostly screwed.
The Receiver's latest update appears to have gone live on or around September 24th.
It's short and sweet;
The Receiver will be concluding the Receivership in the coming months.

Unfortunately, no significant assets were recovered.

The FTC will institute a process for consumer redress, but consumers should be aware that any payments will most likely be only a small fraction of consumers' losses.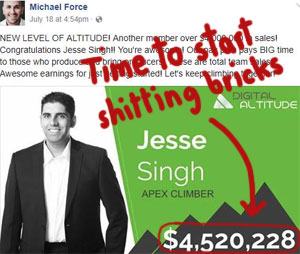 Where funds deposited into Digital Altitude wound up is unclear.
Also unknown is why the Receiver chose not to initiate clawback proceedings against Digital Altitude's top earners.
The Receiver's August 15th Fifth Report reveals the Receivership is sitting on $1.7 million dollars.
$207,434 has been collected in Receivership fees, accounting for 11.2% of funds recovered.
This is the first time I've seen a Receiver not follow through with a claims process. I'm not sure how the FTC will proceed but I'll keep an eye out for any updates.