Daily Cash Doubler Review: 200% return over 40 days.

A few weeks back now I looked at the investment scam Profit Doubler.
Whereas Profit Doubler promised members a 200% return in 50 days, Daily Cash Doubler has shaved 10 days off the maturity period and appears to be run by the same person/people.
Read on for a full review of the Daily Cash Doubler opportunity.
The Company
There's no information on the Daily Cash Doubler website about who owns or runs the opportunity.
The domain registration data however names a 'Sandra Bull' as the registrant, operating out of the city of Brussels in Belgium.
This is the exact same registration information used to register the Profit Doubler opportunity so it's likely that both opportunities are being run by the same person(s).
Furthermore it's worth noting that the 'Terms and Conditions' of Daily Cash Doubler are identical to 4 Daily Pay, another MLM investment scam I've previously reviewed.
Here's 4 Daily Pay's terms and conditions: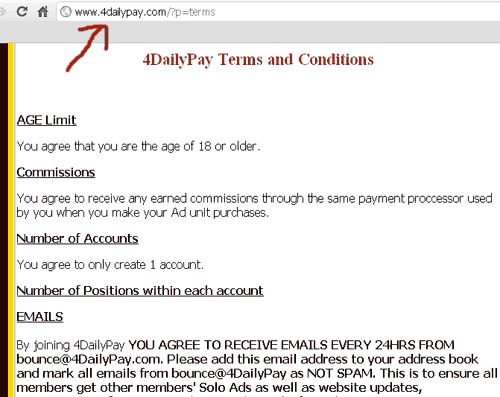 and here's Daily Cash Doubler: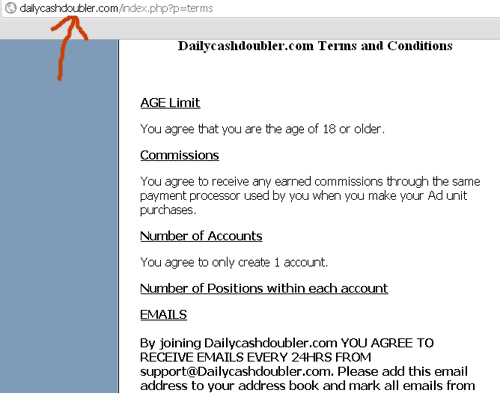 This could just be a copy and paste job but if you look at the logos for 4 Daily Cash and Daily Cash Doubler, you'll also note the same font is used.
With 4 Daily Pay linked to Daily Cash Doubler, that also means that 3 Daily Cash is also most likely run by the same people(s).
It's apparent that this appears to be some kind of serial Ponzi network run by the same people(s) who of late are just continuously launching opportunity after opportunity.
The Daily Cash Doubler Product Line
Daily Cash Doubler has no products or services to market. Instead members are required to make an investment into the company and earn a commission on this investment over forty days.
Included with each investment are advertising credits, which can be used to advertise on the Daily Cash Doubler advertising network that features on the site.
There is a link to purchase advertising without participating in the investment scheme, but if you click on it you simply get the message:
No Advertising Offer found…
The Daily Cash Doubler Compensation Plan
Daily Cash Doubler members are able to invest money into the company with Daily Cash Doubler then guaranteeing a 200% return over the next 40 days (5% a day).
Additionally if members recruit new members, they earn a 10% commission on any money invested by their recruits.
Joining Daily Cash Doubler
Membership to Daily Cash Doubler is free, however in order to earn a commission money must be invested into the company (either directly, or via new members you recruit).
Conclusion
With no additional revenue streams it's clear that the returns Daily Cash Doubler guarantee its members are simply being paid out from the investments of new members who join afterwards.
What we're looking at here is yet another obvious MLM Ponzi scheme.
Over the last month a bunch of suspiciously similar MLM investment schemes have popped up and with each new one launched, it's becoming clearer that they're all being run by the same person or team.
Obviously utilising the same script, it appears that they let their previous investment scheme run a few weeks before launching yet another scheme with slightly modified variables (payout percentage or number of days returns are generated).
Hopefully people are smart enough not to keep repeatedly falling for income opportunities created by these serial scammers, although with 4 Daily Pay reporting they have 6,395 members at the time of publication, perhaps not.