4 Daily Pay Review: 4% guaranteed daily ROI scam

Q: What's more unsustainable than a 3% daily guaranteed ROI Ponzi scheme?
A: A 4% daily guaranteed ROI Ponzi scheme!
Read on for a full review of the 4 Daily Pay MLM opportunity.
The Company
There is no information on the 4 Daily Pay website about who is running or owns the company.
The domain 4dailypay.com was registered on the 19th January 2012 but the registration information is set to private.
A quick look at the logo of the 4 Daily Pay opportunity pretty much gives away that the design is near identical to that of 3 Daily Cash, a similar investment opportunity launched just days ago.
Both 3 Daily Cash and 4 Daily Pay are hosted by 'Staminus Communications' (NEMTYMEDIA), located in Seychelles.
Both 4 Daily Pay and 3 Daily Cash companies have a bit of a peculiarity in that both websites contain the logo of 'AdsRealm' in their images directory.
Here's 4 Daily Pay: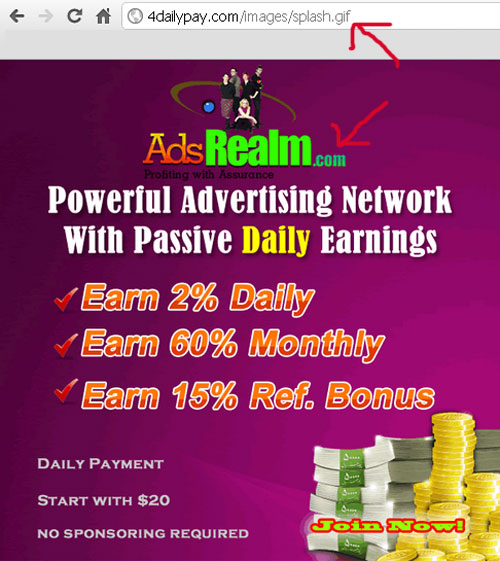 and here's 3 Daily Cash: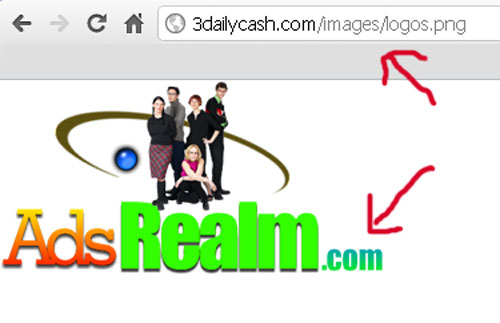 AdsRealm was an investment scheme (2% guaranteed daily with a 60% ROI each month), launched in September 2011 by Rachel Goldberg. Goldberg operated AdsRealm out of Vancouver in Canada.
On September 17th and over the next few days the AdsRealm website went down repeatedly, causing Goldberg to switch hosting providers:
WE HAVE MOVED !

As some of you are aware, we were experiencing hosting issues, and therefore we have moved AdsRealm to a new and better server.

The move was completed earlier today with minimal downtime, and we are once more ready to Rock \'n Roll !!

Hope you are enjoying a happy and profitable week,

Rachel
On September 29th, Goldberg sent out an email to members advising them of the current state of the company:
AdsRealm continues to steadily grow. We now have 282 members, who have purchased $3,300 worth of advertising units, and we have paid out well over $400 in referral commissions, so we are well pleased with the start we have made.

Rachel and Team
One month later in late October, AdsRealm stopped paying out members (as all ponzi schemes do) and collapsed. Shortly thereafter the AdsRealm website went offline and Rachel Goldberg did a runner with the invested money.
The inclusion of AdsRealm logo templates on both 3 Daily Cash and 4 Daily Pay strongly indicates that Rachel Goldberg is also the admin and owner of both opportunities.
The 4 Daily Pay Compensation Plan
4 Daily Pay guarantee their members a daily 4% return and 250% return on investment (ROI) in 50 days from the original investment date.
Investments into 4 Daily Pay are made in $10 increments and 4 Daily Pay bundle a bunch of advertising credits with each investment. These advertising credits are to be used on the in-house advertising network running on the 4 Daily Pay website.
4 Daily Pay also pays a referral commission on members recruited to the company as a percentage of the money they invest.
For members you personally recruit to the program 4 Daily Cash pay 10% and for members they recruit you earn 5%.
Joining 4 Daily Cash
Membership to 4 Daily Cash is free, however an investment must be made of at least $10 to participate in the compensation plan and earn a commission (ROI).
Conclusion
It's interesting to note that a domain called bannermoneyads.com points to the same IP address as the 3 Daily Cash website.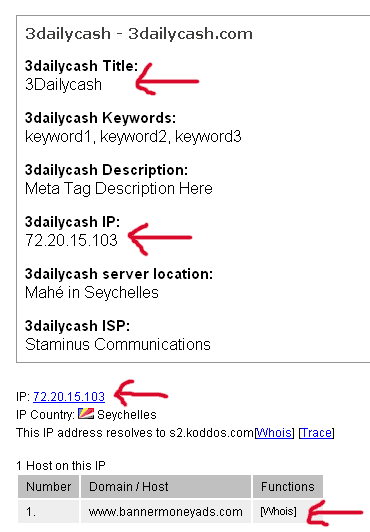 Banner Money Ads was another investment scheme that guaranteed a daily 10% ROI (up to 150% ROI in 15 days) on $10 investments.
Like AdsRealm, Banner Money Ads was launched in September and like AdsRealm, collapsed in late October (the exact same time).
The admin of Banner Money ads was never named however the timing of the launch and collapse, along with the fact that it was being run on the same hosting as 3 Daily Cash and that both 3 Daily Cash and 4 Daily Pay have the AdsRealm logo stored in their images folder strongly indicates that Rachel Goldberg was also behind it.
The simple fact of the matter is that you can't create a 200% return out of thin air and with no other revenue stream to 4 Daily Pay other than the money members are investing into it, like AdsRealm and Banner Money Ads before it, 4 Daily Pay will no doubt soon crash with Goldberg again pulling a runner with people's money.