Profit Doubler Review: 200% ROI in 50 days

Cash Share Kingdom was a Ponzi scheme that launched in late 2010 and went bust shortly thereafter.
Having lay low since then, it appears the owner(s) of Cash Share Kingdom are back with another scheme, this time promising a 200% return in just 50 days.
Read on for a full review of the Profit Doubler business opportunity.
The Company
The Profit Doubler website contains no information about who runs or owns the Profit Doubler opportunity.
The domain registration information however names the registrant as 'Sandra Bull', operating out of the city Brussels in Belgium.
The email address used to register to the domain, 'verere2008@inbox.com' appeared on the whois registry data for another domain, 'cashsharekingdom.com'.
The Cash Share Kingdom domain whois information was set to private when the domain was renewed back in October 2011, but here's how it looked prior to that: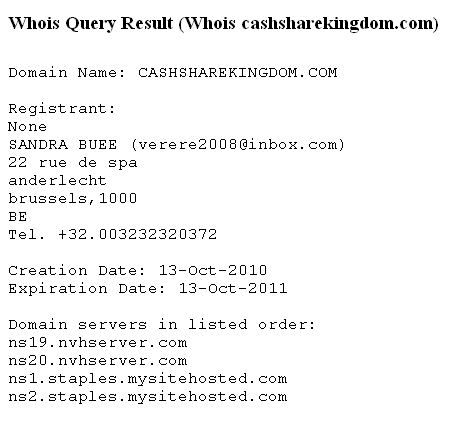 I'm not sure what's up with the different spelling of 'Bull' as 'Buee', but 'Sandra Buee' does appear in connection with Cash Share Kingdom in several instances, indicating that 'Sandra Bull' might be a deliberate misspelling of the surname.
As for Cash Share Kingdom, launched in October 2010 it was an investment scam where members invested $30 "shares" with the company. In return the company guaranteed a 200% return on member's investments (the timeframe was dependent on how much money was being invested by members to cover returns).
Within 12 months the company went bust and the Cash Share Kingdom domain is currently not in use.
The Profit Doubler Product Line
Profit Doubler has no retail product or service offering. Instead members are required to make $10 investments into the company.
Bundled with each investment are advertising credits which members can use to display advertising on an inhouse advertising network that features on the Profit Doubler website.
The Profit Doubler Compensation Plan
For each $10 invested by Profit Doubler members, the company guarantees a 200% return over 50 days (4% daily).
In addition, referral commissions are also paid down two levels on any investments made by members you recruit into the scheme.
Your direct recruits pay 10% and their recruits (your level 2) pay 5%.
Joining Profit Doubler
Membership to Profit Doubler is free, however members must invest a minimum of $10 if they wish to participate in the compensation plan and earn a commission.
Conclusion
Cash Share Kingdom was an obvious Ponzi scheme that sought to redistribute new money being pumped into the company by members with existing members.
Profit Doubler is essentially the same thing, but like the abundance of MLM investment schemes going around at the moment bundles the investments useless advertising (nobody sees the ads except Profit Doubler members) in an attempt to look legal.
With a track record of going bust in under a year, guaranteeing a 200% return in 50 days pretty much ensures that like Cash Share Kingdom, Profit Doubler is going to go bust pretty fast.