Crowd1 restricts withdrawals through "Bonus Security System"

A Ponzi scheme is a zero-sum equation. That is, minor revenue generation aside, it cannot pay out more than is invested.
Once you factor in how much the owner wants to keep and other expenses, what's left to pay out is reduced even further.
Crowd1's latest solution to this problem is the Bonus Security System.
In a nutshell, the Bonus Security System pegs Crowd1 withdrawals directly to new investment.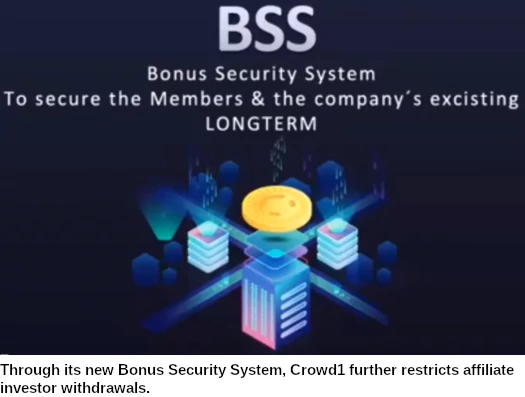 Whether that's 100% of new investment or a fixed percentage, who knows. The bottom-line is Crowd1 affiliates receive reduced payouts.
This isn't anything new mind, Crowd1 has been delaying withdrawals since April 2020.
What the BSS doesn't address is the inevitable decline in new investment any Ponzi scheme experiences.
By website traffic, Crowd1 is one of the biggest MLM Ponzi schemes around. Alexa traffic estimates reveal new victims are being created in Russia (24%), Azerbaijan (17%) and Kazakhstan (10%).
Funds from these investors will feed most of Crowd1's western and African affiliate investors, who got in early last year.
When Crowd1 recruitment inevitably dies down, all the BSS will do is restrict what's available to pay out.
It doesn't change ROI liabilities or address Crowd1 not having insignificant external revenue sources.
Over time you have more and more investors being paid less and less money.
This of course is the standard Ponzi model, and continues until collapse.
With "Bonus Security System", Crowd1 has just given the Ponzi collapse process a new name.
Crowd1's last ruse to solicit investment was Planet IX. Traffic to Planet IX's stand-alone website flatlined in late August.
Again based on Alexa's estimates, traffic to Planet IX's website originates out of Russia (32%), South Korea (29%) and Kazakhstan (13%).

Originally from Europe, Crowd1, Jonas Erik Werner (right) and the rest of the scammers running it have since fled to Dubai.
Dubai is an MLM scam safe-haven. The UAE has no active regulation of MLM fraud.
UAE authorities do not cooperate with foreign investigations and the country has extremely limited extradition treaties.
To date regulators from no less than fourteen jurisdictions have taken action against Crowd1.