Crowd1 exit-scams Sweden through bankruptcy

Crowd1 has exit-scammed Sweden through a good old fashioned bankruptcy.
As reported by SvD in a paywalled June 12th article, Crowd1's Swedish shell company, Impact Crowd Technology Scandinavian AB, filed for bankruptcy on Friday, June 9th.
"As a representative of Impact Crowd Technology Scandinavian AB, it is hereby requested that the district court place the company in bankruptcy, as the company is in insolvency which is not temporary," the brief document states.

The bankruptcy was decided by the district court on the same day, which is a standard procedure when the application comes from the company.
Of course this is all just theater to wrap up any corporate loose ends. Crowd1 operates out of Dubai and money stolen through the Ponzi scheme will have been laundered offshore already.
Nonetheless, Crowd1's Swedish bankruptcy exit-scam follows raids on their offices last November. Swedish authorities have belatedly opened an investigation into Crowd1, but nothing has come of it yet.
"A suspected pyramid scheme is certainly at the bottom of our investigation, but our criminal investigation is about whether (Crowd1's) routing of money in and out of Sweden was (a) criminal (act)", said chamber prosecutor Carl Asterius earlier to SvD.
Although I'm not intimately familiar with Swedish law, I'd assume laundering money stolen through a Ponzi scheme is in fact illegal.
Crowd1 is run by Jonas Werner. A Swedish national, Werner fled to Dubai as Crowd1 grew.
In addition to announcing a native Crowd1 NFT shitcoin grift (which hasn't launched yet)…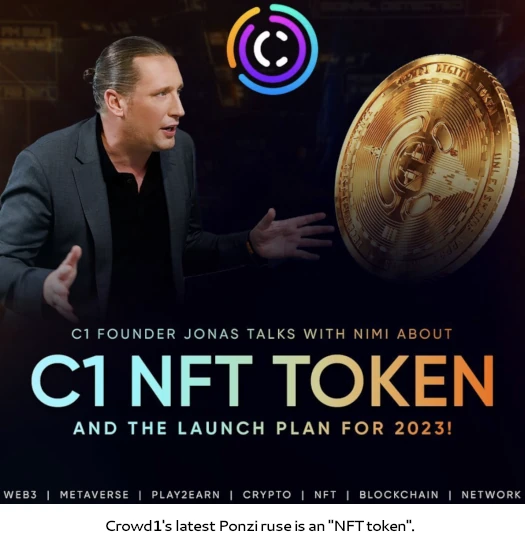 …Crowd1 is currently pushing a new "Emperor Knights" pLaY tO eArN grift: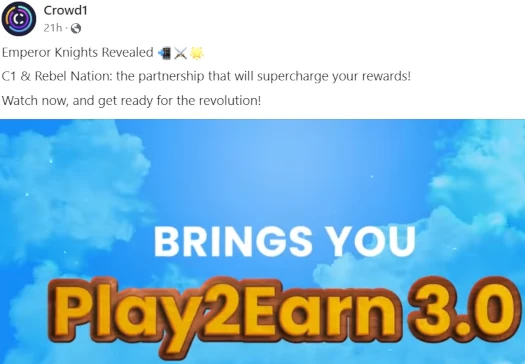 This isn't Crowd1's first foray into grifting through video games. Back in 2021 Crowd1 launched Planet IX, a crappy mobile game that ultimately went nowhere.
Crowd1 has locked down its official FaceBook page so unfortunately we're unable to provide input from its victims.
As of May 2023, Crowd1's website traffic is holding steady at about one million visits a month.
SimilarWeb tracks top sources of Crowd1 website traffic as Russia (27%), Sweden (14%), Ukraine (10%), the Philippines (7%) and Germany (6%).