CMDX dumped from only public exchange following audit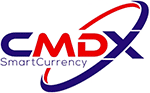 In a desperate bid to legitimize his CMDX Ponzi scheme, owner Tom McMurrain has been talking up public trading on the OpenLedger exchange.
Those negotiations seem to have gotten as far as OpenLedger allowing deposits in CMDX, but as far as I can tell no actual public trading took place.
Now OpenLedger has announced it's pulling the plug on CMDX support.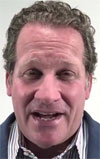 In a CMDX "State of the Union" video dated July 11th, McMurrain (right) was positively gushing about having found an exchange.
We've met with over thirty different cryptocurrency exchanges, there's a lot of junk out there, but we narrowed it down to five.

We've selected the exchange we're listing on. They've been around for five years.

Y'know they're a very well-known brand in the blockchain space.

Very well respected, and they were impressed by our business model, technology and the tokenomics of CMDX.

And I'm really happy to announce we will be listing the CMDX token on "openledger.io".

We'll be creating a formal consulting relationship with them as well, so we can conduct a one hundred hour tech audit, roadmap and high-level vision document, so we can see CMDX through the eyes of highly experienced blockchain experts.

I'm really looking forward to going through that with them.
In another "State of Union" marketing video dated July 21st, McMurrain stated;
We are a couple of weeks away from having a publicly traded CoinMD CMDX token on OpenLedger DEX.
That is the last "State of the Union" video McMurrain published to date.
In an August 8th announcement published on their website, OpenLedger advised;
According to the audit results, we arrived at a decision to terminate the support of the CMDX gateway.

The above-mentioned gateway will be disabled according to the terms and conditions of our listing agreement with official token representatives.
CMDX token deposits have been disabled immediately. Withdrawals will be disabled from August 16th and support of the platform dropped on August 21st.
OpenLedger did not disclose what their audit revealed. Whatever it was though, it was enough to sever ties with CMDX and McMurrain effective immediately.
At the time of publication McMurrain is yet to respond to OpenLedger dumping CMDX.
Given the pervasiveness of dodgy crypto exchanges, it's likely he'll just move to get CMDX listed elsewhere.
Through public trading, McMurrain and CMDX investors hope to launder worthless CMDX tokens through other cryptocurrencies.
Following the collapse of OneCoin in early 2017, McMurrain launched CoinMD as his own Ponzi points spin off scheme.
CoinMD collapsed a few months ago and was rebooted as CMDX.
Although the US makes up the majority of traffic to CMDX's website (88%, Alexa), investment wise McMurrain is primarily soliciting investment in Nigeria, Vietnam and the Philippines.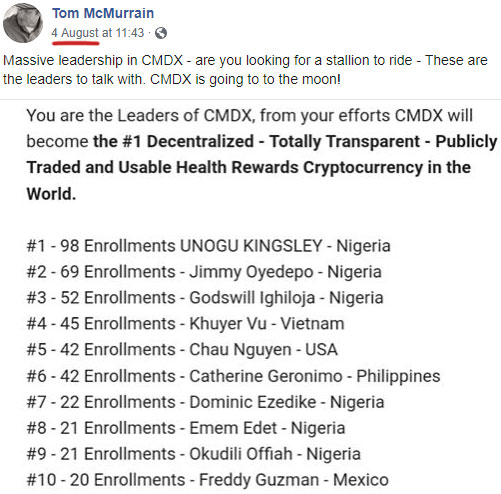 McMurrain has stated he hopes to have one million CMDX investors on board by May 2020.
Update 10th August 2019 – Following a purported conversation between Tom McMurrain and OpenLedger's lawyers, the reference to an audit has been removed from OpenLedger's announcement.
The quote in our article above referencing the audit, is as it appeared in OpenLedger's announcement at the time of publication.