Bitqyck co-founders sentenced to 50 months in prison

Bitqyck co-founders Bruce Bise and Samuel Mendez have been sentenced to 50 months in prison each.
The IRS initiated a criminal investigation into the pair following failure to report Bitqyck's taxes in 2016 and 2017.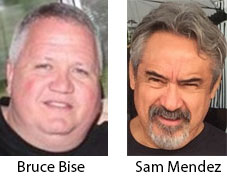 The criminal case against Bise and Mendez is your typical MLM crypto grift;
Mr. Bise and Mr. Mendez admitted that Bitqyck raised approximately $24 million from more than 13,000 investors.

Instead of fulfilling their promises to these investors, the defendants used Bitqyck funds on personal expenses, including casino trips, cars, luxury home furnishings, art, and rent.

From 2016 to 2018, Mr. Bise and Mr. Mendez raked in roughly $4.68 million and $4.48 million, respectively.
Where things came undone on the tax front was in the non-filing with the IRS.
For 2016 and 2017, Mr. Bise underreported his income to the IRS, resulting in a tax loss of $371,278. For that same period, Mr. Mendez also underreported his income to the IRS, resulting in a tax loss of $311,155.

In 2018, Bitqyck failed to file any corporate tax returns at all despite netting more than $3.5 million from investors.

The total tax loss joint and severally to the United States government between Mr. Bise and Mr. Mendez is more than $1.6 million dollars.
The criminal case against Bise and Mendez was filed in August 2021.
Bise pled guilty to tax fraud in September 2021. Mendez pled guilty a month later in October. The pair were sentenced to 50 months in prison back in March.
I wasn't aware of the case hence the delayed reporting.
BehindMLM reviewed Bitqyck in March 2017. In our review we identified Bitqyck as a continuation of securities fraud Mendez and Bice started with Calorchi.
The SEC filed suit against Bitqyck, Mendez and Bice in 2019, initially pegging $13 million in losses to consumers.
The IRS' investigation would see that figure grow to $24 million fleeced from ~13,000 investors.
The SEC's complaint alleges that Bise and Mendez misrepresented QyckDeals, a daily deals platform using Bitqy, as a global online marketplace, and falsely claimed that each Bitqy token provided fractional shares of Bitqyck stock through a "smart contract."

The complaint alleges that the defendants falsely told investors that BitqyM tokens provided an interest in a Bitqyck cryptocurrency mining facility powered by below-market rate electricity.

In reality, Bitqyck did not have access to discounted electricity and didn't own any mining facility.

Bitqyck, aided and abetted by its founders, also is alleged to have illegally operated TradeBQ, an unregistered national security exchange offering trading in a single security, Bitqy.
Mendez and Bice settled the SEC's securities fraud charges against them for $10.1 million. The settlement consisted of disgorgement and two civil penalties.