Glenn Arcaro's BitConnect sentencing delayed till May 6th, 2022

BitConnect defendant Glenn Arcaro's BitConnect sentencing has been delayed till May 6th, 2022.
As detailed in a December 7th Joint Motion requesting Arcaro's sentencing be continued;
(The parties) jointly move to continue the sentencing in this matter, currently set for January 7, 2022 to May 6, 2022.

The request is based on the parties' desire to address matters affecting sentencing, including the need to identify victims, marshal assets subject to forfeiture and restitution, and other items that will impact the parties' sentencing recommendations.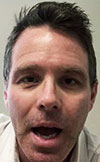 Arcaro (right) being involved with identifying BitConnect victims is an interesting twist. It wasn't present on the first request for a sentencing continuance.
Not sure if that's information he has or how else he's cooperating.
In any event, while that's playing out the court granted the continuance on December 8th.
It's a long delay so we're assuming Arcaro's cooperation is substantial.
Update 30th April 2022 – As per an April 19th order, Glenn Arcaro's May 6th sentencing has been continued to July 1st.