Default granted against Dilullo bankruptcy defendant, up for damages

Before he turned to the MLM cryptocurrency niche to scam people through, Frank Dilullo ran a Ponzi scheme through his failed Holey Donuts venture.
As part of Chapter 7 proceedings, a court-appointed bankruptcy Trustee sued Dilullo for running a Ponzi scheme.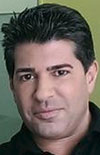 The Holey Donuts Ponzi scheme saw Dilullo (right) continue to solicit new investors even though he knew the company was insolvent.
As alleged by the Chapter 7 Trustee;
In essence, Dulillo was engaged in a Ponzi scheme, using sales to new investors to pay off, in whole or in part, old investors and himself.
As part of adversary proceedings in the bankruptcy case, the Chapter 7 Trustee filed for Default Judgment against co-defendant Oliver Zong.
A hearing on the motion was held on April 17th. The motion was unopposed and so default judgment was granted.
This ruling will see Oliver Zong pay damages. How much will be determined at a separate hearing, to be held on June 6th.
After Holey Donuts, Dilullo re-branded himself as a California Psychic.
At some point thereafter, Dilullo signed up with BitConnect promoted it through his "Team US Crypto Baller" Youtube channel.
How much Dilullo stole through BitConnect is unclear, but he is believed to have profited handsomely.
After BitConnect collapsed, Dilullo continued to promote similar ICO lending Ponzi schemes.
One such scheme, RibbonCoin, lead to accusations by his former partner that Dilullo was not only promoting lending scams but also running them.
Dilullo claims his former partner reported him to the FBI and Miami Police Department.
Whether regulators are investigating his promotion and involvement in cryptocurrency fraud however is unknown.
When the ICO lending Ponzi niche ran dry, Dilullo renamed his YouTube channel "Crypto Intelligence Report".
Through Crypto Intelligence Report, Dilullo switched to promotion of "proof of" ethereum-based Ponzi schemes (e.g. Proof of Weak Hands).
To what extent these latest bankruptcy developments will impact Dilullo's cryptocurrency scamming career is unclear.
As at the time of publication Dilullo hasn't uploaded a "Crypto Intelligence Report" video for about a week. Previously Dilullo had been uploading to the channel almost daily.
Update 30th August 2018 – This article initially reported default had been granted against Frank Dilullo.
Upon being contacted by Dilullo, we went back and checked the case docket – confirming that default had in fact been entered against defendant Michael Zong. We've now updated the article to reflect this judgment.
The issue on our end was the docket entry for default judgment failing to mention Zong (we check active dockets periodically within specific date-ranges).
For reference, here's the April 17th docket-entry in question:
Hearing Held; Appearances: Scott Shumaker (Telephonically – Counsel to Kyungsoon Davis a/k/a Kim Davis), John P. Campo & Vanessa Garcia (Counsels to Plaintiff/Trustee), Michael A. King (Counsel to Frank Dilullo); No Ooopsition [sic]; Motion Granted as to Default Judgment; Submit Order and Judgment; Hearing Adjourned as to Damages to 06/06/2018 at 02:30 PM at Courtroom 3577 (Judge Lord), Brooklyn, NY.(related document(s): 53 Motion for Default Judgment filed by John S. Pereira, Chapter 7 Trustee for the estate of Frank Dilullo a/k/a Francesco Dilullo) (ahoward) (Entered: 04/20/2018)
We're continuing to follow the case, as it remains open against Dilullo.
On June 6th default judgment was entered against Zong, with damages 'to be determined following an inquest to damages'.
A hearing appears to be have been held on July 25th however there's no mention of an "inquest to damages".
A trial date was scheduled however, for October 30th, 2018. Stay tuned…
Update 31st August 2018 – With respect to promotion of BitConnect through the "Team US Crypto Baller" YouTube channel, we posed Dilullo with the following request for clarification:
Will you go on the record and confirm you

-didn't invest any funds in BitConnect

-never promoted BitConnect in a YouTube video uploaded to any channel and/or

-never included a BitConnect referral link in the video description of a YouTube video uploaded to any channel
To which we received the following response;
Do you know I was never investigated or questioned by police or fbi.

I put 2500 of my own money in bitconnect when I was new to crypto.. I never gave links or told people to sign up.

I am assisting the sec in investigating those who were really behind loopx and others.
We can't provide you with any specific recordings or screenshots to the contrary, because shortly after BitConnect collapsed Dilullo removed any video mentioning it.
In fact after renaming "Team US Crypto Baller" to the "Crypto Intelligence report" a few months back, Dilullo deleted all of his videos prior to January 2018.
We maintain the claims made in our article however, based on recollection of videos uploaded to Dilullo's YouTube channel at the time.