Ribbon Coin Review: ICO Ponzi scheme "with a cause" is still a Ponzi

Ribbon Coin provide no information on their website about who owns or runs the business.
The Ribbon Coin website domain ("ribboncoin.co") was privately registered on November 21st, 2017.
As always, if an MLM company is not openly upfront about who is running or owns it, think long and hard about joining and/or handing over any money.
Ribbon Coin Products
Ribbon Coin has no retailable products or services, with affiliates only able to market Ribbon Coin affiliate membership itself.
The Ribbon Coin Compensation Plan
Ribbon Coin affiliates acquire pre-generated RBC points from the company's anonymous owners.
RBC points are sold to Ribbon Coin affiliates for between 50 cents and $1.10 each.
Once acquired RBC points are "lent" back to Ribbon Coin on the promise of a monthly ROI of up to 48%.
invest $50 to $499 and receive a daily variable ROI for 249 days
invest $500 to $4999 and receive a daily variable ROI plus 0.15% bonus daily ROI for 170 days
invest $5000 to $100,000 and receive a daily variable ROI plus 0.25% bonus daily ROI for 120 days
Despite not having even launched yet, Ribbon Coin state an average ROI rate of 0.8% to 1.6% a day.
Referral commissions are available on funds invested by recruited affiliates, paid down three levels of recruitment (unilevel):
level 1 (personally recruited affiliates) – 8%
level 2 – 5%
level 3 – 2%
Joining Ribbon Coin
Ribbon Coin affiliate membership is free, however free affiliates can only earn referral commissions.
Full participation in the Ribbon Coin MLM opportunity requires a minimum $50 investment.
Conclusion
The ICO lending Ponzi niche has hit a new low.
Whereas typically we see MLM charity exploitation geared towards children, Ribbon Coin seeks to take advantage of the current spotlight on women's issues.
Ribbon Coin states it's different from every other altcoin because it wants 'to introduce crypto-currency trading and blockchain technology to women.'
Why women can't just use existing cryptocurrencies is not stated.
Ribbon Coin do however state they 'find a lack of interest or knowledge when it comes using cryptocurrency as a means of investment amongst women'.
The implication seems to be women are too stupid to appreciate the advantages of cryptocurrency on its own merit, and so need a shiny carrot to lure them in.
That carrot?
The company will use RibbonCoin (RBC) as a method of digital payment to fund and donate to Non-Governmental Organisation (NGO), Single Mothers, Orphanages and those we see in need of assistance.
Again, why existing cryptocurrencies can't be used for this purpose is not stated.
Instead, Ribbon Coin tries to pass itself off as legitimate with shameless exploitative marketing: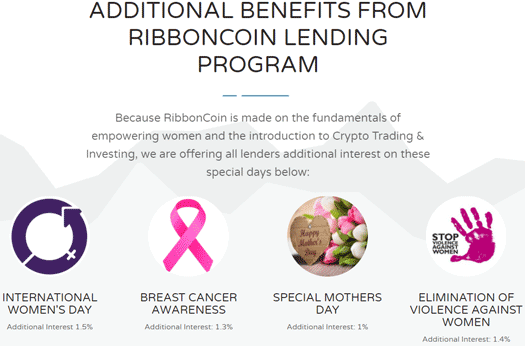 Underneath the charitable wrapping however is the same lending Ponzi shit sandwich scammers have been flocking to over the past six months.
Other than new affiliate investment, there is no other verifiable source of revenue entering Ribbon Coin.
Using new investment to pay existing affiliates a monthly ROI makes Ribbon Coin a Ponzi scheme.
Lending ICO Ponzis like Ribbon Coin play out as follows:
Admins (who are typically anonymous) offload worthless pre-generated points in exchange for real money. In this case it's RBC points.
The admins then use some of this money to pay promised ROIs for as long as new affiliates sign up.
Once affiliate recruitment dries up so does the ROI reserve.
When a predetermined threshold is reached, the anonymous Ribbon Coin admins pull a runner with what's left.
Early Ribbon Coin investors make a bit of money (mostly via recruitment of new investors). But same as any other Ponzi scheme, the reality of such scams is that the majority of participants eventually lose money.
A good case study in the collapse of an ICO lending Ponzi scheme is BitConnect.
Launched in early 2017, a year later BitConnect's admins did a runner and the public value of otherwise worthless BCC points crashed.
The bottom line is stealing money through a Ponzi scheme and then donating some of that to charitable causes in no way justifies financial fraud.
Whether your female or male, you're just as mathematically guaranteed to lose money in Ribbon Coin as you would in any other Ponzi scam.