InterBBOM Review: BBOM Ponzi scheme's obvious reboot

BBOM, the trading name of "Embrasystem Technology Systems" was a Ponzi scheme shut down by Brazilian authorities in July 2013.
Owned by João Francisco de Paulo, who also served as company President, BBOM accepted $300 to $1500 investments from affiliates on the promise of $80 to $400 monthly ROIs (dependent on how much was invested).
Additionally, the company also offered recruitment commissions, adding a pyramid scheme layer to BBOM's Ponzi scheme business model.
The facade BBOM operated under was the sale of GPS trackers to retail customers, yet all that was required was affiliates to invest money with the company. The GPS customers BBOM claimed to have didn't exist, with de Paulo simply shuffling money from new investors to pay off existing ones.
Not surprisingly, around the time TelexFree was shutdown (many of BBOM's affiliate had also invested in TelexFree), Brazilian authorities moved in and shutdown the company. Assets were frozen and, despite the BBOM's repeated attempts to circumvent the law and access frozen funds, the Ministry of Finance ultimately concluded the business to be an "unsustainable" Ponzi scheme.
In response to the Ministry's finding, de Paulo issued the following response:
(They are) absurd and groundless.

The charges were planted by different people and the prosecution are wrong in their decision, since the sources can not be trusted.
To date, BBOM remains closed.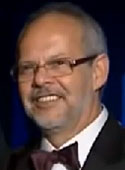 Now however, it seems de Paulo (right) is looking to restart the scheme offshore. Citing itself as 'a company with employees and partners' in Hong Kong, Singapore and the US (Florida), comes InterBBOM.
De Paulo's name does not appear anywhere on the InterBBOM website, however a check of the company's domain name registration reveals de Paulo owns the domain through Embrasystem Technology Systems (right).
Despite trying to imply that InterBBOM is a "global" company, the languages offered on the site are English, Spanish and Portuguese, indicating that de Paulo is still really only targeting South America as he did with BBOM.
Has João Francisco de Paulo learnt his lesson and launched a legitimate company or is this just the latest chapter in his failed BBOM Ponzi scheme venture?
Read on for a full review of the InterBBOM MLM business opportunity.
The InterBBOM Product Line
Whereas BBOM operated under the facade of GPS trackers, de Paulo has switched it up with InterBBOM and is now focusing on mobile apps.
Through a InterBBOM-branded app store, several apps are advertised on the InterBBOM website:
Safeway – travel time estimator
BeChat – messaging/communication app
BBox – cloud storage
No prices are provided on the InterBBOM website. A "buy now" button is available on each app's marketing page, however clicking it just redirects visitors back to the InterBBOM website homepage.
The InterBBOM Compensation Plan
The InterBBOM compensation revolves around affiliates signing, paying a participation fee and then investing in one of three available "packs":
Pack 1 – M$600 ($185 USD)
Pack 2 – M$1800 ($556 USD)
Pack 3 – M$3000 ($927 USD)
Note that M$ is the currency code used for the "Malaysian Dollar" (now the ringgit):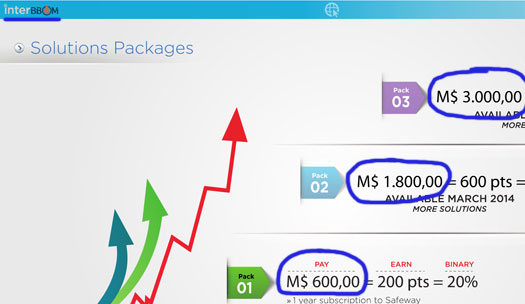 I'm not sure why the InterBBOM compensation plan uses this currency (offshore banking?), but I've converted it to USD where applicable.
The purchase of each of the packs affects how much an affiliate earns (via a binary) and generates "points" for the affiliate who recruited them.
Binary Commissions
Residual commissions in InterBBOM are paid out using a binary compensation structure.
A binary compensation structure places an affiliate at the top of a binary team with two positions directly under them: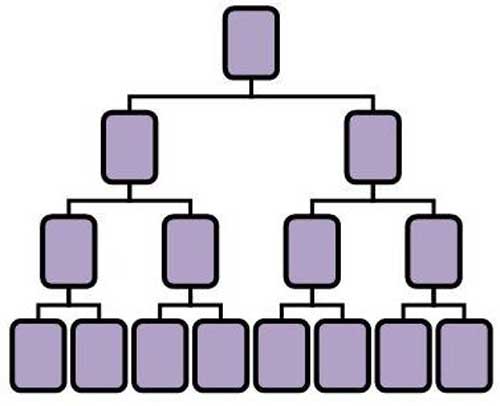 In turn, these two positions branch out into another two positions and so on and so forth down a theoretical infinite number of levels.
In InterBBOM, filled binary positions represent pack purchases made by recruited affiliates (either directly recruited or otherwise).
Points are allocated to each filled binary position, determined by how much money was spent on a pack:
Pack 1 – 200 points
Pack 2 – 600 points
Pack 3 – 1000 points
Points are matched on either side of the binary using a 1:1 ratio, with the company converting matched points to MOBB points at a rate of 50%. Eg. 1000 matched binary points = 500 MOBB points.
Global Bonus
The Global Bonus appears to be the main payout mechanism within InterBBOM, and is powered by MOBB ("BBOM" backwards) points. As above, MOBB points are acquired via a binary compensation structure, and also directly on the purchase of packs by recruited affiliates:
Pack 1 – 40 MOBB points
Pack 2 – 120 MOBB points
Pack 3 – 200 MOBB points
MOBB points are also awarded when an affiliate qualifies at certain InterBBOM affiliate membership ranks:
Ruby – 1000 MOBB points
Emerald – 5000 MOBB points
Diamond – 25,000 MOBB points
Double Diamond – 75,000 MOBB points
Triple Diamond – 200,000 MOBB points
Ambassador – 2,000,000 MOBB points
Although not clarified (details of the Global Bonus are suspiciously absent from the InterBBOM compensation plan material), I believe 1 MOBB point is equal to 1 share in the Global Bonus pool.
InterBBOM Affiliate Membership Ranks
There are seven affiliate membership ranks within the InterBBOM compensation plan. Along with their respective qualification criteria, they are as follows:
Distributor – pay affiliate fee and purchase a package ($185 to $927)
Ruby – generate 20,000 binary points
Emerald – generate 100,000 binary points
Diamond – generate 500,000 binary points
Double Diamond – generate 2,500,000 binary points
Triple Diamond – generate 7,500,000 binary points
Ambassador – generate 50,000,000 binary points
Builder Bonus
Once an InterBBOM affiliate has purchased a pack and recruited at least two affiliates, they qualify for the Builder Bonus.
The Builder Bonus is made up of 20% of every affiliate's first package purchase, and then 30% of every subsequent package purchase made.
Shares in the Builder Bonus are divided up equally among all Builder Bonus qualified affiliates company wide.
How much an InterBBOM affiliate can earn monthly via the Builder Bonus depends on how much money they spent on their pack:
Pack 1 ($185) – M$1800 ($556 USD)
Pack 2 ($556) – M$5400 ($1669 USD)
Pack 3 ($927) – M$9000 ($2782 USD)
Matching Bonus
InterBBOM pay out a 7% matching bonus down seven levels of recruitment.
Distributor – 4 levels
Ruby – 5 levels
Emerald – 6 levels
Diamond – 7 levels
Double Diamond – 8 levels
Triple Diamond – 9 levels
Ambassador – 10 levels
InterBBOM do not specify what commission(s) the Matching Bonus is paid out on.
Joining InterBBOM
Affiliate membership to InterBBOM is M$70 ($21 USD). This appears to be an annual fee.
Conclusion
InterBBOM sees João Francisco de Paulo replace the facade of GPS tracker systems being sold with mobile apps. If I might be so bold as to explain why the "buy now" button doesn't work on the InterBBOM website, it's because the apps aren't designed to be purchased outside of the bundled packages InterBBOM offer to affiliates.
Retail commissions not appearing anywhere in InterBBOM's compensation plan material wholly support the lack of retail availability within the scheme.
Boiling down the InterBBOM opportunity, affiliates pay their participation fee and then invest $185 to $927 per compensation position (packs). The more they invest, the higher their ROI potential.
Although not clarified, in light of no other visible revenue sources, the Global Bonus is funded by affiliate money spent on packs. This money is then redistributed out, primarily according to who has the most affiliates under them who have collectively invested the most into the company.
A "Ponzi within a Ponzi" exists by way of the Builder's Bonus, which rewards affiliates for bringing two new investors into the scheme.
Quite obviously InterBBOM is intended to pickup where BBOM left off fleecing South Americans (particularly Brazilians), and contributing to the Ponzi explosion currently ravaging the continent.
I suspect the mention of US (affiliate investors ready to target immigrant populations there), Singapore (offshore company registration?) and Hong Kong (Chinese banking) offices on the website is merely a ruse, with de Paulo obviously still running things from within Brazil.
A quick search of promotional efforts by InterBBOM affiliates confirms this, with most of the marketing material targeting Portuguese and Spanish-speaking populations.
De Paulo has also installed top BBOM investors into his new scheme, with the most noticeable being Daniel Beduschi Fracasso.
According to his Google Plus profile, Fracasso is based out of Florianópolis in Brazil and works at an "investment company" (hint hint).

Likely to be InterBBOM's apex investor, De Paulo has rigged the InterBBOM website to place any new investor who signs up without a referer to Fracasso's direct downline:

Whether or not Brazilian authorities move in on De Paulo's new scam remain to be seen, but should InterBBOM take off and appear on their radar, I imagine it won't take much for them to shut de Paulo down again.
Only this time the money is likely to be stashed offshore somewhere, so nobody will get anything back. And that's of course if the company doesn't implode on itself first.
The South American Ponzi marketplace has changed significantly since De Paulo launched BBOM in early 2013. It seems these days every man and his dog is out for those TelexFree reload scam dollars…