Banners Viewer (Y-Banners) suspends business activities

Banners Viewer launched in early 2014. Fronted by Edward A. Cocchiola, the MLM opportunity saw affiliates invest between $150 to $21,250 on the expectation of an advertised $25 to $1250 weekly ROI.
Cocchiola himself appeared to have no executive MLM experience but if he was working with others, their details were kept from the public eye.
Nonetheless shortly after BehindMLM published a review on Banners Viewer the company decided to change their name to "Y-Banners".
Around that time Banners Viewer began to exeperience downtime problems with their website. Amid ongoing problems with downtime, the Y-Banners website was taken offline and replaced with an "under maintenance" splash page.
This was then followed by the filing of a voluntary dissolution with the Florida Department of State on June 16th: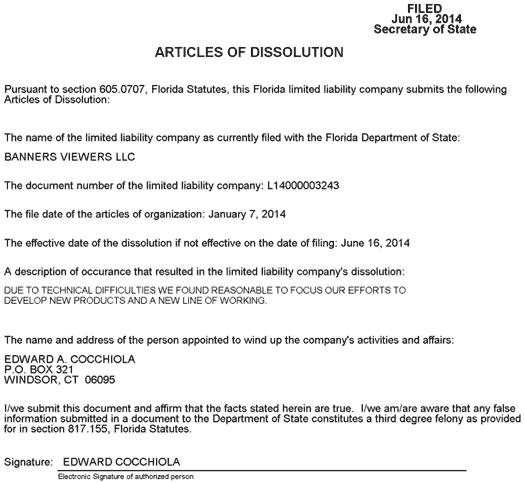 As per the filing, the reason cited for the dissolution is:
Due to technical difficulties, we found reasonable to focus our efforts to develop new products and a new line of working.
At the time of publication the Banners Viewer website has since changed from a maintenance page to one that states the site is "unavailable":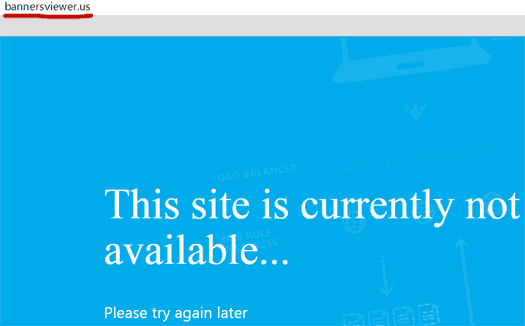 The Y-Banners website domain is a little more interesting, citing  "issues with some government agencies."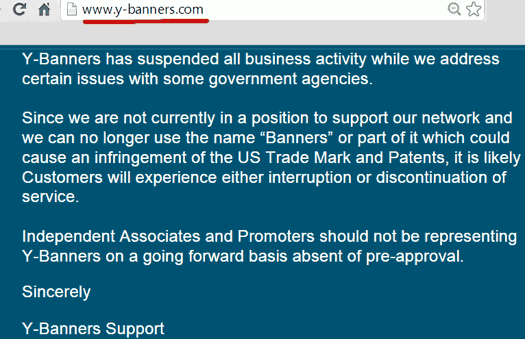 What doesn't make sense however is the claptrap about patent infringements:
Y-Banners has suspended all business activity while we address certain issues with some government agencies.

Since we are not currently in a position to support our network and we can no longer use the name "Banners" or part of it which could cause an infringement of the US Trade Mark and Patents, it is likely Customers will experience either interruption or discontinuation of service.
Is Cocchiola trying to suggest the word "banners" is trademarked and/or patented?
Pull the other one.
Personally I think a certain somebody likely have received a cease and desist from someone down at the Florida Department of State. I did have a poke around though and nothing turned up.
Or perhaps initial investment numbers were so low it just wasn't worth pressing forward, so they invented the patent/trademark excuse.
Either way, Banners Viewer and Y-Banners are done and dusted. And here endeth another TelexFree reload scam.