AWS Mining Ponzi collapses, promises AWS Capital reboot in Dubai

Rather than admit they've run out of money to pay off existing investors, AWS Mining came up with an elaborate fire damage story.
It is with regret that AWS MINING informs that a fire has destroyed one of our Crypto Mining Farms in Paraguay.

Although the reason behind this devastating fire remains unknown, it is certain that there will be heavy economic losses for the company.

According to the statement issued by the farm manager in Ciudad del Este, the fire took place on Friday, March 29th, between 2pm – 4pm, and destroyed thousands of machines and servers causing an estimated total loss of nearly $5 million dollars.
As a consequence of the fire AWS Mining running out of money, the company has not paid investors for weeks.
The latest has seen AWS Mining give up on paying investors back. Instead the company wants to wipe the ROI slate clean and reboot as AWS Capital.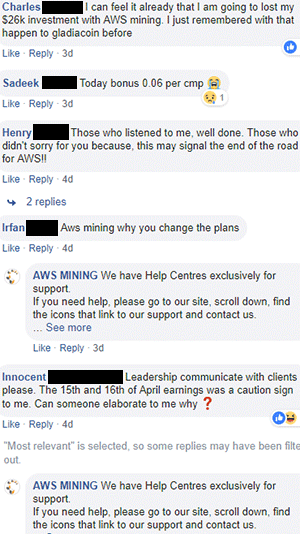 AWS Mining's announcement comes on the back of a barrage of complaints on its official Facebook page.
Instead of addressing investor complaints of little to non-existent ROI payouts, AWS Mining is directing investors to contact "help centers" for support.
According to AWS Mining's announcement, the company hopes to introduce its AWS Capital reboot by May 1st, 2019.
As opposed to fire damage, the company cites the Texas cease and desist and "sudden drop of crypto values" for its collapse.
Our corporate staff, partners, leaders and global consultants have been working intensively to find solutions for our Business Model.

We have adjusted our Business Model following the requirements of some of the toughest regulators in existence so that our customers can be safe when promoting AWS MINING products and services to others.

Our goal is to deliver a profitable, transparent and innovative product to our customers.
As part of AWS Mining's commitment to regulatory compliance and transparency, the company has announced a corporate move to Dubai – a jurisdiction with little to no regulation or corporate transparency requirements.
The first requirement was to choose our new home. And for that we have strategically chosen Dubai as our new jurisdiction.

Dubai has an open economy with favourable business regulations, such as adopting open policies for crypto friendly businesses and blockchain technology.
To be clear, neither cryptocurrency businesses or blockchain technology are illegal in the US.
Passive investment schemes like AWS Mining however are strictly regulated.
The reason for this is so that investors have confidence companies like AWS Mining are actually doing what they say they are doing, as opposed to committing investment fraud.
When AWS Mining received its Texas securities fraud cease and desist notice, all they had to do was register with the TSSB and provide evidence of external revenue being used to pay affiliates.
Rather than do this, AWS Mining didn't respond to the notice and eventually stopped paying investors.
Because y'know, transparency.
AWS Capital investment plans have yet to be released. But what we do know is AWS Mining victims looking to recover their losses will be asked to hand over more money.
Should an existing contract become unprofitable as per the terms and agreement (read: we stop paying you), we are preparing options and that will allow these customers to purchase the latest equipment at a discounted rate so that they can continue to earn.
Dubai is a pretty scam friendly jurisdiction, so don't count on authorities there policing AWS Capital's investment fraud.
While the offer of "getting in on the ground floor" of a Ponzi reboot might sound enticing, think about how you feel right now having lost money.
Because as an AWS Capital investor, ground floor or no, you'll be causing that exact same feeling in those who join after you.