Attiora Ponzi scheme collapses, website & socials gone

The Attiora Ponzi scheme has collapsed.
Over the past 24 hours the company's website has been nuked. Attiora's social media accounts have also been deleted.
At time of publication attempts to visit Attiora's website throw up a Cloudflare error, which reveals Attiora's website server has been pulled.
This took place over the last 24 hours.
A company website going down is typically a good indication an MLM Ponzi scheme has collapsed.
We can further confirm the collapse by way of Attiora's official YouTube, FaceBook and Instagram accounts also being deleted.
Attiora's admins exit-scammed at the peak of the Ponzi scheme's 2022 run: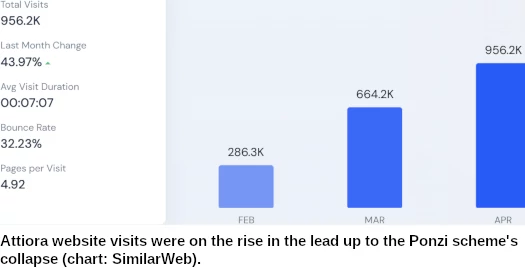 Traffic analysis from SimilarWeb reveals month on month visits to Attiora's website were up 44% March to April. By exit-scam collapsing in May, this likely netted the Attiora scammers a hefty payday.
This comes at the expense of gullible investors, the majority of which would appear to be from Germany (18%), France (14%), Guadeloupe (10%), Mauritius (7%) and Russia (5%).
Attiora was a Boris CEO Ponzi scheme promising daily returns of up o 4% a day.
An ATRC coin was introduced as an exit-scam route:

That however appears to have been abandoned in favor of just doing a runner. I suspect this was due to the recent crypto crash.
Attiora falsely represented it was based out of Australia, going so far as to provide consumers with an ASIC registration certificate.
BehindMLM reminds readers that scammers use ASIC certificates because they're easy to get. ASIC don't verify submitted information and by the time financial reports are due, scammers either ignore deadlines or the scheme has already collapsed.
ASIC don't follow up missed filing deadlines, making it easier for scammers to defraud consumers. For the most part, ASIC generally turns a blind eye to MLM related securities fraud.
Attiora followed the familiar pattern ot ASIC registration and actors in rented office marketing videos. The videos were shot in Estonia.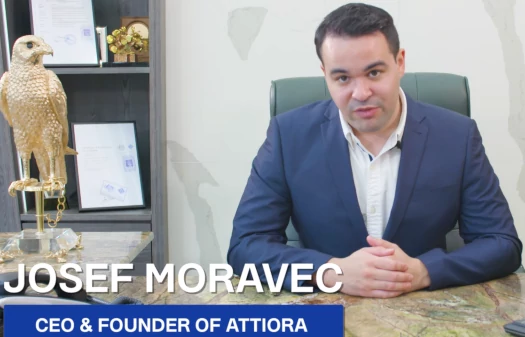 This is typically the signature profile of Russian or Ukrainian scammers.