Asantae Review: Bits and pieces of information

Asantae operate in the health and wellness MLM niche and seems to have been launched around 2001. Details on this seem to be a bit sketchy as the Asantae website does not explicitly clarify the company's history.
From what I've read though (unverified) Asantae was launched around 2001 and either prior to or during their launch had the company name "Inflammation Solutions LLC" attached to it (this company is listed as the owner of Asantae's website domain today). I wasn't able to find any further information on Inflammation Systems though.
Whether Asantae relaunched or what I'm not sure but the asantae.com domain was only registered in January 2007. I've seen other affiliates claiming that Asantae launched around mid 2008 so this could be the case.
Why the company history clarified on the Asantae website in their "About Us" page, I have no idea.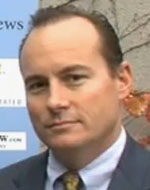 In anycase, Asantae is based in the US state of Arizona and is headed up by CEO and co-founder, Daniel Lundell (photo right).
According to Lundell's Asantae corporate bio, he has experience in "IT sales and management, medical practice management and network marketing".
Despite the network marketing claim however, I was unable to find any online involvement or reference of Lundell being tied to another MLM company (not saying that it didn't happen, just that there's seemingly no online record of it).
Finally, it's also worth noting that Asantae are a publicly traded company in Canada  under "Asantae Holdings International" (JVA). At the time of publication Asantae's stock price is sitting at 8.5 cents, down from 12 cents this time last year (26.5 cents was the year high).
That said, a third quarter performance report for 2012 was put out in November which offered a more positive outlook:
Asantae Holdings International Inc. announced sales results for the third quarter of 2012.

The company saw an increase in revenues from third quarter of 2011 to third quarter of 2012 to $1,123,067, an improvement of 253% over one year. As a percentage of revenue, the decrease was more dramatic 148% to 46%.

Affiliate commissions dropped as a percentage of revenue as well, from 50% to 43%, while the actual dollars increased from $222,674 to $490,464 due to the increase in top-line sales.
Why this isn't reflected in their stock price I don't know (I'm no stock expert).
Read on for a full review of the Asantae MLM business opportunity.
The Asantae Product Line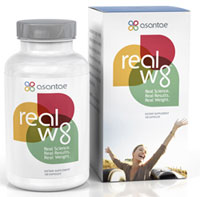 Despite selling multiple products, for some reason only one product features on the Asantae website, "RealW8".
RealW8 is a weightloss supplement that Asantae claims is
a completely unique combination of a specific marine macroalgae extract, patented raw coffee extract, a natural thermogenic and critical minerals and vitamins, all assembled by a proprietary sequence to support healthy weight loss.
Realw8 is sold in a 120 capsule bottle for $120 USD.
Although not mentioned on their website under "product", Asantae also market antioxidant coffee (Asantae Java, $34 for two bags), an immune system supplement (Amune Plus, $60 for a 30 capsule bottle) and HeartShot,
a combination of powerful anti-inflammatory natural agents, including omega-3, CLA (Conjugated Linoleic Acid) and antioxidants, that help fight against chronic inflammation and heart disease.
Heartshot is sold in a "2 pack" for $224 USD.
The Asantae Compensation Plan
Unfortunately Asantae do not provide prospective affiliates with a complete compensation plan for review on their website. Instead a summary is presented and whilst it does provide an outline of the compensation plan, it's missing several key points of information (specifics on bonuses and qualification as well as affiliate membership ranks and qualification requirements).
I did find an Asantae compensation plan PDF online from a third-party, however upon comparing it to the information on the Asantae website, determined that it was out of date.
As such I've done my best to make sense of the compensation plan information presented to the public by Asantae below.
Commission Qualifications
In order to participate and earn via the Asantae compensation plan, all affiliates must qualify for and maintain "active" status within the company.
To qualify for active status, Asantae affiliates must generate 100 Personal Volume (PV) in any given four week period. This is marketed as being $100 a month in Asantae product purchases.
Every product sold in Asantae generates Business Volume (BV), with Personal Volume being counted under an affiliate's own personal sales.
Eg. If as an affiliate I sell you a bar of soap that generates 50 BV for my team and 25 PV (half) for me personally. If someone in my downline sells the same bar of soap, I only receive 50 BV as it's not my own personal sale.
Sales counting towards PV include self-purchases by an affiliate (including $100 a month autoship), retail customer purchases and preferred (autoship) customer purchases.
In addition to the above volume requirements, each Asantae affiliate must also maintain two personally active recruited affiliates in their downline.
Retail Commissions
Retail commissions are paid out in Asantae, equal to 'the difference between the wholesale and retail cost' of products purchased by retail customers.
Asantae state this can be 'as much as $30 on the retail profit of one product, and more on product packs'.
Customer Bonus
The Customer Bonus is 'up to 20% of the bonus value on all orders from Customer and Preferred Customers' that an Asantae affiliate refers.
Unfortunately Asantae do not clarify what exactly "bonus value" is, or how an affiliate earns the full 20% Customer Bonus in their official compensation plan material presented on their website.
Getting Started Bonus
The Getting Started Bonus pays out Asantae affiliates a percentage commission on the first order of any new personally recruited affiliate.
If an Assante affiliate is generating 200 Personal Volume (PV) a month, they earn a 20% bonus on the BV of the initial order, capped at $50.
If the affiliate is generating 100 PV a month they earn a 10% bonus, capped at $20.
Residual Commissions
Residual Commissions in Asantae are calculated using a binary compensation structure.
A binary compensation structure places an affiliate at the top of the structure with two legs branching out directly under them. These two positions form an affiliate's qualification positions and must be filled with two personally recruited Asantae affiliates.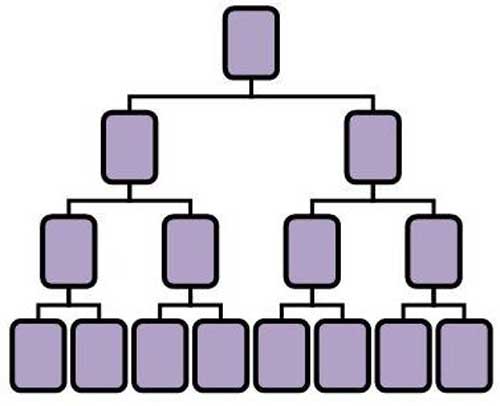 Once this happens these two filled positions form the start of two binary teams (left and right), with the total sales volume of both teams used to calculate an Asantae affiliate's monthly residual commission.
Note that after the top two positions have been filled via direct recruitment, subsequent positions in the binary teams can continue to be filled via direct recruitment but also via the recruiting efforts of an affiliate's up and downlines.
For the purposes of commission calculation, the two binary teams are sorted into a weak and strong leg (based on team sales volume). At the end of a commission cycle, affiliates are paid out on the weaker leg (provided it has generated a minimum of 500 volume for the cycle), at a rate of 10% of the volume generated.
Binary residual commission in Asantae is capped at $10,000 in any given commission cycle.
After this calculation, the volume paid out on in the weaker leg is flushed, along with the equivalent value from the stronger leg. Any remaining value in the stronger leg then carries over to the next commission cycle and the process repeats itself.
Note that as a bonus, any additional PV generated by an affiliate over 200 is added to the total volume generated by the weaker team (the team an affiliate is paid out on) in any given commission cycle.
Director Matching Bonus
The Director Matching Bonus is a bonus paid out on the earnings of recruited affiliates in a downline.
The Director Matching Bonus is paid out using a unilevel compensation structure, which pays out on seven generations.
A unilevel compensation structure places an affiliate at the top of the structure, with each personally recruited affiliate placed directly underneath them (level 1). There is no limit to the width of a unilevel structure, with the amount of legs branching out from the top affiliate limited only by how many affiliates they have recruited.
If any level 1 affiliates go on to recruit affiliates of their own, these affiliates are then placed on level 2 of the original affiliate's structure. If any level 2 affiliates recruit new affiliates of their own, they are placed on level 3 and so on and so forth.
Using this structure, Asantae pay out the Director Matching Bonus to all ranked Directors and above, based on them generating at least 200 PV each month and meeting the requirements of Director or above (Asantae do not divulge what these requirements are on their website).
Generations within the Director Matching Bonus are defined uniquely within each unilevel leg, with the affiliates between Director or above ranked affiliates making up each generation.
Eg. With you at the top of the unilevel, if in one particular leg there are 8 affiliates with a Director on level 9, those eight affiliates count as your first generation in that particular unilevel leg.
Payouts are based on the sales volume of a generation as a whole, with Asantae stating that qualifying affiliates
will be paid based on a floating percentage determined each week based on Asantae's guarantee of a 50% payout on total commissionable business volume.

The floating percentage applied to a minimum $50 team commission and up to a maximum $3,000 team commission.
In simple terms, Asantae will pay out between $50-$3000, depending on total global sales volume.
Rank Advancement Bonuses
Although the explicit qualification requirements for Asantae's membership ranks are not provided by the company, they do outline Rank Advancement Bonuses for affiliates.
These bonuses are paid out when an affiliate achieves a membership rank promotion and holds that rank for a specified period of weeks:
Director (2 weeks) – $500
Silver (2 weeks) – $1000
Gold (2 weeks) – $1500
Ruby (4 weeks) – $2000
Emerald (4 weeks) – $3000
Car and Lifestyle Bonuses
Details on these bonuses are sketchy, with Asantae stating that once affiliates have
reached a certain rank with Asantae and specific volume milestones, (they are) eligible for special performance bonuses including a monthly car allowance of up to $1,200 and a monthly lifestyle allowance of up to $3,500.
Leadership Pools
Specific details on the Asantae Leadership Pools are even more vague than the Car and Lifestyle Bonuses, with the company offering up the following information:
Once you reach to top ranks at Asantae, you're also eligible for special Leadership Pools that can include up to 7% of the total volume in the company-wide Power Team which is paid out as a bonus to you.
Joining Asantae
Like the missing finer details of their compensation plan, Asantae do not provide information as to how much it costs to join the company as an affiliate. Instead, the company requests potential affiliates to 'contact the person who referred you to Asantae'.
If nobody referred you to Asantae, such is the case if you're conducting your own due diligence or for example trying to review the opportunity as a member of the public, too bad.
Additionally, even when using an Asantae affiliate link, prospective affiliates are required to hand over personal details (including social security number, tax ID, address and email) before any information regarding affiliate joining costs are provided.
Repeated internet searches also turned up nothing concrete, other than that Asantae have various "packs" prospective affiliates can purchase when signing up.
What we do know though is that in order to qualify for commissions Asantae affiliates have to meet that 100 PV a month target. If they themselves don't have the sales this means signing up for affiliate autoship, which means at a minimum prospective Asatae affiliates are looking at whatever the affiliate signup fee is, plus $100 a month (assuming there's no additional monthly membership fee).
Update 1st September 2013 – An Asantae affiliate has emailed in the following information regarding affiliate costs:
the "registration/affiliate" fee costs $45 per year to be an affiliate. However, that is waived if your initial order is at least $200. There is no extra cost at all to participate beyond that.

Then, maintaining the minimum $100 is actually really easy. Most of the people involved seem to do so because they want to curb sugar intake and lose weight. The $100 is the cost of the monthly supplement.
At the time of publication of this update, affiliate joining costs are still not provided by Asantae openly on their website.
Conclusion
In the age of information transparency the internet has brought the MLM industry, Asantae's irritating attempts to control information in an attempt to funnel prospective members through their existing affiliates is simply just not good enough.
I could be conducting my own due diligence having found Asantae via an internet search, I might have seen their products advertised somewhere or I might be sitting here trying to write an accurate review of their business opportunity based on public information.
In any of these scenarios the lack of information Asantae present to prospective affiliates and the general public is just not acceptable. Furthermore as a prospective affiliate, the lack of transparency within the context of the MLM industry today would simply turn me off the company altogether.
With that major shortcoming out of the way, Asantae do most definitely have a retailable product that affiliates are able to market to genuine retail customers and earn commissions on.
With the exception of monthly autoship to qualify for commissions, residual commissions within the company are firmly rooted in the sale of the company's products, or the initial orders of newly recruited affiliates (with any further commissions offered dependent on their sales performance).
I'm sort of in two minds regarding Asantae's autoship program, in that on one hand they do correctly state that it's optional and not required – but then they make it $100, which I believe is the monthly minimum for autoship and it just happens to be the monthly required commission PV requirement.
I might be inclined to say that this is co-incidental, but it's hard not to see it as a strong incentive for Asantae affiliates to focus on recruiting new affiliates and whacking them on autoship when the company publicly makes suggestions to prospective affiliates like this:
To help ensure you are meeting your monthly minimum personal volume requirement to earn commissions we recommend signing up for an autoship in your back office.
If a newly recruited affiliate isn't generating $100 a month in sales, there's an obvious company sanctioned push to get them to sign up to autoship to qualify themselves for commissions.
If they don't make up those sales in the first few months of joining Asantae, that's $100 a month their out of pocket (less any sales) with their upline most likely pressuring them to remain on autoship as their own residual commissions depend on it (autoship commissions are better than no commissions right?).
Given this my overall impression was that the Asantae affiliate autoship program came off as being marketed a little too strongly. Whether or not this is evident in the makeup of Asantae affiliates who are signed up to autoship or not I have no idea.
As a prospective affiliate though it'd definitely be worth checking with your potential upline as to the ratio of commissions they earn from autoship affiliates in their downline vs. retail customers.
All in all Asantae appear to have been around the MLM industry for a while now so I'm at a loss as to what's going on with the lack of information they provide on their website to the general public.
Given the age of the company they really should know better and be on top of things.
Business wise I'm not confident that the amount of information provided to prospective affiliates is enough for them to make accurate insights into the makeup of the business, or what they'll be required to do to be succesful in the company.
In addition to everything I've already mentioned, things like spruiking the benefits of advancing in affiliate membership ranks without divulging what's required to achieve those ranks, intentionally or not, just wind up coming off as greasy marketing.
There are several things Asantae does right such as retail products, retail commissions and implemetation of a 70% rule in their affiliate agreement, which states
(Affiliates) shall personally sell, consume, or use in business building at least 70% of the Product from every order placed with Asantae prior to placing another order.

Purchasing Product for the purpose of earning Bonuses or achieving rank is prohibited.

We retain the right to limit the amount of purchases you may make if we reasonably believe those purchases are being made solely for rank and other qualification purposes instead of for resale or business building.
How closely monitored those clauses are I'm not sure but regardless, the more concerning aspects of Asantae then go and underwrite it all.
As a reviewer, it left an unsatisfied taste in my mouth when analysing Asantae the MLM opportunity as a whole. Sure I am obviously not Asantae's indended audience for their opportunity or website but the information required by prospective affiliates and a reviewer are pretty much the same.
Due diligence is due diligence and given prospective affiliates (and the public at large) will be looking for and need the same information I did to write an accurate review, I can only imagine they're going to wind up feeling the same way I did about the company.
Either provide the standard required information to the public and prospective affiliates or don't expect them to bother.
Update 16th December 2015 – Following the publication of complete compensation plan material on the Asantae website, BehindMLM has published an updated Asantae review.
Update 14th January 2016 – Asantae is no more, with Ariix announcing they have acquired the company a few days ago.