AdShareWin Review: GMSeven's successor?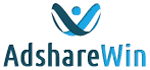 The AdShareWin domain ("adsharewin.com") was registered on the 25th of July 2013, however the domain registration is set to private.
On the AdShareWin website, the company names a "Johny Blend" as the company's CEO but fails to go into any detailed specifics.
Personally I have reason to believe that Johny Blend doesn't actually exist. For starters back in August AdShareWin were claiming Johny Blend lived in Melbourne, Australia:

Whereas today, Blend now apparently lives in New York:

Further suspicion arises when it is revealed that the copy used to market Johny Blend appears to be ripped off of other websites.
For instance the AdShareWin Blend bio contains the following paragraph:
Johny Blend is a marketing expert from 1999, living now in New York, USA, professional speaker and team builder! Marketing, a marketing strategy firm dedicated to making thought-leading entrepreneurs and executives more successful.
That bolded sentence? Doesn't really make much sense, does it.
That's because it's been ripped from the LinkedIn profile of Do It! Marketing's David Newman:

David runs a marketing strategy firm dedicated to making thought-leading entrepreneurs and executives more successful.
They simply replaced "David runs a" with the word "marketing", added a comma and then apparently forgot to proof-read the poor copy and paste effort.
The final nail in the coffin was the surfacing of what appears to be an early prototype of the AdShareWin website, surfacing on the Skippy Advertising domain and featuring a GMSeven logo:

Hosted on the "mail.skippyadvertising.com" domain, the AdShareWin prototype is no longer online, however Google Cache cached the site back on the 25th of August.
Skippy Advertising is the successor of Skippy Cash Matrix, which were both owned and operated by Grigore Turcanu (also known as Greg Turcanu).
Skippy Cash Matrix launched in mid 2012 and under the guise of selling advertising, paid affiliates to recruit new affiliates via a series of matrices.

By October things seemed to be in decline with Turcanu (right) rebranding the company as Skippy Advertising and attempting to relaunch it.
GMSeven is again the successor to Skippy Advertising and was launched in May of 2013.
All three of Turcanu's company's used a recruitment-driven matrix-based compensation plan, charging affiliates a monthly fee and paying commissions based on affiliate recruitment.
In addition to running his own companies, Turcanu has also promoted several dubious schemes as an affiliate. In his APSense profile, Turcanu can be seen promoting the now defunct Ponzi schemes JSSTripler and JustBeenpaid.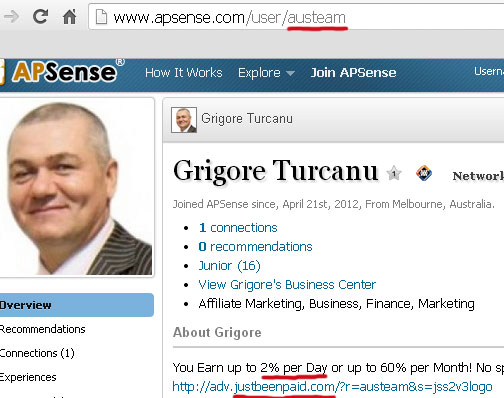 I also couldn't help but notice that in his APSense profile, Turcanu lists himself as being "from Melbourne, Australia".
Johny Blend is supposedly from Melbourne, Australia too… make of that what you will.
Read on for a full review of the AdShareWin MLM business opportunity.
The AdShareWin Product Line
AdShareWin has no retailable products or services. Instead, affiliates join the company and then purchase positions in the company's income opportunity.
Bundled with each AdShareWin compensation plan position are a series of advertising credits, which affiliates can use to display advertising on the AdShareWin website.
The AdShareWin Compensation Plan
The AdShareWin compensation plan revolves around affiliates purchasing positions in the company's income opportunity.
Each position costs $49 and places an affiliate at the top of a 2×2 matrix.

A 2×2 matrix has six positions to fill, with positions being filled either via direct recruitment or the recruiting efforts of an affiliates up and downlines.
Once an affiliate's 2×2 matrix is filled, they cycle out and are paid $60. Referral commissions are payable on this $60, paid out $10 for personally recruited affiliates, $3 for their recruited affiliates (level 2) and $2 for their personally recruited affiliates (level 3).
After cycling out of the 2×2 matrix, an affiliate is re-entered into a new matrix and now also qualifies to purchase revenue-sharing positions for $20 each.
Every adshareWIN you purchase inside AdShareWin.com has an initial purchase cost of $20 and this share will earn every 30 minutes from the global Advertising System until it reaches its maximum potential of $25(125%).

We also guaranteed the total daily percentage not lower than 1%.
As above, each revenue-sharing position (referred to as an "AdShareWIN") generates a ROI of 125% ($25), which is paid out daily and "guaranteed" to be at least 1%. To qualify for their daily ROI, affiliates must click seven supplied advertisements per day.
There's also a company-forced 3×7 matrix, which affiliates are given a free position in the first time they cycle out of their initial 2×2 matrix.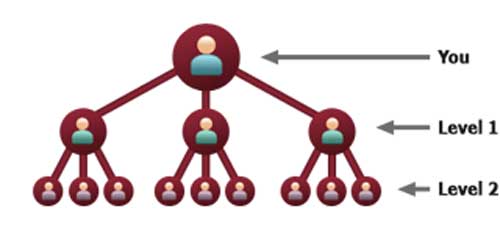 Commissions are paid for each position filled in an affiliate's 3×7 matrix, payable out of a monthly subscription fee AdShareWin charges its affiliates. How much of a commission is paid out on each filled position depends on what level that position falls on the matrix:
Levels 1 and 2 – $3
Level 3 – $2
Levels 4 and 5 – $1
Level 6 – $3
Level 7 – $4
Note that AdShareWin do not specify how much this monthly subscription fee is in their compensation plan material.
Joining AdShareWin
Affiliate membership to AdShareWin is free, with free affiliates only able to generate referral commissions.
In order to participate in the compensation plan and actually cash out commissions, an AdShareWin affiliate must purchase at least one $49 position in the company's compensation plan.
Conclusion
With no retailable products or services, all revenue generated from affiliates and payment of commissions to affiliates via a combination investment/recruitment-driven compensation plan, AdShareWin combines elements of both a Ponzi and pyramid scheme.
The matrices the company runs are a mix of recruitment (the company-wide 3×7) and position buying (the initial 2×2 matrix). Both rely directly on recruitment, as without affiliates purchasing new positions the 2×2 matrices stall. In turn, if the 2×2 matrices stall then so too does the company-wide 3×7 matrix as positions are filled only when people cycle out of 2×2 matrices.
The revenue-sharing component of the compensation plan is simply the shuffling of new affiliate money amongst existing affiliate investors, until an invested position reaches 125%.
What is AdShareWin?

AdShareWin.com is a unique system that combines daily advertising rebates of 125% Profit Share for up to 30-45 days. Each adshareWIN costs $20.00.

We share 100% revenue from Advertising with our Members. We also Guaranteed total daily percentage not lower than 1%, million shares was tested.
With 100% of AdShareWin's advertising revenue coming from affiliates, as per the company's own words they simply take that money and pay it back out to existing affiliates.
The AdShareWin refund policy spells out this mechanic even more bluntly:
6. Refund Policy

All purchases are NONREFUNDABLE. We share the revenue from your purchases with all members, so we cannot afford to offer refunds.
You know the deal folks, once newly recruited affiliates stop buying $49 matrix positions and existing affiliates stop pumping money into the $20 revenue-share, boom goes the dynamite.