GMSeven Review: Skippy Advertising gets a reboot
There is no information on the Global Marketing Seven (GMSeven) website indicating who owns or runs the business. The company's "About Us" page simply states that the information is "coming soon".
The company's website domain ("gmseven.com") was registered on the 28th of April 2013, however the domain registration is set to private.
In order to protect the website from "hackers, malware , spam, viruses, and scams", GMSeven use the services of SiteLock. GMSeven's website registration with SiteLock reveals that the owner of the company is Grigore Turcanu: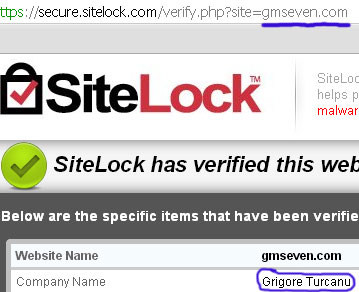 Grigore Turcanu (also known as "Greg Turcanu") last popped up on BehindMLM as the President of Skippy Cash Matrix (later renamed to Skippy Advertising).
Prior to the launch of Skippy Cash Matrix Turcanu was an affiliate of and marketing EPXBody (weight-loss).
Skippy Cash Matrix launched in mid 2012 and under the guise of selling advertising, paid affiliates to recruit new affiliates via a series of matrices.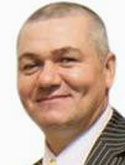 By October things seemed to be in decline with Turcanu (right) rebranding the company as Skippy Advertising and attempting to relaunch it.
In response to the BehindMLM review of Skippy Cash Matrix, Turcanu wrote
I'm From Australia and our Business is legal registered and soon our business will be listed to Direct Sale Association.

To know about our Payplan you must first be a member. That is the best MLM concept ever. We are not a game or pyramid scam.
The Skippy Advertising website is still online today but with the recent launch of GMSeven, it is unclear whether or not the company is still operational.
Read on for a full review of the Global Marketing Seven MLM business opportunity.
The GMSeven Product Line
GMSeven has no retailable products or services, with affiliates only able to market membership to the company itself.
Bundled with company membership are a series of advertising credits, which can be used to display banner and text advertising on the GMSeven website, as well as enter websites into a company-run advertising rotator.
The GMSeven Compensation Plan
GMSeven offers affiliates recruitment commissions, residual monthly commissions via a 7×7 matrix and two bonuses.
Recruitment Commissions
Every time a new GMSeven affiliate signs up, the affiliate that recruited them earns a recruitment commission. How much of a recruitment commission GMSeven pays out depends on how much money that affiliate pays in membership fees each month:
GMAfilliates earn $3 for recruiting another GMAffiliate, $7 for a GMLeader and $10 for a GMMaster
GMLeaders earn $5 for recruiting a GMAffiliate, $10 for another GMLeader and $17 for a GMMaster
GMMasters earn $7 for recruiting a GMAffiliate, $17 for a GMLeader and $27 for another GMMaster
Residual Matrix Commissions
GMSeven use a 7×7 matrix to pay out monthly residual commissions to affiliates. A 7×7 matrix places an affiliate at the top of the matrix with seven positions branching out directly under them (level 1).
In turn, these seven positions branch out into another seven positions (level 2) and so on and so forth down seven levels.
Positions are filled in an affiliate's matrix via direct recruitment or the recruiting efforts of their up and downlines, with GMSeven paying out a monthly commission for each position filled in an affiliate's matrix.
How much of a commission is paid out depends on how much an affiliate pays in membership fees every month:
GMAffiliates earn $1 per recruited affiliate
GMLeaders earn $1.50 per recruited affiliate
GMMasters earn $2 per recruited affiliate
Team Leader Bonus
GMSeven set aside 7% of the affiliate membership fee revenue it receives and redistributes it amongst their GMLeader and GMMaster affiliates each month.
Affiliates are paid out of two seperate pools, with GMLeaders sharing 2% of the revenue and GMMasters sharing the remaining 5%.
Note that in order to qualify a GMLeader or GMMaster affiliate must have filled the first three levels of their 7×7 matrix (399 positions), either via direct recruitment or the recruiting efforts of their up and downlines.
Surprise Bonus
The GMSeven compensation plan material provides no specifics on the company's Surprise Bonus, stating only that it
will be paid to all those that are active and reach certain levels.

Every 3 months the Company will decided the value of the Bonus and the members that will be honoured with the Bonus.
Joining GMSeven
Affiliate membership to GMSeven comes in three options:
GMAffiliate – $27 upfront and $7 a month
GMLeader – $47 upfront and $17 a month
GMMaster – $77 upfront and $27 a month
Conclusion
There's not much of a difference between Turcanu's last company Skippy Cash Matrix and his offering with GMSeven. Both rely on recruitment, both recycle affiliate membership fees amongst participants and both fail to sell anything at a retail level.
GMSeven as an MLM opportunity generates no revenue other than what it charges affiliates to participate, with how much an affiliate pays the company each month determining how much of a commission they make on the recruitment of others.
The Team Leader Bonus is simply the recycling of affiliates fees amongst participants who meet specific recruitment criteria and pay in at the two upper levels of affiliate fees.
Like Skippy Cash Matrix once the recruitment slows down so will the commissions. Turcanu has introduces a monthly fee component to the compensation plan this time around, but affiliates will simply stop paying this if they can't find anyone new to recruit.
When this happens those above them stop paying their monthly membership fees and so on and so forth, causing the scheme to collapse.