Ad Pack Pro criminal investigation stalls over freezing of evidence

Ad Pack Pro was a Ponzi scheme initially launched in 2015. The  current adcredit iteration was launched on or around March, 2016.
Headed up by CEO Peter Mueller (right), Ad Pack Pro solicited  €25 EUR investment deposits on the promise of a  €30 EUR ROI.
By January 2017 the scheme had collapsed, prompting a flood of complaints to the Public Prosecutors Office in Basel, Switzerland.
After some fifty complaints against Ad Pack Pro and Muller had been filed, Public Prosecutors opened an investigation back in May.
I'm not entirely sure on the specifics, but it seems the investigation came to a standstill after Ad Pack Pro's parent company, OneVision Holding AG managed to have seized evidence frozen.
This, as I understand it, cut off prosecutors from information they needed to file a case.
Naturally the decision was appealed, with the Compulsory Enforcement Tribunal overturning the decision.
One Vision AG have appealed that decision, with the matter now headed to the Federal Court.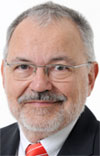 Muller (right) denies Ad Pack Pro is a Ponzi scheme and claims the business is "run seriously".
When BehindMLM reviewed Ad Pack Pro and concluded it was an adcredit Ponzi, Muller threatened us with legal action.
Following the collapse of Ad Pack Pro, One Vision AG has been abandoned and OneVision Europe BV launched.
OneVision Europe BV is incorporated in Holland and headed up by Peter Woerz. Muller is still involved and listed as OneVision Europe BV's Managing Director.
How much money Muller and his friends have stolen from investors in Ad Pack Pro is unclear.
When Swiss media attempted to contact him about the failed Ponzi scheme he told them he "wasn't ready to answer any questions".