Ad Pack Pro Review: Adcredit Ponzi with heavy pseudo-compliance

Marketing material for Ad Pack Pro suggests the company launched in mid 2015. The Ad Pack Pro website domain however ("adpackpro-international.com"), was only registered earlier this year in March.
A corporate address in Switzerland is provided on the Ad Pack Pro website. Further research reveals a number of businesses using the same address, suggesting it is rented virtual office space.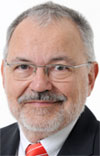 Peter Müller (right) is cited as CEO of Ad Pack Pro, which itself is owned by parent company OneVision Holding.
Many creative and intelligend [sic] people with a common vision – that is the OneVision Holding AG.

The basic idea of the founders to combine the Know-How of several experts from different sectors, as well as their networks, to create a [sic] innovative Online Company, arose in May, 2015.
Possibly due to language-barriers, I was unable to put together an MLM history on Peter Müller.
Infact outside of Ad Pack Pro, there doesn't appear to be any information on Peter Müller online. This could again be due to language-barriers but I'm flagging it as suspicious nonetheless.
Read on for a full review of the Ad Pack Pro MLM opportunity.
The Ad Pack Pro Product Line
Ad Pack Pro has no retailable products or services, with affiliates only able to market Ad Pack Pro affiliate membership itself.
Once signed up Ad Pack Pro affiliates can purchase €25 EUR "ad packs".
Bundled with each ad pack purchase are ad credits, which can be used to display advertising.
Ad Pack Pro advertising is shown to other Ad Pack Pro affiliates.
The Ad Pack Pro Compensation Plan
The Ad Pack Pro compensation plan sees affiliates invest in €25 EUR ad packs on the promise of a €30 EUR ROI.
How many ad packs an Ad Pack Pro affiliate can invest in is determined by how much they pay in affiliate fees (annual):
Affiliate (no cost) – invest in up to ten ad packs
Basic (€39 EUR) – invest in up to 50 ad packs
Pro (€69 EUR) – invest in up to 100 ad packs
Premium (€99 EUR) – invest in up to 250 ad packs
Exclusive (€199 EUR) – invest in up to 500 ad packs
VIP (€699 EUR) – invest in up to 2000 ad packs
Hero (€999 EUR) – invest in up to 3000 ad packs
To qualify for a daily ROI payout, an Ad Pack Pro affiliate must click ten supplied ads a day (other affiliate's ads).
Referral commissions are available on funds invested by downline affiliates, paid on up to three levels of recruitment (unilevel).
How many levels an Ad Pack Pro affiliate can earn referral commissions on is determined by whether they have free or paid affiliate membership:
Affiliate – 11% on level 1 (personally recruited affiliates)
Basic or any other paid Ad Pack Pro paid membership – 11% on level 1 and 7% on level 2
Inner Circle Bonus
The first fifty Ad Pack Pro affiliates who
invest in 100 ad packs and
recruit at least ten affiliates who each invest in at least ten ad packs,
receive a share in a 5% weekly bonus pool.
Joining Ad Pack Pro
Ad Pack Pro affiliate membership is either free or paid (€39 to €999 EUR a year).
How much an Ad Pack Pro affiliate spends on membership directly impacts their income earning potential.
Conclusion
Ad Pack Pro is a simple adcredit Ponzi scheme wrapped up in pseudo-compliance waffle.
In addition to owning Ad Pack Pro, OneVision Holding represent they own a number of other businesses:
Job Booster Pro – web hosting
Internet Academy Europe – an online marketing course
Smart Shopper – online shopping price aggregator
Smart Messenger – messaging
Smart Affiliate – marketing spam tool
Job Booster Pro has its own website where you can pay up to €49 EUR a month for website hosting. Internet Academy training is €828 EUR a year.
Alexa traffic statistics to both websites are in the million plus range. My guess is both services are unlikely to be used by anyone not investing in Ad Pack Pro.
The websites for Smart Shopper, Smart Messenger and Smart Affiliate were broken at the time of publication.
In any event, what does or doesn't happen with these companies doesn't change the fact that affiliate funds are invested into Ad Pack Pro and used to pay an advertised ROI.
Leave alone the fact that revenue generated by ghost-town websites isn't enough to sustain an adcredit Ponzi scheme.
The use of newly invested funds to pay off existing investors makes Ad Pack Pro a Ponzi scheme. The representation that revenue is sourced elsewhere is merely pseudo-compliance and of little consequence to the actual flow of money within the scheme.
By all means demand a dollar for dollar accounting showing external revenue being used to pay Ad Pack Pro affiliates, but don't be surprised if you meet resistance or evasion.
As with all Ponzi schemes, once Ad Pack Pro affiliate recruitment dries up so too will new funds entering the scheme.
This will see Ad Pack Pro unable to meet its ROI obligations, prompting a collapse.
At €25 in and €30 out plus annual fees recapturing the bulk of ROI funds paid out, when Ad Pack Pro does collapse the bulk of affiliates will lose money.