5 Star Signals threaten extortion lawsuit against whistleblower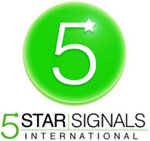 Following the revelation that 5 Star Signals was founded on lies and deception, the company has announced pending legal action against alleged whistleblower Emily Mendez.
In a blog post titled "Corporate Statement and Legal Actions" published a few hours ago, 5 Star Signals write:
Approximately seven months ago it was discovered that Marie Shaw was actually an alias for another trader who had been shedding a great deal of light on many of the predators in the Forex industry.

Prior to any knowledge of this being an alias there were many friendships built, like there are in the marketing industry as well as the Forex industry, who were so very grateful for the knowledge gained from this amazing friendship.

Long after the company was formed and successfully start to build a team of very happy members, it was almost unfathomable to find one of the founders was not who she claimed to be in terms of name/gender.
That much we already knew…
Rather than apologize for the deception and fraud though, 5 Star Signals are now pushing a strawman defense of alleged extortion.The focus of 5 Star Signals' wrath is Emily Mendez, one of the original co-founders of the company.
It was suggested by Emily Mendez to create a story to sort of cover up who had been working together with Mariska Van De Langenberg and herself.

In very little time after this decision was implemented, Emily Mendez decided to step down for reasons that has nothing to do with this situation, and in turn send an email to 5 Star Signals International demanding payment or she would go public with this story.

Yes, this is considered extortion as per the department of justice in the United States where Emily Mendez resides.
I actually received correspondence from Mendez prior to 5 Star Signals post today, which anticipated them going after her.
In Mendez's own words, here's what went down:
Due to past behavior of key persons involved I've decided to draft this excerpt in anticipation of being the center of their blame.

I was on board with the 5 star approach in the beginning. The platform in the beginning was a company that would provide forex education and provide signals for those who wanted to trade in forex.

When we became aware of the fact that Marie/Rosa/Craig were all one person, that of Dean Black, I was devastated.

I had been friends with "Marie" and sincerely desired to help create a great company legacy.

The whole time I was working tirelessly to do their design and marketing work and other key responsibilities of running what was supposed to have been a reputable company.

I was partners with Mariska and "Marie" until the decision was made to conceal the information of what we found out.

I was not at all in agreement with the approach that was being taken. As time went on from the revelation, I disagreed with the decided approach and wanted to part ways with the company.

Due to the fact that I didn't agree with the approach the CEO was taking I was cut out of corporate decisions.

I decided to part ways with 5 Star Signals.

After this decision was made I was accused of trying to blackmail the company.

So here is what actually happened: The website was housed on my personal server, and the Paypal account used for corporate transactions was sourced from my business Paypal account.

I had no problem with transferring all "confidential corporate data"  over as I wanted no part in anything 5 Star Signals related going forward.

I wanted the Company to create its own PayPal business account to be changed on their side and the website content to be transferred over as well.

The only thing I requested was to be paid for at least half the work I had completed thus far.

I spent countless hours designing and working to make 5 Star Signals a truly standout company in its industry, and was told by Langenberg that I would receive compensation for my time, energy, attention, and efforts.

However, when I invoiced them I was immediately accused of never providing any value to their company and then also accused of blackmail, threatening to reveal their secrets. There was no NDA signed at any point.

In my view, the concealments held until recently were all completely unnecessary. If the company had stayed the course they were on and had come clean I truly believe they wouldn't be in the pit they've dug for themselves.

Unfortunately, due to the fact that I was once involved with them my reputation is being tarnished and I'm being blamed for things that were not even under my purview.
With Dean Black/Marie Shaw/Craig Walters/Ruth losing "99% of funds" invested by 5 Star Signals affiliates over and over again, perhaps Mendez not being paid not all that surprising.
But in any event, what does Mendez wanting to get paid have to do with the fraud carried out by Dean Black?
And with Mendez having long-since left 5 Star Signals, what does it have to do with Mariska Langenberg and Black continuing to defraud investors through Black's "Craig Walters" persona?
From there 5 Star Signals post deteriorates further, with "the agenda" strawman defense trotted out.
Since she has now decided to go public with behindmlm.com it is given us no other choice but to bring legal action against Emily P Mendez.

Since we will pursue legal recourse on all parties involved in this extortion plot or defamation plot, we will not share the complete conversation of which behindmlm.com conveniently didn't show the part of Emily P Mendez.
Putting aside the fact that 5 Star Signals are operating an unregistered securities opportunity that accepts funds from US investors, what exactly are they going to sue Mendez for?
The horse has already bolted on this one guys, but don't let that stop you from trying to sweep it all under the rug.
5 Star Signals will continue business as usual and will not carry on with any more drama as we need to remain steadfast for our partners, providing solid forex education and the best forex strategies available anywhere, and to move past what was a feeble attempt to derail a company that will not cower to threats from anyone for their own financial rewards by providing only parts of private conversations.

I would like to thank our wonderful members in our 5 Star Signals community for their trust in our Forex strategies and knowledge, and would like to set the record straight that we continue to make their experience with us as pleasant as possible and look forward to the resolving this derailment attempt promptly, legally and permanently.

Thank you!

Your 5 Star Signals Corporate staff
So um, Dean Black will continue to mislead people as "Craig Walters" and we'll all just pretend the Marie Shaw sham never happened?
And your affiliates are just expected to swallow all of this, after being lied to and deceived for years?
Sounds peachy.
For what it's worth, the BehindMLM 5 Star Signals review was written on October 14th, 2015. I had three separate reader requests the week prior about the company, but the research was all my own.
It wasn't until after the review was published that I was contacted by Emily Marcum.
Marcum, who was 'contracted through 5SS to assist with their design work', provided the source material for the Dean Black / Marie Shaw / Craig Walters article.
I hope this alerts all Forex MLM people of a learning lesson, and that they get sacked by the SEC.

I just never knew how to report it until your post showed up on the blog. Thank you for this opportunity to let the skeleton out of the closet.
As per her Facebook profile, Marcum appears to be in a relationship with Mendez.
I hope that you can keep as much about me out of this as possible. I do not want to deal with personal attacks due to this information "leaking" out.

Mariska has never been too proud to trash someone publicly, and I don't want that in my life, but I can't let this kind of cover up stay under wraps.
Following the publication of 5 Star Signals' legal threats against Mendez, Marcum contacted me again and granted permission for me to cite her as a source.
Hi there,

It's come to my attention that van de Langenberg is blaming someone else for the information leak. I won't have her bashing someone for doing literally nothing.

My name is Emily Nicole Marcum and I was a member of the 5ss sales force, as ineffectual as it was, and also part of their website design team.

I would appreciate it if you would add my name to clear up confusion, as Mariska cannot seem to keep her Emilys in order.

Feel free to post pictures of the screenshots also. I really don't care anymore. People need to know the truth and where it's coming from.

Thank you,
Emily Marcum
Like Mendez, Marcum claims she went unpaid for conducting various tasks at 5 Star Signals.
And in addition to contacting me, she's also reached out to Langenberg to clarify her position on the matter: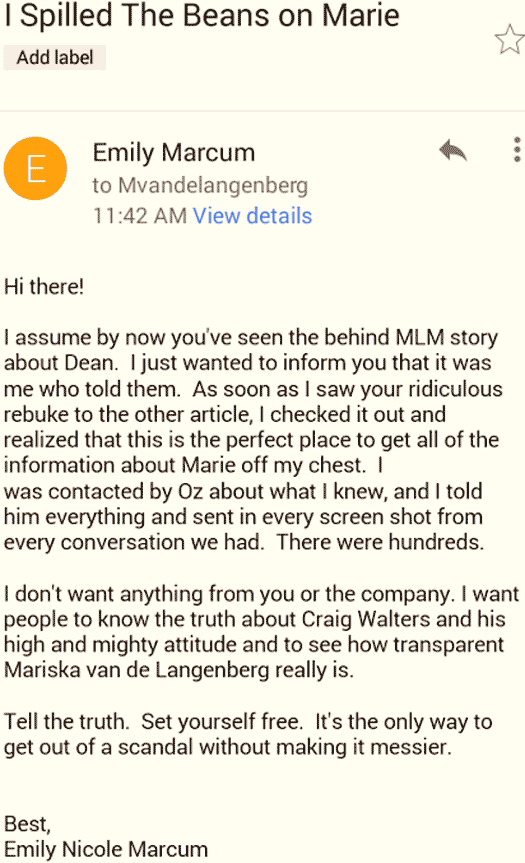 The only correction I'll make is that Marcum contacted me first, to which I replied 'feel free to send me the relevant information to go over.'
The rest is history.
At the end of the day, you have a company engaged in the offering of unregistered securities, with a quite obviously recruitment-driven backend.
What Marcum and Mendez's motivations were for blowing the whistle on 5 Star Signals, alleged or otherwise, don't matter.
To date neither 5 Star Signals, Mariska Langenberg or Dean Black have publicly addressed the fraud that was carried out while Langenberg was CEO of the company.
Fraud that continues through the persona of Craig Walters to this day.
I'll leave you with a quote from email correspondence between myself and Langenberg, dated August 2014:
I value your website and detest companies like Bonofa.

They have topleaders with a Ponzi past like Kalpesh Patel (also a bigger Zeek leader) and another one who recently spent 6 months in jail (Frank van Zon)… the latter purchased multiple 'VIP packages' and is involved in some other scams as well.

The only reason they were not shut down in Lebanon is that there is no law there that forbids a ponzi or a product based pyramid scheme.

Myself and some other former partners have enough knowledge about their lies, false promises and lack of integrity.
If I may be so bold as to offer some advice Mariska, now might be the time to take a good long hard look in the mirror.